Appreciations
View(s):

She dedicated her life to help the poor villagers

Dr. (Mrs.) Padma Ratnayake 

It is nearly a year since the demise of Dr. (Mrs.) Padma Ratnayake. As the Executive Director of the South Asia Partnership (SAP) Sri Lanka, she made a unique contribution towards the enhancement of living standards of our economically disadvantaged population and in strengthening civil society. Unfortunately, her contribution has gone largely unrecognised.

Dr. Ratnayake started her working career as a government teacher. She was naturally dedicated to help and guide her students, and was instrumental in organising a students' voluntary interaction project to upgrade the village Rajasisugama, in the Ratnapura district.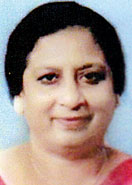 Based on the overwhelming success of this project, and her realising her potential in societal development, she moved to institutes and organisations engaged in training and research in societal development, such as the Sri Lanka Foundation Institute (SLFI), as a lecturer in the Youth Development Programme, and the Commonwealth Secretariat in Chandigar, India, and the South Asia Partnership.
She excelled in programme design, planning, resource identification, implementation and monitoring. Recognising the importance of training as an essential ingredient for success, she set up a Training Centre at Warana, Thihariya, for the South Asia Partnership.
Under her stewardship, the Partnership grew from strength to strength, and was at the forefront of national development activities and issues such as social and economic development; governance; violence against women; developing youth as agents for change, etc.
She was an authority on social development work, with hands-on experience in organising and managing development activities at grassroots level. During her two decades of service, the South Asia Partnership empowered several thousand economically disadvantaged families.
Dr. Ratnayaka's contribution to this sector includes a new People Centred Development Model, the Cluster Development Programme, which has been tested in over 100 villages in Sri Lanka. This model has been presented at different international fora and replicated in Bangladesh and India.
She also helped launched a sustainable credit scheme for South Asia Partnership member organizations, benefiting more than 3,000 families. She launched a Small and Medium Credit Program Unit that proved sustainable within five years.
In 1996, she initiated the SAP-HNB Credit scheme, which has helped hundreds of rural poor to access credit from this commercial bank (the repayment rate is 100 per cent). She also devised a progressive partnership linking community-based organisations and individuals living in remote areas with Hatton National Bank.
She helped establish two community development programmes in collaboration with Citibank and Hatton National Bank, and launched the "Peace through Partnership" project. This was implemented in Vavuniya where the three communities – Sinhala Tamil and Muslim – worked hand in hand to improve their socio economic conditions.
Dr. Padma published several books, including a manual on Micro-enterprise as a means of empowerment.
She led the revival of the lace-weaving industry, after the tsunami disaster. This project later led to two major exhibitions and marketing outlets in Colombo and Galle. The brand Paramparawen will be remembered as a tribute to her.
Within hours of her demise, more than 1,000 villagers whom she had assisted came to pay homage. Such was the love they had for her selfless dedication to their cause.
Dr. Ratnayake was a graduate of the University of Peradeniya. She held a PG Diploma and Master of Philosophy in Education from the University of Colombo, and a PhD in Sociology from Punjab University, Chandighar, India.
She married a university friend, Ranjith Ratnayake, who became a professional banker. Their daughter Dinithi followed in her father's footsteps in banking, and is vice-president of a Colombo-based international bank, while son Indira is an architect, practising in Australia.
Padma was an exemplary wife to Ranjith and a dedicated mother to Dinithi, Indira and her grandchildren, Charrin and Shehara.
Padma had a very friendly personality. She had strong values and strict ethics. She was always ready to listen and help, even at great personal sacrifice.
May she attain Supreme Nibbana.
Lakshman J. K. Hettiaratchi
The strong bond between father and daughter
Clement ALLES
Marie Alles and I grew up pursuing different interests – she through her paintings, and I with my hobby, writing. We both had a very special bond. We were both blessed with wonderful, caring parents who encouraged us to develop our talents and who supported us wholeheartedly.
Marie lost her mother (also a painter) years ago. I lost my mother when I was quite young. But our fathers lived long into our adult lives. We both had a close bond with our fathers. Many of our mutual friends recognised this feature.
Our fathers lived to what can be described as a full and ripe old age. Clement Alles passed away, aged 100, just last December, and my father, who passed away three decades ago, lived to the age of 87. While my siblings pulled up their roots to settle in other lands, I remained with my father. Clement Alles and Leslie Brohier found happy and fulfilled lives in their final years in their daughters' homes, and were a part of our lives.
In his last five years, Clement Alles stayed with Marie's brother Freddie and his wife Shanthi. Always, as I recall, moving with the crowd at Marie's regular art exhibitions, was Clement, who shared his daughter's joy in these events. When Marie and her husband Cyril entertained at their home, Clement Alles was always there to welcome us.
When Clement Alles put aside his Police uniform, he devoted his life of retirement to Marie and Freddie and their families. Theirs was a strong family unity, just as I had. It is this love and bond between daughter and father that I wish to express in this appreciation. It is so special and touching, and somewhat rare in our present age.
Deloraine Brohier
Your smile will never fade in our memories
Rita Perera
I first met Wilfred and Rita in Liverpool in 1958. A few months after our arrival, my eldest daughter was born. Wilfred assisted at her delivery whilst my husband Mark, relieved to delegate responsibility to him, slept soundly in the staff-room!
I was doing my internship at the time. Whenever I needed a break, Rita was there for me, warmly welcoming me to her home. I would relax there, and enjoy her hospitality. She was an ever-willing baby sitter: As a mother of three small children, I looked to her for advice on 'bringing up baby'.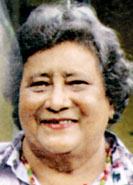 On our return to what was then Ceylon, Wilfred served in Badulla and Galle, before ultimately moving to Colombo, whilst we were in Kandy.
Despite our meeting infrequently, the strong bond of friendship that existed between us continued throughout the years.
Rita's bright smile which illumined her face remained unchanged throughout all the years I have known her. It was there on that cold wintry day when we first met. It was there when I last saw her in the ICU a few weeks back, despite her obvious discomfort. Her last words to me were, 'May God bless you'.
It was this smile that masked the gravity of the several illnesses she bore with fortitude during the last few years of her life.
Her cheerful and strong personality helped her face the adversities of life. We are grateful that we were invited to share their joy in the celebratory mass commemorating their diamond wedding in September last year. Rita and Wilfred were always one entity- two halves of a whole.
Rita's life was centred around her family and the church. Unlike many of us grand-parents, her grandchildren were central to her life, and invariably her conversation turned to them. There were always freshly baked snacks awaiting them when they dropped in after school.
The last two months were particularly trying for Rita and Wilfred. It was great news to hear that she was doing well after by-pass surgery, and had almost fully recovered.
Sadly, the Fates had other plans. Her life was abruptly snuffed out.  I am confident that the faith she had in the Lord to guide her through the maze of life, will now accompany her on untrodden pathways.
Premini Amerasinghe
An outstanding teacher, mentor, humanist, administrator and benefactor
Ariya Samaraweera 
It is a human characteristic that on the demise of persons, our memories of them fade away with the passage of time. Yet memories of people of outstanding qualities and human values remain in the memory for a long time. My brother-in-law, Ariya Samaraweera, was one such outstanding person. He outshone many as teacher, mentor, humanist, administrator and benefactor.
Ariya Samaraweera received his secondary education at Central College, Ibbagamuwa, Kurunegala, and entered the University of Peradeniya in 1957. He graduated in 1960 and joined the tutorial staff of Central College, Poramadulla, in Rikiligaskade, Nuwara Eliya, where he met my sister Swarna, who was teaching in the same school. In 1968, after a short spell at Dharmaraja College, Kandy, he joined the Sri Lanka Administrative Service.
His first appointment in the SLAS was as the Assistant Government Agent, Ratnapura Town Division. He consequently held several posts – as Assistant Commissioner, Probation and Child Care Services; Senior Assistant Secretary, Ministry of Higher Education, and Commissioner, Registration of Persons. He was handpicked by the late President R. Premadasa to be Chairman of the CWE (Cooperative Wholesale Establishment). The last post he held was that of Director-General of Pensions. He was also the Additional Secretary, Ministry of Food and Cooperatives.
Apart from his official duties, he rendered an enormous service to the people of Kaldemulla (a town south of Colombo), where he resided. He was President of the Kaldemulla Welfare Society for a number of years.
Ariya Samaraweera was a unique personality, a strict disciplinarian throughout his life. He acted with great presence of mind, doing the right thing at the right time. His attitude to work and his devotion to service testify to the fact that he was a disciplined administrator but a kind-hearted employer. His death is an irreparable loss to his beloved wife, Swarna, and two sons, Sujeewa and Dilhar.
Ariya Samaraweera was an outspoken gentleman who never compromised his noble principles or sought personal gain. It is hard to accept that a person of his calibre is no more. Perhaps our only consolation is to reflect upon the eternal fact that "Life is uncertain, death is certain."
W. R. Gamini De Silva
Mother, we love you
SITHY FAZAHIMA MANSOOR
It's been a year since you left us, Mum,
But it seems like yesterday.
The pain, the grief, the anguish still raw,
The farewell words we could not say.
A role model you were to everyone,
You taught us to know right from wrong.
You guided us and shaped our lives,
Our faith grew bold and strong.
Your smiling face and gentle words
Brightened each day;
We cherish the memories,
In your company we long to stay.
Even when excruciating pain
Travelled down your bone,
You never faltered in prayers and faith,
However much you were in pain.
As we reflect on your final weeks,
You knew your life was at its end.
The things you did, the words you said,
We only now can comprehend.
The void you have left in our lives
Deepens with each passing hour.
You were the one we depended on,
Our solid rock, our tower.
We thank Allah for the strength
To get through each day without you;
Milestones and achievements, our hearts
Burst with longing to share these with you.
Mum, you are the special bond
That held our family together;
You encouraged us to reach out to
Kith and kin, to be united forever.
Lifelong learners we will strive to be,
We thank you for the lessons taught.
Although our mentor is no more,
We treasure the past and the vision brought.
We know you will be with us
Each step of the way;
Till the day we meet once more
To share the words we could not say.
May Allah forgive and reward you
And magnify your good deeds;
May He grant you the highest rank in heaven,
And fulfil all your greatest needs.
Keep a watchful eye on us, Mum –
If life becomes too hard for us,
Guide us, mould us, speak to us,
In our nightly dreams.
Our lives will never be the same.
Mum, we miss you terribly –
Every second of each passing day
We will love you and hold you near.
Thasneema
Follow @timesonlinelk
comments powered by

Disqus