Anoli goes to India with her memories
View(s):

Well known artist Anoli Perera is now based in New Delhi and her exhibition Memory Keeper opened to the public on January 20 in Delhi's Shrine Empire Gallery. Her exhibition deals with remembrance, recollection and the danger of erasure.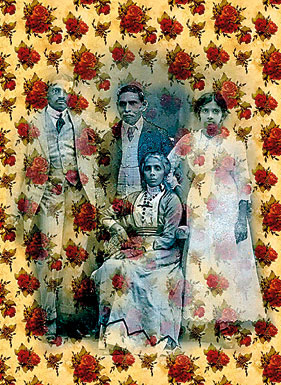 She notes in her concept note that "I am the 'memory keeper.' I have become a memory keeper because I was born wedged between the sunset of one era and the dawn of another."
For her and many others of her generation, "existing between eras is to live in a liminal space where people forget to keep records because they are eager to forget the past and move on to the future." She further observes, "The last vestiges of the previous era and the transition itself, become insignificant moments and footnotes of history, not worth remembering in the larger contexts of events."
Perera's exhibition takes viewers to and beyond private and public memory mediated by the passage of time as well as war, and traverses through a number of other discourses that includes migration, globalisation and the advent of homogenous cultural forms and the expelling of the local.
However, in all cases, the artist's point of departure and obsessive focus is what is remembered and what would lapse from memory. As she observes, "what we lost was our innocence and our common sense… we, for sure lost the trust. Then it stopped …Soon the pain and what was lost might well be forgotten too…amnesia sets in…. People want to move on. I keep memories for posterity …"
Follow @timesonlinelk
comments powered by

Disqus