Tremors in Ampara leave villagers shaken and officials guessing
By Charundi Panagoda
Theories are many but inconclusive if anything, prompting residents to recall an ancient curse on their village
View(s):
One early morning in November, Wadinagala resident Dimuthu Thushara was sound asleep when his bed suddenly started to shake. He could hear the utensils in the kitchen rattling too. For a couple of seconds, he felt a thundering sound reverberating through the earth and moving towards the sky.
Several earth tremors experienced in Ampara district's Wadinagala and surrounding villages of Pallanoya, Kivulegama, Devalahinda, Karabana, Kehel Watta, and Damana have residents bewildered, inconvenienced and scared.
Situated about 32 km from Ampara, and known for archaeological ruins, Wadinagala experienced five or six earth tremors on Nov.24 and on Dec.1. Villagers who usually only have to worry about droughts or floods, said the tremors made doors, windows and even roofs shake for a couple of seconds. On Nov. 24, when they had to endure several tremors in one day, residents said the quaking caused cracks on the walls of a number of houses.
Wadinagala resident P.K. Nilani said she felt earth tremors on Dec. 1 at 8.14, 9.05, 9.10, 9.25 in the morning and at 4.35 and 4.40 in the afternoon.
"These tremors have been occurring for a couple of days," Ms. Nilani added. "When it happened, the roof was shaking and the earth was suddenly vibrating. Cracks appeared on two walls in our house. Right now, we are not in any danger, but we are scared of what might happen in the future."
Wadinagala Vidyalaya Principal Thilak Priyankara Alahakoon recalled a similar experience of an explosive skyward noise and the earth violently vibrating, while showing a crack pattern on a school wall.
"Another time, I felt a motion like this while I was near Wadinagala Jayanthi reservoir's water pump. I felt the concrete I was standing on, rattle but the reservoir's water body didn't move. At the time, I heard a booming noise, like from a boulder-boring machine."
Another resident, Buddhadhasa Galpaththi described the tremors as a "mystery." Wadinagala Grama Niladari Dhushara Gamage said there were at least 28 tremors noted and villagers have informed of many damaged houses.
On Dec.5, the Geological Survey and Mines Bureau (GSMB) deployed two senior officers to Wadinagala to investigate the phenomenon. Even the officers heard the loud, gunshot-like sound while at the site.
Authorities are equally baffled but aren't as concerned.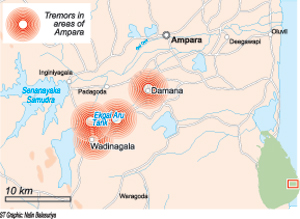 Earth tremors are minor earthquakes. Thousands of earth tremors occur every day worldwide.
The Earth's upper layer consists of giant slabs of rocks called tectonic plates. When tectonic plates collide or slide against each other (usually unnoticed on the surface), immense stress can build up in between. This stress is released with seismic waves on to the surface as massive vibrations, which people feel as earthquakes. Most earthquakes occur along fault zones, areas where there's significant rock displacement due to the Earth's movement.
Sri Lanka is not situated on an earthquake-prone fault zone. The only known earthquake in the country occurred in 1615, recorded by the Portuguese as having killed about 2,000 people.
GSMB Chairman N.P. Wijayananda said the Bureau is still investigating the causes for the tremors.
"These earth tremors are unusual, as they occurred several times in one day, and some people claimed they heard an accompanying loud noise," he added. "That's too unusual to be natural. That's why we are suspecting these tremors are manmade."
Investigators have already ruled out several possible causes, Dr. Wijayananda said, including quarries, which are prominent in the area.
"Last week, we did an artificial blasting at a quarry nearby, but we found that blast wouldn't cause such an effect [as earth tremors]," he said.
A while back, an underwater blast in the Colombo harbour caused some high-rise buildings in the City to shake. Suspecting a similar cause, the GSMB inquired from the Ports Authority about construction work at the Oluvil Palmunai harbour (about 50 km away), but was informed that all harbour construction work was over.
"The earth tremors could be due to some other cause. We are looking into deep piling," Dr. Wijayananda said.
Dr. Wijayananda dismissed speculation that earthquakes elsewhere, such as in Sumatra, could cause tremors in Sri Lanka.
University of Peradeniya Emeritus Geology Professor Kapila Dahanayake said he suspected groundwater extraction as the cause.
"I've seen a lot of tube wells in use in this Dry Zone region, so I wonder if excessive ground water extraction could be the cause," Dr. Dahanayake said. "Excessive loss of water can cause stress changes along fault lines, leading to ruptures, and that causes earth tremors. Researchers should determine with field investigations, if there's such rock displacement."
In 2011, excessive groundwater extraction caused a 5.1 magnitude earth tremor in Lorca, Spain, that killed nine people, injured at least 100 and left thousands homeless. GSMB stations in Pallekele, Hakmana and Mahakanadarawa recorded a total of seven earth tremors this year: at Kotmale on May 19 and 26, Maduru Oya on Aug.24 and Sept. 9, Moneragala on Sept. 29, Ampara on Dec.1, and Badulla on Dec.10.
"The Nov. 24 tremors were noted only by the Pallekele station, and therefore, was not officially recorded, because the GSMB requires at least three stations to pick up a geological activity, for it to be officially recorded," Dr. Wijayananda said.
The Dec.1 earth tremor in Ampara had a Richter magnitude of 2.26. Tremors of magnitude 2.0 to 3.9 are considered minor and very rarely cause damage.
Despite anecdotes, Dr. Wijayananda said that there was no building damage caused by the low-scale tremor.
"First indications of damage by a tremor, before cracks appear on walls, objects hanging on walls fall, water in glasses might ripple, but no such incidents have been reported," Dr. Wijayananda insisted.
Earthquakes cannot be forecast, GSMB officials said, and therefore, cannot issue early warnings. Disaster Management Centre's Mitigation Director Anoja Seneviratne said there is no earthquake warning system in Sri Lanka.
"Our responsibility is to disseminate information to the public, once the relevant technical agencies issue warnings," Ms. Seneviratne said. "As far as I know, earthquakes cannot be forecast. I was told by GSMB officials that the damage is minimal, not even glass being broken. So what should we plan for, search and rescue?"
She added that specialists are still considering whether earthquakes should be given special attention in Sri Lanka. Disaster Management Ministry is currently funding research to review local building codes to consider resistance to earthquakes, determine which zones would be vulnerable, in addition to a model earthquake run with the University of Peradeniya.
"Countries vulnerable to earthquakes, such as Japan, employ early warning systems to inform the public to follow safety measures as soon as an earthquake hits, in addition to following quake-safe building codes. In Sri Lanka, there are no laws or regulations for tremor-safe buildings," said National Building Research Organisation Director General Asiri Karunawardhana.
"We can only propose countermeasures such as making cut-off trenches to minimize the impact," Dr. Karunawardhana added.
While the authorities are uncertain how to explain this trembling phenomenon, Wadinagala villagers have formed their own theory. A long time ago, a villager wounded a monk because the monk pulled at his beard. The gods were greatly angered by this act and cursed the villagers to slowly die from sickness and leave the village deserted. This village was flooded and later became the Jayanthi reservoir. Likewise, with end-of-the-world stories floating around, some Wadinagala residents believe angry gods caused the tremors.
(Additional reporting and pix by Ampara Correspondent Wasantha Chandrapala)
Follow @timesonlinelk
comments powered by

Disqus