Sarath Silva suggests CJ steps down
View(s):

If he once commanded thousands of troops and led them to the military defeat of Tiger guerrillas, former General Sarath Fonseka has now become a political orphan.

Two stalwarts of his Democratic Party – Tiran Alles and Arjuna Ranatunga – both Parliamentarians, have resigned. That leaves only one MP – Jayantha Ketagoda – with him. Even three UNP Parliamentarians who backed Fonseka have now backtracked in the face of disciplinary action against them.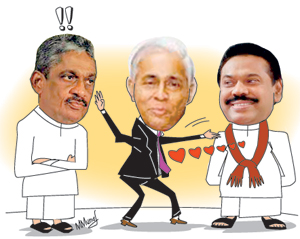 His other partner in politics, former Chief Justice Sarath N. Silva also appears to have parted ways. Silva has been voicing strong opinions in favour of the UPFA since his chance meeting with President Mahinda Rajapaksa.
This was when they met at the funeral of former Supreme Court Judge, Raja Wanasundera. If he defended Chief Justice Shirani Bandaranayake in the weeks before the impeachment resolution was introduced in Parliament, Silva has now said or suggested in a radio talk-show that she should step down because the "charges are of a serious nature."
In an interview with our sister newspaper, Irida Lankadeepa, the former Chief Justice has said, "Impeachment against Chief Justices are nothing new in this country…… the current Chief Justice has gone a step further. It is not correct to make a statement against the President. She may have thought the people will rally round her and help her. That is not correct".
Fonseka, on the other hand, has condemned the resolution and defended the Chief Justice.
SP sports minister plays with 33 portfolios
It's perhaps a record that qualifies for a place in the Guinness Book.  However, laughable political events in any country are far too many and hence they seldom get noticed.
The Southern Province Sports and Rural Development Minister U.G. D. Ariyathilake is not only acting Chief Minister of that Council. He is also acting Minister for 33 other ministries.
Such a powerful position literally fell on him. The Chief Minister Shan Wijeyalal de Silva, Education Minister Chandima Rasaputra, Agriculture Minister Bindu Weerasinghe and Fisheries Minister D.V. Upul are all abroad. So who should look after 33 different subjects but Ariyatilleke.
Most members of the Southern Provincial Council are on trips to Japan, South Korea or Indonesia.
An SPC Opposition member remarked somewhat wryly "if Ariyatilleke is also given a trip, the Council will be left with no ministers. But who cares?"
British Parliamentary committee concerned over Tamil asylum seekers
Keith Vaz, the British MP, who is a staunch backer of the Tamil lobby in Britain, recently headed a Parliamentary committee that carried out a quarterly review of the work of the Border Agency. Here is a highlight of its report released on Friday:
"The Committee is also concerned about the quality of decision making. So far this year 13 people have been granted asylum in the UK following rejection of a previous claim and removal to their country of origin. Poor decision making may result in people being returned home where they face persecution and torture. The Committee is particularly worried about the plight of Tamils being returned to Sri Lanka and calls on the Agency to push for a re-evaluation of the risks posed to Tamil asylum seekers on return."
This report also focuses on new asylum cases, enforcement and issues connected to immigration detention.
The Agency's backlog is growing at an alarming rate – it has increased by more than 25,000 cases since the first quarter of this year.
The backlog consists of:
The Migration Refusal Pool
These are records of individuals without leave to remain in the UK, and cannot be traced
The pool has grown by 24,000 records since the first quarter of this year-it now totals 174,000
Little progress is being made in deporting ex-foreign national offenders quickly at the end of their sentence. There are 3,954 ex-FNOs living in the community whilst deportation action against them proceeds, 63% of these have been released for more than two years.
This backlog will continue to grow — 94% of the individuals released from prison in the second quarter of this year still had their cases outstanding at the end of the quarter.
Thriving business in surveillance cameras
A local firm is having a thriving business selling surveillance cameras to households. In one instance, the owner of a leading jewellery firm installed one in his luxury home. One was secretly placed in the pantry.
Soon they found out how large quantities of chicken and mutton were going missing from the refrigerators.
The chef was in the habit of going for a walk after he prepared breakfast. The bag he carried with him held the chicken and mutton. He was first questioned but flatly refused he had anything to do.Then the video footage was shown on a 52 inch video screen. The man lost his job.
Water restriction to prevent ugly scenes
When President Mahinda Rajapska presented the Budget last year there was uproar in the House between the Government and the Opposition. In the rumpus created, plastic water bottles flew all over, one narrowly missing the President's head.
Government Parliamentarian Sarana Gunawardena was suspended for a week after it was found he threw the bottle that fell close to the President.
But this year no one was taking any chances and no bottles of water were placed on the tables of the MPs. However, several who made requests were given a bottle to ensure that no such scenes are repeated.
Superstorm Sandy shatters Sri Lankans also
Superstorm Sandy, which left a trail of death and destruction in the east coast of the United States, did not spare Sri Lankans either. Devastation, yes. Deaths, no. The worst affected was the New York city borough of Staten Island which has one of the highest concentrations of Sri Lankans per square kilometre, including four restaurants serving hoppers, pittu, patties, pol rotis and string hoppers.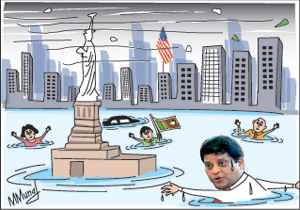 One family in Staten Island lost their house and two cars in a neighbourhood which was hip deep in flood waters caused by the storm with over $50 billion in estimated damages throughout the east coast.
The family found refuge with another Sri Lankan family unaffected by the storm. Meanwhile, a Sri Lankan physician in Toms River in the state of New Jersey lost not only all his cars but also his house which was described as a total wreck.
Sri Lanka's UN Mission led by Ambassador Major General Shavendra Silva, was quick to respond — seeking out those in desperate need of food, clothing and shelter. Silva personally visited water-logged Staten Island to check the status of Sri Lankans living there.
But the superstorm did not spare the war hero either. The high rise building in which he has an apartment lost both power and heat for nearly a week forcing him to seek refuge at the residence of Sri Lanka's Permanent Representative Ambassador Palitha Kohona (who remained high and dry) in an apartment within spitting distance (considering the UN's human rights charges against Sri Lanka) of the world body.
Kohona did not lose power or heat — even though the UN headquarters itself was icy cold as delegates were forced to attend meetings wrapped up in heavy overcoats, scarves and woolen caps.
Still, one Sri Lanka expat was tempted to say that, in the context of the political environment back home, it is good for our diplomats and politicians to occasionally lose power, because as Lord Acton once famously remarked: "Power corrupts and absolute power corrupts absolutely."
Chief Justice issue with Budget tea
During the customary tea break of the annual Budget presentation, the Minister of Finance (in this case President Mahinda Rajapaksa) had light hearted banter mostly with Opposition MPs. When he was with the TNA MPs, its leader R. Sampanthan raised the question of the impeachment motion against the Chief Justice.
Before you could say "Divineguma Bill", the President turned to TNA MP M. Sumanthiran and said "why you wanted her appointed, no".  Sumanthiran protested at the Presidential remark and denied he had any hand in lobbying for the Chief Justice's appointment.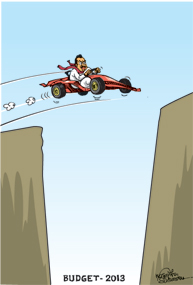 Then the President was to lament "what to do, when the teacher wants his pupil appointed I listened to him."
Now Sumanthiran is in a dilemma. He wants to serve in the team of lawyers who want to represent Chief Justice Shirani Bandarnayake. On the other hand, the Tamil National Alliance (TNA) may nominate him to be its representative in the Parliamentary Select Committee (PSC). In case he does not serve in the PSC, alliance sources say the choice would be Rajavarothayam Sampanthan, the leader.
There was also more light hearted banter during tea time at the Budget presentation. President Rajapaksa was greeted by two UNP rebels, Range Bandara and Ashoka Abeysinghe. "Like a barber saloon, the doors are open," said Rajapaksa. He was jokingly suggesting that the two MPs could join the UPFA if they so wished. The response came only from Bandara. "I will come and see you sometime," he said.
On another occasion, a group of MPs met Rajapaksa face to face. UNP Parliamentarian Ravi Karunanayake remarked, "Sir, you have exempted racing cars from import duty. Most of the racing drivers are on your side," he quipped laughingly. "I had to give you something to criticise during the debate," was the President's reply.
Follow @timesonlinelk
comments powered by

Disqus