Export strategies, constraints and successes
View(s):

The previous two columns discussed the preconditions and economic policy imperatives required to generate robust export development. Good governance, rule of law, law and order and guarantee of property rights were among the preconditions required to encourage exports.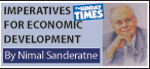 The economic imperatives vital for sustained export growth were sound macroeconomic policies such as a low fiscal deficit, keeping down inflation, adopting a flexible and realistic exchange rate policy, low import tariffs and predictability of economic policies.
Neglect of these macroeconomic fundamentals results in the failure of export growth strategies. Once the appropriate macroeconomic policies are right, specific methods to encourage exports could succeed.
Export diversification
A number of strategies to increase export earnings were spelled out by several economists and exporters at the recent annual sessions of the Sri Lanka Economic Association (SLEA). W.A. Wijewardena, former Deputy Governor of the Central Bank, observed: "There has been no change in our export structure since 2000. We still continue to import and export simple products. Garments and textiles exports still dominate our export basket although there was a drop in its relative share, but this was because tea prices increased although production had not."
Garment exports dominated manufactured exports for many years accounting for as much as 70 per cent of industrial exports in the 1980s. There has been a degree of diversification and currently they account for about 40 per cent of industrial exports. Although exports of other manufactures such as rubber goods, ceramics, leather goods and processed foods have increased, the degree of such diversification has been limited. Furthermore, Wijewardena pointed out that, in some instances, export values were exaggerated as the import content was high and value addition low. He quoted the instance of exporting bicycles where imported unbranded bicycles from China were re-exported under a brand name. The value addition in exports of such "screwdriver plants" is very limited.
Complex exports
Wijewardena advocated a change in the pattern of exports by moving away from simple production processes to more complex production processes "largely driven by investments in the knowledge economy." By doing this, he suggested, we would be able "to secure export markets, reduce competition from our current competitors, avoid the middle income trap and sustain growth and prosperity,"
Constraints
While export sophistication and increased value addition in exports are valuable, there are limitations and constraints to achieve this in Sri Lanka, especially in the short term. Despite the usual rhetoric of the country being blessed with abundant natural resources, the stark reality is that we have few resources for manufactures. Consequently there has to be a high import content in exports.
A clear instance is that of tyre manufactures for which the import content is considered to be small as natural rubber is produced in the country. Yet even in such a commodity the import content is high as canvas, steel wire, chemicals and other inputs and machinery have to be imported. Garments exports also have high import content as the textiles and fabric and several other inputs such as thread have to be imported. While it is advantageous to export commodities with a high value addition, these limitations have to be recognised. Even where the value addition is low if large markets are captured then the aggregate impact could be substantial.
On the other hand, as Wijewardena pointed out, there is a danger of losing markets in simple products as other countries could produce these and successfully compete in international markets, especially owing to low labour costs. This has been the international experience with respect to garments exports where countries such as Vietnam and Bangladesh have eaten into Sri Lanka's markets. However, Sri Lanka has maintained competitiveness in up market garments and lingerie.
No doubt there are prospects for the country to export high value "knowledge based" services. For a sufficient expansion of such exports it is vital that the country's education is improved qualitatively, especially in science, technology and information technology. The development of the knowledge base through appropriate educational reforms is a vital precondition to enhance such exports.
Success stories
There are a number of success stories of Sri Lankan exports. These provide some optimism for export development. The experience of CIC Agribusiness in exporting new varieties of rice after developing them in a short period was described by its Chairman BRL Fernando.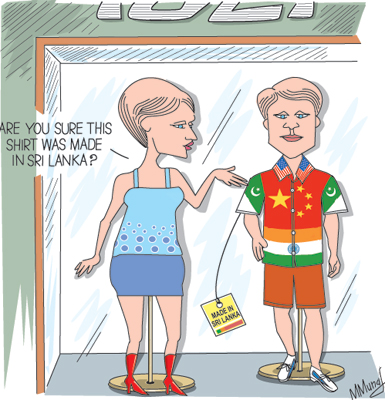 Yet constraints such as the unavailability of land were a hindrance to greater success in new agricultural ventures for exports. Fernando outlined the way forward as one that needed the infusion of technology for higher productivity; adherence to quality standards; identification of niche markets; and greater emphasis on non-traditional exports such as Ayurveda herbal products. Among the constraints to the development of such exports he mentioned low investment in research and development, scattered small units that posed problems for quality standards and arbitrary state intervention in marketing.
Sri Lanka has achieved the status of being the largest exporter of solid tyres and now consumes most of the rubber produced in the country in value added rubber manufactures. Most of the success stories were related to enterprises where the foreign investment stake was high. This underscored the need for higher amounts of private foreign direct investment in manufactures. No doubt the lack of success in attracting foreign investors has been a key constraint in the country's inability to expand exports. The contrasting experiences of China, Malaysia, Singapore and Vietnam were important to remember. For increased foreign direct investment of the right types, the overall conditions in the country and macroeconomic stability were vital.
Serious obstacles
Rohan Masakorala, Asia Shippers' Council Secretary General, highlighted some of the serious obstacles exporters faced. The biggest challenge faced by exporters was to sell and market a product in a tough, highly competitive global market. The government he said should cut red tape and facilitate the private sector. He emphasised that the lack of a work ethic in public sector institutions made it difficult for the private sector.
Corruption and inefficiencies of structures and processes in the public sector were other impediments for export growth. He also noted that productivity was declining in the private sector too.
Dawn Austin, Chairperson, Exporters' Association of Sri Lanka, struck a positive note saying there were a number of incentives and institutions to assist exporters. While there were difficulties, there were ways of getting round them through discussion with the relevant authorities. She gave a number of instances where exporters succeeded to sell their products in competitive international markets, especially due to their superior quality.
In conclusion
The need for good governance, the rule of law, law and order, respecting property rights, sound macroeconomic policies and liberal trade policies were among the preconditions for enhancing export earnings. There is a need for export diversification and moving towards more complex industries. Higher investment in research, technical education and an improvement in the work ethnic were needed. There is a need to establish these conditions to ensure that the country increases its export earnings. Without a significant increase in export earnings the economy would be in serious difficulties.
Follow @timesonlinelk
comments powered by

Disqus