Officers in charge of the 'Dissawanis'
This article is part of a continuing series on the 'Mahavamsa,' the recorded chronicle of Sri Lankan history
View(s):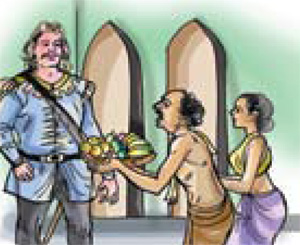 At that time there were 'Dissawanis' – named Matara, Sabaragamuwa, the Four Korales and the Seven Korales. The area from Galle-Face to the Walawe River down south, was included in the Matara dissawani. The Seven Korales included the land between Khyman's Gate to Puttalam.
The interior of the land was named the Four Korales. Half of the modern Ratnapura and Kalutara districts made up the Sabaragamuwa  dissawani.
All powers of the civil and judicial institutions in the area, were  managed by a 'Dissawa', 'Dissapathi' or Captain Major. Administrative affairs, employing mercenary  soldiers in war and even the  administration of justice were all his duties.
In the administration of  justice, he was assisted by an 'Adigar', 'Mohottala' and a 'Basnayaka'. He had the power to pronounce death sentences, imprison or charge fines from wrong-doers. In war, this officer carried a white shield with a red spot. Out of all the 'dissawes' it was the Dissawa of Matara who took the top most place. These dissawes were paid salaries. But according to the Sinhala  tradition, they owned 'Nindagam' too.
A certain portion of income from certain villages, were spent on the maintenance of these officers. In addition, people would bring things that could be put to sale and fruits for consumption. That was a custom prevailing at the time. In the
beginning, Sinhala officers were appointed to these posts. But later, as some of these officers joined with the rebels whenever rebellions arose, they were replaced by Portuguese officers.
Each 'dissawani' was divided into a number of 'Korales' and each 'Korale' divided into a number of
villages. The chief of the Korales, held the post of 'Vidane'.  It was he who served as a judge to mete out justice.
He also had to collect the income of the area.
An officer named 'Atukorale' was appointed to help him. It was the 'Vidane' who had to collect and send whatever dues that had to be paid to the state. The other duty that he was assigned with was to charge fines from wrong-doers or impose
punishment according to the  customs of the land. He had the added task of settling quarrels and executing orders of the commander of the army and the 'dissawa'.
Follow @timesonlinelk
comments powered by

Disqus