Construction industry hits a brick wall
By Chamal Weerakkody
Estimates become guesstimates as budgets go ballistic after 2nd cement price hike in 6 months
View(s):
Construction industry representatives say that the recent cement price increase would have a devastating effect on their projects. "The current situation is a blow to the entire construction industry, as the recent price increase is the second for this year", Sri Lanka institute of Architects Registration Board Chairman Architect Jayantha Perera told the Sunday Times.
He said not only contractors, but labourers in the industry, such as bricklayers and helpers, as well as subcontractors who are raw material providers, cement product providers and others involved with the construction industry, will be badly affected by the price increase.
Pakistan and India are the two main cement exporters to Sri Lanka and with development projects on thje rise, consumption of cement has gone up from 190,000 metric tons to 400,000 metric tons, creating a huge demand for cement.
According to Mr. Perera, small scale contractors will be faced with a drop in construction among the public, unlike major projects; clients tend to stop construction if the cost far exceeds projected estimates. Skilled labourers working under small scale contractors will be left idling, he added.
He said large scale construction companies will have to revise budgets of major projects since these are pre- budgeted.
Usually 20% to 25% of the cost of a project is budgeted for the whole structure while at leas 30% or more of the structure is for cement.
Cement is also used for concrete beams, slabs, walls, roofing sheets, plastering walls and concrete door and window frames, to name a few of its uses.  "The State should initiate measures to protect contractors from abandoning civil construction as a means of livelihood," said Mr. Perera.
Low interest rate loans for the clients and contractors so that they can continue their construction and alternatives should be introduced so that they can take other measures in construction, he added.
Sanken Construction (Pvt) Ltd. Managing Director Engineer Ranjith Gunathilake stated that small scale companies and individual contractors will be confronted with the major obstacle of claiming the increased cost from their clients, adding that, this could compel small scale contractors to abandon their profession or join a large construction company or engage in some other profession.
Nawaloka Construction Company (Pvt) Ltd General Manager Kalana Alwis stated that the present monopoly in cement imports should be controlled and monitored to encourage and promote the local manufacture of cement in the country, to meet future demands.
Prof. Chitra Weddikkara, Professor of Building Economics, University of Moratuwa, stated that quantity surveyors responsible for cost estimates of projects have to revise their estimates with the hike in cement prices.
She was of the view that in the construction of large buildings, the cost per sq. ft. could increase from Rs. 8,500 to Rs. 12,500 to Rs.15,000 with the present hike in cement prices.
A Consumer Affairs Authority spokesman told the Sunday Times that the price increase in cement was due to a drop in its supply and an increase in demand, which spiked its price in the international market by US$ 7 to 12. This prompted the suppliers to request for a proportionate price hike in consequence.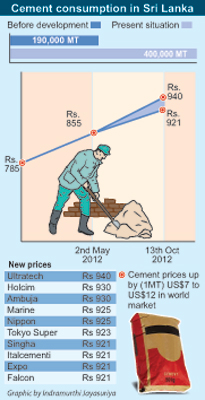 The increase in the price of cement has been in accordance with the relevant brands and it has varied from Rs 68 to 85, with new prices ranging from Rs. 940 for Ultratech cement, Rs. 930 for Holcim and Ambuja cement, Rs 925 for Marine and Nippon cement, Rs 923 for Tokyo Super cement and Rs 921 for Singha, Italcementi, Expo and Falcon cement, which were all selling at Rs. 855 before the increase.
As a major player in the market, a Holcim Lanka Ltd spokesman told the Sunday Times that it has the right to decide when and by how much to increase the price of its cement.
Kapila Rathnadissanayake, a small scale contractor said that the increase in the price of cement will delay all his constructions, while the owners grapple with the spoke in their budgets.
"Construction stopped at the last price increase, but most of the clients, later agreed to continue with the work after reconciling themselves to the increased cost. However, this time, it'll be that much harder to convince them, because this is the second increase within six months," said Mr. Rathnadissanayake.
Hence, construction work can drag and exceed completion deadlines, which renders him out of pocket to retain his labourers in the absence of work.  A construction company project manager told the Sunday Times that the current price increase in cement will depreciate profit margin by 10%.
Prior to the preparation of a BOQ (bill of quantities), middle and large scale contractors compile a forecast of a budget which usually includes an increase of 2% to 3% in their estimates, to offset any potential price increases in raw material costs, which is legitimate and to be stated in the contractual agreement.
In the absence of such 'escape hatches' within the contractual agreement, any price increases in the raw material costs cannot be recovered from the client
Prime Lands (Pvt) Ltd Asst. Engineer Hasitha Chandika said that the cement price increase will affect sales with current construction budgets going up by 15%.
Eric Jayamanna from the State sector told the Sunday Times that he stopped construction on his house at the previous increase in prices of cement, and now, with the latest increase, he fears that his house would remain unbuilt for the foreseeable future.
K.N. Bandara, a bricklayer from Nawala said he was able to only complete just one house out of three in the last six months, and he has yet to receive his wages, as the contractor is having difficulties obtaining funds from his clients.
Follow @timesonlinelk
comments powered by

Disqus