Stress: What's it all about?
View(s):

Three people came to me for help recently – a businessman, a housewife and an Advanced Level student.
The businessman was wealthy and successful, but he could not sleep. "Doctor," he said, "if I don't take alcohol and sleeping tablets I can't sleep and even after that when I get up I don't feel as if I have had good sleep."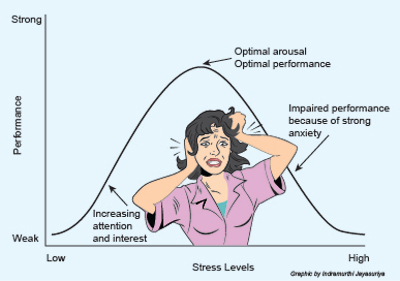 The housewife, a mother of three, whose husband is working abroad was referred by a neurologist colleague. She complained of a persistent headache for which no cause could be found. "I have this headache which gets worse in the evenings. I get so irritable especially with the children who are quite difficult to manage. I am worried as I have now started hitting them when it's really bad," she told me, while the student said that she has lost her memory. "I keep looking at the books for hours but nothing goes in," was her plea.
All three of them have a common problem – they are all suffering from the effects of stress.
What is stress? 
Derived from the Latin word stringere meaning "to draw tight", the word stress was originally used in physics to define forces that act on an object. In biology, stress is defined as the response of an organism to environmental change.
Is stress always bad?
No. All human beings have to face stress in their daily lives. The normal response to stress is adaptive and helps us to successfully face the challenges of life. More than 100 years ago, the Scottish Psychologists Yerkes and Dodson discovered a very simple but important law. This is shown in the diagram below.
What they showed was that if a person is subjected to stress, his performance initially increases, but only up to a point. Beyond this point, he becomes overwhelmed by stress and his performance drops. This inverted 'U' is now known as the Yerkes Dodson Law.
In simple terms "a little stress is good for you, but too much stress is bad". If we don't have any stress in our lives we will not achieve very much and will become a bunch of lotus eaters.
It is a known fact that animals, especially the big cats living in a zoo, have a shorter lifespan than in the wild. They have all the food they need and do not have to hunt but do not have to face the daily trials of living which toughens their bodies.
On the other hand, if we have too much stress in our lives, we become exhausted and if the stress is extreme, simply give up. This was shown by Psychologist Martin Seligman who gave electric shocks to two groups of dogs (animal lovers please note that these shocks were not painful, only just uncomfortable). In the first group, the dogs could escape the shocks; in the second group they could not escape the shocks. After some time the second group of dogs became apathetic and did not even move when given the shock. He called this state "learned helplessness".
We see this state in humans too. People who have been subjected to repeated and severe stress simply give up on life and make no attempt even to get out of stressful situations, even if they can.
The ideal is to have just the right amount of stress so that we have peak performance levels – the top of the inverted U. How do we achieve this? To a certain extent this depends on our personality. We all know people who thrive on stress. They can do a hundred different things all at the same time but never get fazed.
If you are not one of those lucky individuals can you become one? The answer is both yes and no. We can all learn how to cope better with stress. Perhaps we will never achieve the absolute equanimity of those born immune to stress but certainly we can learn to handle stress better than now. How we can handle stress will be discussed in a later article.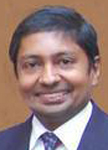 This month, after the commemoration of Mental Health Day, MediScene begins a new series on mental illness by Consultant Psychiatrist Dr. Raveen Hanwella. Dr. Hanwella is attached to the National Hospital and is also a Senior Lecturer in Psychiatry and Head, Department of Psychological Medicine, Faculty of Medicine, University of Colombo.
Something bothering you?
Please write in to Dr. Hanwella C/o MediScene, The Sunday Times, No. 8, Hunupitiya Cross Road, Colombo 2 or e-mail: raveenhanwella@yahoo.co.uk
Follow @timesonlinelk
comments powered by

Disqus