Letters to the Editor
View(s):

Who should take the blame for bad governance of our universities?

Last year, university students lost four months of academic work because of strikes by academic and non-academic staff. This year, the non-academics were on strike for three weeks in June, and when they returned to work, the academics went on strike, in early July. They are still on strike. As a result of these strikes, however "justifiable" they may be, students are compelled to languish at home, their studies interrupted.

Last year, academics began their strike the very week that final-year Engineering students at the University of Peradeniya were to begin their final exams.

It has become an annual feature at our universities for academic work to be stalled – not for a day or two, or a week, but for months.

Who is the University CEO?

Is this or is this not failed governance on the part of the chief executive officer of the university? Is this not a betrayal of public trust? And so the question arises, "Who is the CEO of the university?" The Vice-Chancellor, or the Minister in charge of Higher Education? It is important to ascertain who bears the responsibility for good or failed governance at the university. And if the person responsible has failed to govern well, will he be removed from office?

Why are there no protests by students and parents?

The students and their parents are the victims of this situation. Why is it that there are no protests by them? Is it because they are so drained of civic responsibility that they are taking this situation lying down? Or is it out of fear of reprisal?
Insult to the memory of Dr. Kannangara

Why are university issues allowed to drag on unresolved for months on end? Is this an attempt by persons with vested interests to throw mud at state universities, to discredit these institutions to the extent that those who can afford it will seek private universities, here and abroad? What then is the plight of students who cannot afford to pay? Are the bigwigs in charge of education bent on wiping out state universities and promoting private higher education institutions?
Is this not an insult to Dr. C. W. W. Kannangara, who introduced the free education scheme to give intelligent but under-privileged young people the opportunity of a higher education? It is our boast that we, though economically poor, unlike other South Asian countries, provide a free education up to, and till recently even beyond, undergraduate education. Hundreds of thousands have benefited from this scheme. Are we now on a course to deprive the younger generations of this opportunity?

The Z-score fiasco

How come the Supreme Court had to come in to demand that the admissions list for those who took the Advanced Level 2011 exam be revised? Were those responsible unable to see the faults in their calculations until the Supreme Court intervened? This is yet another issue that stems from failed governance.

Fr. Egerton Perera

A physician offers four lessons for a lifetime

1. What the beggar taught me: The year was 1958. I was a final-year medical student. One cent was a respectable sum then. A beggar squatting on a pavement asked me for money. I gave him one cent. This is what he said:: "Mahattaya, mey sathey umbe p–e gahaganin, ethakota umba kana kemath ituruwewi" (Mister, plug your anus with this coin and then you can also save what you eat). That day I learnt an important lesson in life. If you give something, give properly and adequately, or do not give at all.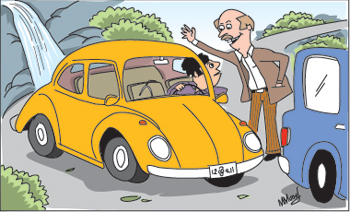 2. What the "suddha" taught me: As a young doctor in the 1960s, driving a flashy new Volkswagen Beetle, I would frequently and unnecessarily toot the car horn. (In those days, I believed that one should run because life is short, until my father said we should walk, not run, precisely because life is short.)
I was tooting the horn in an attempt to overtake the car in front of me. The car stopped and a foreigner stepped out. He walked up to my car, and I lowered the window. This is what he said, very politely: "Young man, don't you know that every time you toot that horn you pollute the environment? Aren't you ashamed to pollute your beautiful country?" Saying that, he walked back to his car and drove off.
Since that day, I use the horn only in emergencies. Most of the time, I do not sound the horn at all. So much so that last month, during a drive to Kataragama and Yala with my nephew, I took a bet with him that I would not use the horn, and believe me, I covered 750 kilometres, up and down, without horning even once. I won the bet. People in Singapore and Britain never sound their vehicle horn; they flash the headlights when they want to overtake a vehicle. Their patience is unbelievable.
To be continued next week
Dr. W. B. Wijekoon, Nawala
Curiouser and curiouser: Public officials in wonderland
We are reminded daily by ruling party politicians and certain powerful public officials — I have given up referring to them as 'public servants', since they seem to serve only a chosen elite — that Sri Lanka is on the up and up in all spheres of activity. This upward trend is certainly evident in the most curious actions or inaction on the part of supposedly responsible officials, depending on who is involved.
While this type of behaviour is endemic and surfaces repeatedly, I wish to draw the attention of readers to some dangerous precedents in recent times.
There was a time when no one would have dared to interfere with the investigations conducted by the Customs and action taken in preventing loss of revenue to the State; investigations and actions which were clearly the sole responsibility of the Principal Collector of Customs, the powerful and officially recognised head of the Customs Department. While the designation of the head of department may have changed, it does not diminish his responsibility towards the people of the land.
In recent times, on two occasions (reported in the mainstream and responsible media and not contradicted to date), two ongoing investigations have been called off by the Secretary to the Treasury, with no explanation offered. People naturally ask: Who is the actual Head of the Customs Department?' Curious, indeed.
Then we had the 'curious' incident of the non-arrest of the son of a Deputy Minister by the police, again without any valid explanation.
So Sri Lanka boasts of another record; in creating a breed of 'untouchables', not of lowly status, but of the highest status, completely above the laws of the land which certainly operate in the case of those ordinary mortals who do not belong to these charmed circles.
How 'curious' can this progressive island in the sun get?
Mark Amerasinghe, Kandy
Chinese academic gives three golden tips for good living 
One evening, a group of friends and colleagues were chatting when a leading lawyer among us spoke about his recent visit to China to attend his daughter's convocation. He told us about the sprawling Tianjin International Medical University that his daughter had attended.
The convocation ceremony was to start at 8.30 a.m, and parents were requested to be seated by 8.30 a.m. The lawyer and his family were dressed in their best, the lawyer in suit and tie.
The University Chancellor came in casual wear. The awards were distributed within one hour, and there were three speeches. The first two speeches were given by two professors, and the final speech by the Chancellor. The Chancellor gave a short speech, and offered three pieces of advice to the medical students.
a) Look after your health first. Eat on time, do daily exercise, keep fit. You should have a healthy body and a clear mind when you see your patients.
b) Look after your parents and your kith and kin. If they live far away, call them regularly, and when they visit, entertain them.
c) Do not chase fame or money, but serve your country and be proud of your Motherland.
This is valuable advice, not only for doctors but for all of us.
Sunil R. Wickremaratne, Mathugama
Bring back Ferguson's wonderful directory
I was very sad to learn that Ferguson's Sri Lanka Directory ceased publication with its 127th edition, covering 1997 to '99. This directory was published for 140 years, originating in 1859. It was first compiled by Alistair Mackenzie Ferguson, CMG and co-editor of the then "Observer".
The publishers were Associated Newspapers of Ceylon Ltd. The directory provided useful and important information on various topics relating to Sri Lanka. I appeal to the publishers to resume publishing this invaluable directory.
Edward Joseph – Mt. Lavinia
Pensioners should get a minimum Rs. 15,000 per month
A large number of elderly pensioners receive only Rs. 12,000 or less a month. A poor government pensioner should receive at least Rs. 15,000 a month. There is no point in an annual increase of Rs. 500, because Rs. 500 is a pittance these days.
Pensioners who retired after 2000 draw huge amounts as pension, and they should not be considered for any further payment increases.
When every citizen of this country receives a pension, then Sri Lanka will be the Miracle of Asia.
Ranjan Goonetilake – Panadura
Follow @timesonlinelk
comments powered by

Disqus