Sunil Aiya turns sixty
By Sanath Weerasuriya
View(s):
Popular and one of the most controversial singers in the Sri Lankan music scene Sunil Perera, celebrated his sixtieth birthday last week. Popularly known as Sunil Aiya, is the only musician in the local music industry to run a band single handed for more than four decades.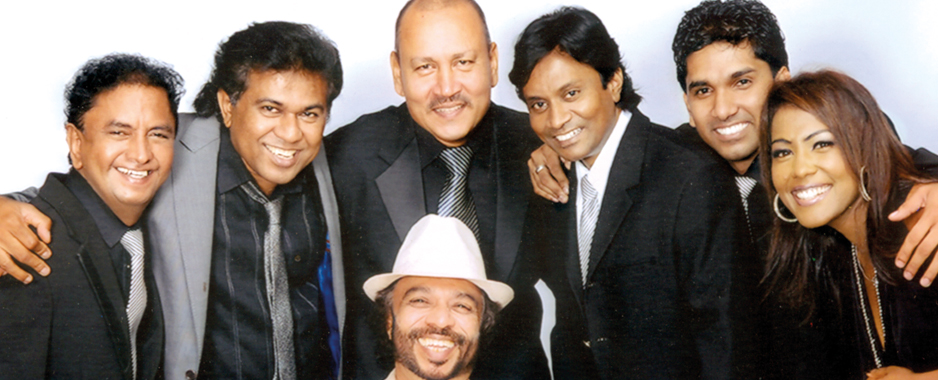 At the sixtieth birthday celebrations, he was presented with a brand new song – 'Heta Pannath' penned by his brother Piyal and sung by rest of the Gypsy boys along with his sons Sajith, Gayan (Daddy) and nephew Lanthra Perera of Doctor fame.
He is the leader and the live wire of the band Gypsies from the inception of the group in 1969, to date.
Born on September 14, 1952 Sunil started the Gypsies just after he left school in early 1969 and the original line up of the band consist of Sunil, Nihal, Nimal, Lal, Neville, Noel and Kanthi.
Their early success was due to a series of 5 LPs they released in the 1970s entitled Dance with the Gypsies, which include their very first hit song 'Dunne Kiss Ekai' and 'Amma Amma'
Popular songs 'Linda Langa Sangamaya', 'Hina Hina' were released in 1973. Other tracks sung by Sunil Perera include, 'None Mage Sudu None' (1977), 'Lunu Dehi' (1987), 'Kurumitto', 'Oye Ojaye' (1989),  'Pity Kotapan None and Signore (1997). Among the many accolades, Sunil was adjudged 'Show Biz Personality of the Year' in 1990 Under Sunil's leadership, the Gypsies too have won many accolades as a band, being adjudged Dance band of The Year in 1989 and 1990.
Since lately, Sunil has become one of the most controversial singing sensations in Sri Lanka with his ever popular 'I don't Know Why', 'Lankawe', 'Apita Kiyanna- No Problem pvt. Limited' and 'Kiyanne Gothala' songs.The Gypsies have not released any song since their last album 'I don't Know why' in 2001.
'I have done a few songs and we are now working on our latest album. I think it should be ready by mid 2013. Like our earlier songs, this album too would have a couple of sensational and may be controversial songs' Sunil said.
The present lineup of the Gypsies comprises Sunil Perera (guitar/vocals), Piyal Perera (percussion/vocals), Derek Hepponstall(bass/vocals), Ranil Vas (guitar/vocals), Gordon Athula (Drums), Dushan Jayathilake (keyboards/vocals) and Radhika Rajavelu on vocals.
Follow @timesonlinelk
comments powered by

Disqus