Losing her heart to Sri Lanka
Australian Masterchef contestant Dani Venn talks about her love of kottu, cooking a vegetable curry for the Dalai Lama and hosting an island cooking tour with Kumar Pereira

View(s):
Brace yourself, Dani Venn's back in the Masterchef kitchen! The season three contestant will be competing in the upcoming 'Masterchef All Stars'. You never knew quite what you were going to get with the bubbly, creative Australian cook – fans will remember her liquorice ice cream and Korean rice burgers from Season three.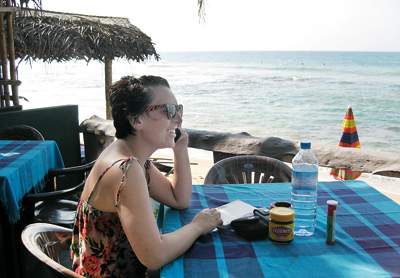 Dani just missed out on the top three but she had already made Masterchef history by becoming the first contestant to win two coveted immunity pins. She also became something of a culinary ambassador for Sri Lankan cuisine when the Dalai Lama picked her vegetarian rice and curry for his lunch.
Dani can trace her ancestry to some of Australia's first Chinese immigrants, but her love for South Asian flavours is very much a product of extensive travelling. After she finished high school, Dani spent seven months voluntarily teaching English in Vietnam where she loved the street food. But it was while studying for a Bachelor of Communication (Media) at RMIT University that she ended up visiting Sri Lanka in 2006 and India. A woman she met while travelling convinced her she should visit: "The stories she told me about the water buffalos, mountain tea fields and picturesque scenery captured my imagination and I knew it was a place I wanted to go one day!" Dani told the Mirror Magazine over an email.
In Sri Lanka, she ended up working with the Colombo based 'Kantha Shakthi' about whose work she made a documentary as her final year project. She travelled around quite a bit and even met her current boyfriend, New Zealander Chris Burgess in Hikkaduwa. He wasn't the only thing she lost her heart to – Sri Lankan food absolutely wowed Dani. "Before I went to Sri Lanka I assumed that Sri Lankan curries were the same as Indian ones. I like Indian curry but when I had my first Sri Lankan curry I fell in love!" She enjoyed the "lightness" of curries cooked with coconut milk and oil instead of ghee. "I also like the generosity of Sri Lankan curry, you never just get one, and the fresh sambols are amazing," she says.
Learning how to cook Sri Lankan food has been a matter of practice – knowing how to handle and blend spices, how far to roast them and of course when cooking abroad, finding the right, quality ingredients. "In Australia these ingredients are difficult to find, but I always hunt them down when I am making Sri Lankan curry to ensure genuine flavour." She was a vegetarian on her first visit, and so she ended up eating a lot of okra, bean, pumpkin, and dhal. "Dhal is my favourite in Sri Lanka and I could live on that roti (kottu) forever!" she says, confessing to a great passion for kottu. Even after she ate non-vegetarian food on her second visit in 2008, Dani remained convinced of the superiority of the vegetarian dishes – its why she chose to cook a selection of them for His Holiness, the Dalai Lama.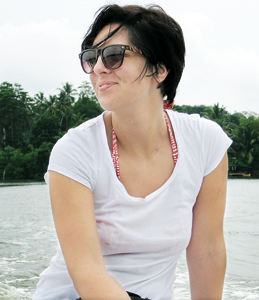 "As soon as I heard that the challenge was vegetarian I knew immediately to cook a Sri Lankan curry because it is generous in its spirit, it is totally delicious and it also means a lot to me, as Sri Lanka – with its people and its food, is a very special place.
I learnt so much about myself and also about cooking in Sri Lanka and I will be forever grateful." She served him a prettily presented plate with a potato curry, a bean curry, a coconut and mint sambol, a roti and rice. "It must have been good as I won the challenge!"
Dani mentioned having picked up some tips from Sri Lankan born co-contestant Kumar Pereira, but he says the learning went two ways: "Her godamba rotis are really excellent – light and flaky and I'd never attempted these until she showed me how on series three," he told us.
The two got a long very well: "Like the rest of the world, I adore Kumar," she says. "Kumar is also lots of fun, a bit cheeky like me and enjoys having a laugh. I think I have made a life-long friend in Kumar." Dani is currently in India and says it's "killing" her not to visit, especially since she would like to see the North and East.
She dreams of returning as a co-host of a cooking tour with Kumar. In the meantime – keep an eye out for her on MasterChef All Stars where she cooks another Sri Lankan dish. Says Dani: "you will have to watch out for that one!"
Dani online: www.danivenn.com
Follow @timesonlinelk
comments powered by

Disqus