Letters to the Editor
View(s):

Apartment living is the new high for high-rise Colombo residents

Colombo's skyline has changed. Whether it has changed for the better or worse is to been seen. Multi-storey buildings have sprouted up, not quite skyscrapers but still reaching high.

Many years ago I listened to a television talk show in which the Chief Town Planner predicted that multi-storey buildings would be the future for our cities. He said that with limited land space and a growing population, governments would have to develop multi-storey housing units. This would be the only way we could keep our cities green. He envisaged corridors of trees between multi-storey housing units.

The high-rise buildings are coming up, but the corridors of greenery are absent. Before Colombo, Mount Lavinia and other suburbs and towns become high-rise jungles, the municipalities and local authorities should think of the "corridors" of oxygen-giving greenery.

Apartments are now called "residencies", a fancy word that reflects a kind of upward mobility from what were once referred to as "flats." Apartments have many advantages. The first is a sense of security. All apartments have security gates, and security personnel man the gates 24/7. The quality and level of security depends on the security company contracted. Apartments are a boon to senior citizens and their children. In today's mobile world, many of the younger generation have gone abroad in search of greener pastures, and greater freedom. Many are not able to take their ageing parents with them, so a good apartment for the parents gives both parties a sense of security.Those who plan to move into apartments should shop around for something that suits their purpose – and purse.

Be alert to "common-area facilities", such as parking, water, electricity, lifts, corridors, and much more. Check whether electricity is available when is a power cut. Remember that there is no garden to walk into during a "power cut." Check the monthly maintenance fee. This is very important. We learnt the hard way, when the maintenance fee was increased twice within six months with no consultation with the apartment owners.

Sujatha Samarajiwa Via e mail

Gampaha by-roads in appalling state

Open letter to minister Basil Rajapaksa:

We Gampaha residents ask the Minister, who is also Minister in charge of the district of Gampaha, to investigate what the Pradeshiya Sabha members and Members of Parliament overseeing the district are doing with public funds allocated for road development in the Gampaha area, including roads in Gongitota, Enderamulla and Wattala?

Yes, some roads have been paved, from the end of the main road and halfway inside. This has been done to impress the Minister, so that when he walks down the main road in Gongitota at election time he will think the needful has been done for the residents living along these roads.

But stroll a little further and enter some of the by-roads and you will see disaster. The roads are so bad that no elderly person can use them. On rainy days, children wade through mud in their clean shoes. Motorcycles and three-wheelers have toppled over, and women have broken legs and fractured hands using these roads.

People have met with accidents trying to avoid the deep potholes along Jude Mawatha, St. Mary's Road, Thambiliwatte, Dawatagahawatte and Eksath Mawatha. These are among the worst of many roads that are in a bad state of disrepair.
To give the impression that road-mending is under way, a backhoe is sent to clear the roads. The authorities are then informed that road repairs have started. The fact is that work started two years ago and it continues, but nothing has come out of it. The roads remain in terrible shape.

Where is the tax-payers' money going? Into whose pockets? From Minister to Pradeshiya Sabha chairman, the buck is passed back and forth. Those who get preference at election time end up fighting among themselves and the roads are neglected and the people suffer.

We are fooled into voting for people who promise the sun and the moon. And if you have not voted for five years, you cannot enter your child in a school. Who wants to vote for rogues who help themselves to the peoples' taxes? Ultimately, your vote is stolen, as well as your tax money.

We thank the Minister for keeping his promises. He has done a good job on the road leading to Kiribathgoda. People in Enderamulla and Kiribathgoda are using this road to walk and exercise and keep in shape. This is good.
We request to the Minister to take immediate action and send public officers to inspect all these by-roads in Gampaha district, all the way to the end.

The President visits different countries asking for loans to develop the country, but he has no idea how funds are being pilfered or misused. The worst offenders are the MPs and the Pradeshiya Sabhas down the line.

We hope the Minister will respond to this open letter before the rains begin.

A. Fernando

Top Kandy boys' school steers along without a proper chief

Since November 1, 2008, Trinity College, Kandy, has been adrift with only an Acting Principal as the school head. This scenario implies that Trinity is hard-pressed to find a proper principal. Such an assumption would be an insult to Trinity's glittering alumni, who occupy every noble profession imaginable, and are spread throughout the world.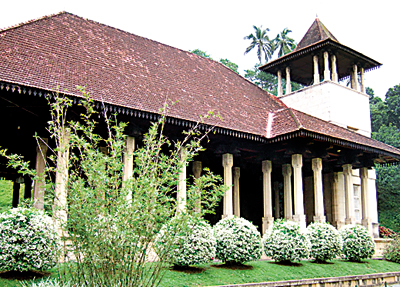 On November 11, 2008, the Sunday Times ran an article titled "Ministry 'no' to new Trinity head". The article pointed out that the appointment did not comply with requirements under the Education Ordinance.
Former Education Minister Susil Premajayanth expressly stated that  any document from Trinity bearing the new Acting Principal's signature would not be acceptable to him.
Despite several official complaints to the Education Ministry with regard to this appointment, the board of governors chooses not to respond.
The Education Ministry should take heed and not let other private schools make the Trinity exercise a precedent.
For concerned Trinity Old Boys and parents who pay through their noses to send their children to Trinity, this is indeed a sad state of affairs.
Respice finem.
Bandula Jayaratne Ranawana, Katugastota
Choon Paan the baker's man drives us mad with his infernal noise
We read with delight Wijith de Chickera's column on the "Choon Paan Man." In Colombo we have enough noise pollution as it is, but add to this the Choon Paan Man and life becomes hell for everyone else.
The vulgarised version of Für Elise that he plays incessantly annoys not only those who know the melody but also those who do not.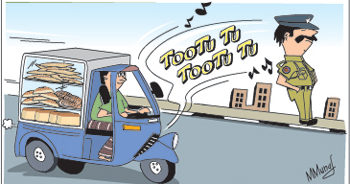 The Choon Paan Man drives his contraption down the Galle Road, disturbing schools, churches, hotels and residents. He disturbs the entire neighbourhood at six in the morning (weekends included), and again at three in the afternoon, just when the elderly and the very young are ready for a break from school and the heat.
At every stop, the tune goes on and on, ad nauseam. The police, who are expected to check noise polluters, simply stand by and do nothing.
I could be talking to friends and family on the telephone when who comes along, jarring through the line, but the Choon Paan Man and his unmusical interlude. He is everywhere these days.
I do hope people will make enough of a fuss to stop this man from disturbing the peace. By all means let him sell his wares, but not by jangling our nerves to the limit with his incessant noise-making.
Ms. Marla de Silva, Colombo 3
Exam glitches growing like cancers
Mistakes in examination question papers are growing like cancers. These errors cannot be "printer's devils." It is clear that question papers have gone for final printing without having been proof-read.
Allowing mistakes to creep into exam papers may be one way of showing up stupid politicians who give foolish excuses for every foolish thing they do. Ultimately, it is the student who suffers.
U. Wilson Wickremasinghe, Vilegoda, Ambalangoda
Follow @timesonlinelk
comments powered by

Disqus