Extra headaches with extra student intake
Mirudhula Thambiah reports, Pix by Amila Prabodha and Ranjith Perera
Dons worry that teaching and other higher education resources will be spread too thin to satisfy all students, including a further 4,900 university admissions.
View(s):
A senior don says the University Grants Commission proposal to increase the university student intake this year was a "political solution" that gave university authorities no say in the choice of students admitted.
Professor Sirimal Abeyratne, head of the Department of Economics, University of Colombo, told the Sunday Times yesterday that an additional 4,900 students would be admitted to universities not because they were eligible, under university criteria, but because they were deprived of marks as a result of a government error.
Professor Abeyratne was commenting on the snowballing effect of the "Z" score marking system for GCE Advanced Level students. The Z-score fiasco caused by the education authorities has led to the cancellation of the controversial results system.
The academic said a situation would arise with problems such as how to deploy available university teaching facilities and resources to everyone's satisfaction. Quality would be affected if facilities and resources were spread too thin.
"The disadvantage will be shared by all parties directly – academics, administrators and students," Prof. Abeyratne said. "Indirectly, I guess the disadvantage will be shared even nationally in the long run, if inadequate space and resources affected the quality of the output."
Another academic, Dr. Devaka Weerakoon, Faculty of Science, University of Colombo, told the Sunday Times that universities were operating at full capacity, especially in the sciences, which required the use of laboratories where accommodation was limited.
"We are finding it extremely difficult to provide a quality practical training due to limitations in space and equipment, Dr. Weerakoon said. "If we increase the intake, we will definitely have a problem. The only course of action is to conduct two parallel degree programmes. Teaching staff will have to carry twice their normal teaching workload."
Dr. Weerakoon said degree courses take up to three and four years, and teaching staff would be compelled to sustain the extra workload for that long – "a tall order." As a result of government bungling, the academics will have to carry this extra burden, he said.
"The academics are on strike, the faculty boards are not meeting, and the university senate cannot be convened. Decision-making on raising the student intake is at a standstill," Dr. Weerakoon said. "Meanwhile, the University Grants Commission is make a decision without following the due process. This will have consequences."
Dr. Weerakoon said increased university admissions should not be a problem if the quality of education these students received was not compromised. Once they graduated, they should be equally competitive with the others when applying for jobs, he added.
Unemployment, according to yet another academic, was the main problem all graduates, whether arts or science, faced on entering the job market. "Graduates have two options for employment – the state and the private sectors," Siri Hettige, Senior Professor in Sociology, University of Colombo, told the Sunday Times. "There was a third option, non-government organisations, but many NGOs have closed down because of negative publicity."
Professor Hettige said the private sector tended to prefer to recruit and train young people with Advanced Level qualifications than hire graduates. A salesperson does not have to be a graduate, he said, adding that the public and private sectors should come to some agreement to share the burden of unemployment.
Meanwhile, the mood is positive at Ministry level. University authorities have held discussions with President Mahinda Rajapaksa. The response to taking in an additional 4,900 students has been "positive," according to Dr. Sunil Jayantha Nawaratne, Secretary, Ministry of Higher Education. The discussions included the University Grants Commission, Vice-Chancellors, Deans of Faculties, and officials of the Ministry of Higher Education.
Professor Gamini Senanayake, Deputy Vice-Chancellor, University of Ruhuna, told the Sunday Times that the authorities were coordinating with the University of Ruhuna to facilitate an increase in student intake.
"The University Grants Commission has invited the Ruhunu University's Vice-Chancellor to discuss student intake matters," Professor Senanayake said. "The Vice-Chancellor also had discussions with the faculty deans to look into accommodation facilities."
New salary scale for dons to resolve deadlock 
A new salary scale for University dons, one of the key demands during their over 10-week old strike, is now being formulated to place them on par with some other State enterprises.  The revised pay details were now being formulated by Treasury Secretary P.B. Jayasundera, a senior office bearer of the Federation of University Teachers' Association (FUTA) said.
According to FUTA General Secretary Terrance Madujith, the new pay structure would be similar to those enjoyed by their equivalents at the Ceylon Electricity Board (CEB) and State banks.
Discussions had been held between Treasury Secretary Jayasundara assisted by some Treasury officials, Higher Education Ministry Secretary Dr. Sunil Jayantha Nawaratne, Mass Media Ministry Secretary Charitha Herath, Dhamma Dissanayake, a senior official of the Economic Development Ministry, UGC Deputy Chairman Prof. Ranjith Senaratne and six FUTA members.
At these meetings FUTA had demanded a 20 percent increase in their basic salaries. However, knowing that it was difficult for the Government to grant this demand at once, FUTA had requested an interim solution to gradually achieve their targeted salary demand.
In response the Treasury Secretary has stated he would provide a long term solution by implementing an effective salary framework.Withdraw FUTA membership to receive withheld pay
Recently the FUTA membership has been under pressure after the authorities requested lecturers to withdraw their membership from the Association so that the two months salary withheld during the strike could be paid to them.
However, only a few members had heeded this request.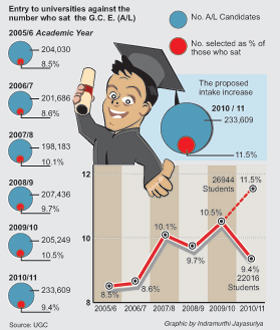 Follow @timesonlinelk
comments powered by

Disqus