Appreciations
View(s):

Saluting the gentleman who trained generations of officers, sailors

M. G. S. Perera 

Instructor Commander M. G. S. Perera – the first Training Officer (then referred to as Instructor Officer) of the Royal Ceylon Navy, the man who trained generations of officers and sailors, and the man who founded the Naval and Maritime Academy (NMA) Trincomalee – left us for "the other shore" on August 10, 1999.

I quote Dr. Fred Silva, a cousin who was close M. G. S. Perera from "the cradle to the grave":
"Soon after Stephen Aiya obtained the Ceylon Teachers' Certificate in English and in Sinhala, he proceeded to India to complete a four-year full-time course in Mechanical Engineering at the world-famous Victoria Jubilee Technical College, in Bombay. He was awarded the Licentiate in 1947.
"He then returned home to better serve Sri Lanka, where his unassuming friendly ways and amiable manner won the hearts of all who knew him."
Comprehensive naval training is indispensable to transform young recruits into Naval Service professionals. In an island nation such ours, the Navy is the first line of defence, and requires high-calibre people to carry out the Navy's arduous tasks.
The professionalism, knowledge, discipline, leadership and dedication to country that our Navy officers show in times of peace and in times of war can be attributed to the Naval and Maritime Academy, which provides the best of training.
The Academy was established on January 15, 1967 and formally commissioned on July 18, 1967, with Instructor Commander M. G. S. Perera, its founder, as its first Commandant. The seven Instructor Officers, introduced by M.G.S., served the Navy and the country brilliantly.
Commander Perera's pioneering efforts, backed by the quality teaching and dedication of those seven Instructors, saw the Academy grow from strength to strength, sailing through peace and war, tranquillity and tremendous change.
Today, 45 years after it was commissioned, the Academy remains the Sri Lanka Navy's main training establishment. In 2001, the Academy became a degree-awarding Naval academy with university status. It was the only Naval establishment to be awarded the President's Colours on December 13, 2003.
With the establishment of the Royal Ceylon Navy in December 1950, the need for officer training was acknowledged.
H. M. Cy. S. Rangalla, commissioned on August 28, 1951 with M. G. S. Perera as the first Instructor Officer, became the first ship to be manned entirely by Instructor Officers. M.G.S. was the first non-executive branch officer to be appointed to command a ship.
The then Captain of the Navy, Rear-Admiral Rajan Kadirgarmar MVO, brother of the late Minister Lakshman Kadirgarmar, identified the need to reassess the entire structure of the Navy's in-service training and to establish a formal Naval training academy.
To quote from the first issue of "Vidusuidu", the Academy's then official publication: "Not only the gigantic tasks of designing and transforming the old neglected buildings at Dockyard Trincomalee but also giving life to the NMA were entrusted again to M. G. S."
The Naval and Maritime Academy was born on January 15, 1967, less than a year later, and formally commissioned on July 18, 1967. The Academy would train not only Navy officers and sailors but also personnel from the Fisheries Corporation, the Police Department and the Ceylon Shipping Corporation. Many of those went to sea with NMA Certificates.
Even then, the Naval and Maritime Academy was being internationally recognised for its successful training. This was an extraordinary achievement at a time when modern facilities and technology were never dreamt of.
I quote Instructor Lieutenant Commander SLN (Rtd.) Somasiri Devendra, one of the first seven assistants in the pioneering team of Instructors:
"NMA was born of a Navy much derided, lacking a single craft that mounted a gun; a Navy where no recruitment was permitted, no intake of officer cadets and no training of any kind. A Navy like a battered hulk, left to rot for many years.
"What turned the Navy around was the Academy. And the Academy was M.G.S. He built up a group of us as a team with commitment and devotion, the men who planned the Navy of the future. The Academy under M. G. S., Teacher to the Navy, literally made swords out of ploughshares. We were his tool-kit and he the master craftsman.
"M.G.S. knew that the NMA was a National Institute, and he soon showed the world that our Navy could train officers from cadets upwards, men who could hold their own with Naval Officers in any Navy, anywhere".
By that time, MGS had not only toured almost all Royal Navy training Schools and engineering colleges but had done a further study tour of the US Navy Academies in Annapolis and Washington, and the US Naval Western Command School in San Diego.
He also specialised in Meteorology, at the Royal Naval Air Station, HMS Culdros, and was elected a Fellow of the Royal Meteorology Society as well as the Institute of Marine Engineers and the Institute of Navigation London. He was eminently qualified and experienced to carry out the task of training all types of officers.
He was the first Instructor Officer to be appointed Naval Officer-in-Charge, Trincomalee (the post now known as Commander of the Eastern Naval Area). On reaching 55 years, he retired as Director, Naval Training.
Very soon after, he was snapped up by the Ceylon Shipping Corporation and appointed Staff Captain to train Merchant Navy Cadets on board their ships. Those cadets are now respected Master Mariners sailing the seven seas, while some are CEOs of shipping companies.
Dr. Ajith C. S. Perera
Remembering a dear friend of the family
Flora Lilian Perera 
Flora Lilian Perera died in a nursing home in Sydney in June this year. Her son, Vijaya, kindly sent me a typescript of the moving funeral service held in her home church there, including all the tributes given by her children and grandchildren, and adding, "On behalf of our family, I request you to pen down your thoughts in appreciation of our Mother, as it would be a very fitting tribute, coming from her very dear, longstanding friend."
As I read that, the memories of our friendship came flooding in. Lilian and I (and our spouses) first met mid-ocean, way back in 1956, during the Suez crisis, when the Suez Canal was closed to all shipping and our ship was diverted to make the long journey round the Cape and South Africa instead. A carefree month at sea brought together the Ceylonese, (we were still "Ceylon" then) passengers who numbered around 15 to 20, to interact more closely than we might otherwise have done.
We formed a happy group, gathering on the upper deck most nights and talking and singing and enjoying the congenial company.
My husband and I bonded more closely with two of the couples, Lilian and Bernard Perera and Dr. Rashid Deane and wife Kathidja. Back home, the whole group kept in touch and met from time to time, but we seemed to move most closely with Lilian and Bernard. When I had my 7th and last baby in 1957, Lilian arrived to greet the infant with an exquisitely hand-sewn, flowing dress and matching bonnet. At this time, the Pereras had five children, their eldest a bright and lively girl, and four boys. Then they evidently decided to challenge us and produced two more girls in quick succession, equalising our score of three girls and four boys.
Both our husbands' birthdays fell around Christmas and the New Year, and our families celebrated this event. Our children would put on a Nativity Play, and so did the Pereras. What I vividly remember one year is that whereas we used a doll to represent the Infant Jesus, at their house we found the youngest Perera baby-girl inside the crib!
We lived far apart – they in Hendala and we in Wellawatte – but Bernard and Lilian would never take no for an answer when they invited us for a meal in their hospitable home. Lilian was as expert a cook as she was a seamstress and gardener, and her meals were mouth-watering.
Bernard's stint in London in the '50s was due to his being sent there by the Central Bank where he was an officer. Lilian had done a secretarial job in London. She applied for a secretarial position at Lake House and worked there for a short time. My husband, Earle, was at Lake House and I was told by him that Lilian's work in the Secretarial Department was held in high regard.
I think she stopped working at Bernard's insistence, but at home in Hendala she launched a very successful poultry business. Ever a keen gardener, she also cultivated roses as a commercial venture. Bernard resigned from the Central Bank to take up the position of manager of the Bata Shoe Company Sadly, Bernard died prematurely in 1970 after a kidney operation. I was at his bedside in hospital with Lilian and the children when he drew his last breath.
Lilian seemed to find it hard to settle down after Bernard's death and she eventually decided to go to England where she had a sister and also two of Bernard's brothers. She followed a university course in Psychology and ended up winning a gold medal. By this time, her eldest daughter, Sujatha and husband, both medical doctors, had put down roots in Sydney. Sujatha persuaded her mother to come to Australia where she had no difficulty in finding employment as a psychologist attached to a hospital. The work she found very satisfying.
On a visit to Australia, Earle and I had the pleasure of visiting Lilian in her home in Sydney. After treating us to a delicious meal cooked by herself, she proudly showed us round her well-tended garden. We were both taken aback when, in the course of conversation, Lilian suddenly said, "You know, I think I am coming in for Alzheimer's."
"Don't be silly," I impulsively said, to which my friend gravely replied. "I know the signs." I still dismissed that possibility from my mind – what connection could my vibrant, happily-occupied and mentally active friend have with any form of dementia?
But true enough, a few years later, I received the sad news that Lilian's own prognosis had been right after all. Sujatha and the others cared lovingly for her as long as they could, and then had her transferred to a good nursing home where she received the best of care and regular visits from her family. The disease slowly took its course and now death has released her into what we believe is an even fuller life than she knew on earth before she was overtaken by illness. The special person who was the Lilian we knew and loved will always live on in our hearts.
Anne Abayasekara
Tribute to a loving teacher 
Gladys Muriel Abeysekera
Few years ago, senior Southlanders of the Ridge era gathered at the All Ceylon Buddhist Women's Congress hall to wish a Happy Birthday to Gladys Muriel Abeysekera, to show gratitude for the services rendered to her pupils at Southlands and to bestow their felicitations to her on that happy occasion. Few days ago, she departed from this world peacefully in her sleep at the age of 94 years. She had a good memory until the time of her death having completed a fruitful long life, serving society in many fields.
She started her teaching carrier at Southlands under the guidance of Edith Ridge in May 1951 and left school in 1955. Miss Ridge in her Prize Giving Report of July 1955 states:
"Mrs. G.M. Abeysekera had to leave us because of her husband's transfer to Matara. Mrs. Abeysekera will be long remembered for her geniality and for the spirit of friendship she spared wherever she moved. Nothing was too much trouble if she felt she could be of service."
This is a hall mark of her character which is eminently worth mentioning. Even during her short stint at Southlands, she was a dedicated teacher who taught her students with love and kindness and her appreciative pupils who attended her funeral after many decades bear ample testimony to this statement.
Mrs. Abeysekera always admired Miss Ridge and writing an article to the felicitation volume "Golden Heart of Southlands' she says 'It was most fortunate that I should have met this endearing personality full of kindness and wisdom, who was to guide the destinies of my teaching carrier with great sincerity.  She encouraged me in a manner befitting a Principal and missionary of the noble service a dedicated teacher could give to a school……..'
She retired from teaching and thereafter devoted her life to a large number of religious and social activities for nearly 50 years, even to the evening of her life. She became the President of Lanka Mahila Samithi and All Ceylon Buddhist Women's Congress and had the opportunity to serve society in two different ways and her selfless services rendered to these two institutions are immeasurable.
She was a lovable mother, grand mother and most lovable great grand mother who leaves behind three children, ten grand children and three great grand children who loved her deeply.
May she be able to shorten her Samsaric journey and to attain supreme bliss of Nirvana some day!
Devoted Senior Southlanders of Ridge era
Shantha Manawadu Abeysekera
My love for you will never die
Victoreen M. Hassan 
It will be four years on August 25, when God called Victoreen to rest. We got married on October 8, 1968 at All Saints Church Borella and spent a happy and peaceful wedded life for almost 40 long years, filled with fun, laughter and joy. She gave life to our children and when I needed hope and inspiration she was always strong. Victoreen was loving, caring and my only consolation and the greatest blessing in my life. She placed gold on my finger and brought love like I had never known and gave life to our children.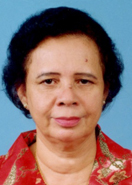 We prayed together as one from the day we got married until she left this world with precious memories time cannot erase. I still remember the tender words and the loving things she used to say. Through the years I had you to keep me happy. We thanked our lucky stars we found each other and from that time our lonely days had ended as we stood close to each other for the rest of our lives. We faced the good times and bad and together our love grew stronger and stronger every moment every hour. Hand in hand we faced each other with no fears as we were so sincere and faithful.
Side by side we walked the roads together and each step we took together drew us closer through the years. Victoreen was my one shining star. I walked beside her, loved and guided her and I was always beside her until her untimely death. Fate has been unkind and I had to lose her and it broke my heart. She has gone far away and left me all alone, my days and nights have turned so lonely since that day.
I only know how much you meant to me and how much I loved you so. As my memories turn back the pages, I can remember the happy days we spent together. Now the love that kept my heart beating has been shattered without you by my side. But remember Vicky, although you are gone so far away, the love in my heart for you will always stay as you are forever in my mind and I hope and pray we will meet again.
It has been so many years ago we met each other and that was the time happiness . You were mine all the time and we were faithful. Through the years you dried my lonely tears and made me smile again, as only you could do. As the years went by, together you and I faced the good times and bad, come what may.
Finally, thank you, Victoreen for the wonderful and generous sacrifices you made for me, our children and all the loving care and affection you showered on us. I remember not what I did for you, but what I was to you and what you were to me. Thank you for loving me and being what you were. Darling Vicky, our special years will not return , but the love within our hearts will remain. Till we meet again.
Sadly missed by your loving husband
M. Kamil. A. Hassan
comments powered by

Disqus