Just In Time Technologies enter into Strategic Alliance with VCE –
View(s):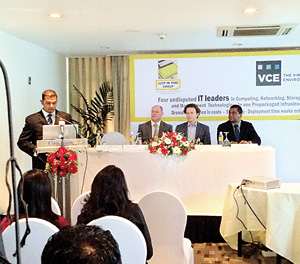 Just In Time Technologies, a leading systems integrator in Sri Lanka specializing in software and IT solutions, announced that the company has formed a Strategic Alliance with the Virtual Computing Company (VCE) of the USA. VCE excels in developing innovative platforms for cloud computing that dramatically reduces IT infrastructure costs ; together, the Just In Time Technologies and VCE will herald in a new era in cloud based computing in Sri Lanka.
Under the Strategic Alliance, Just In Time Technologies will license and purchase products and services from VCE which will be marketed in Sri Lanka where a growing cloud based market is emerging. The products will include Vblock and third part software and components from VCE.
Vblock platform, VCE's cutting edge product, delivers the industry's first completely integrated IT offering with end-to-end vendor accountability. VCE's prepackaged solutions are available through an extensive partner network, and cover horizontal applications, vertical industry offerings, and application development environments, allowing customers to focus on business innovation instead of integrating, validating and managing IT infrastructure.
As more and more organizations turn to cloud computing for their ever expanding IT needs, Just In Time Technologies believes that VCE's products are entering the Sri Lankan market at a right time. With VCE's Vblock infrastructure platform, Just In Time Technologies will be able to offer comprehensive cloud infrastructure that will enhance efficiency and utilization of IT resources.
comments powered by

Disqus