CFPS open day and scholarship awards ceremony
View(s):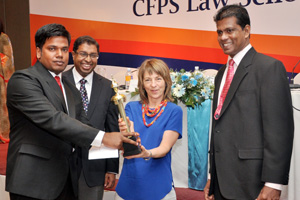 Sri Lanka's market leader in legal education the CFPS School of Law which is also a registered centre of the University of London for its prestigious Law Degree programme conducted  its open day and scholarship awards ceremony on July 22nd 2012 at Cinnamon Lakeside.
Professor Jenny Hamilton, Director, Undergraduate of Laws Programme and Mr. Chris Jenney, Senior Admissions Manager of the University of London International Programmes, CFPS Chairman Mr. Saliya Pieris Attorney-at-Law, Deputy Chairman Mr. Ajith Perera MP, Attorney-at-Law,  Managing Director Nanda Muruththettuwegama, Attorney-at-Law participated in the event.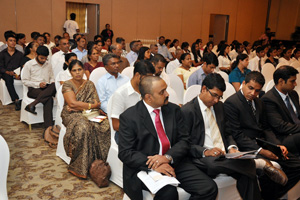 The highlight of the day was the scholarship awards ceremony where the September 2012 "Sir Ivor Jennings Memorial Scholarship"was presented to Priyanthan Pavaranathan of Jaffna covering the entirety of the fees of both the University and CFPS School of Law. Other award winners were presented with full ,half and quarter scholarships covering the fees of CFPS.The Scholarships were presented by Professor Jenny Hamilton.
Another highlight at the event were the mock lectures conducted by the Law School's lecturers giving the students at the event a foretaste of what they would be offered. The CFPS applies stringent criteria to select the most accomplished student for the award of the Sir Ivor Jennings Memorial Scholarship. The selection process begins with a written test and an interview at which every applicant's academic, sports, and extra curricular achievements are subjected to rigid evaluation. The CFPS awards scholarships to an annual value of Rs.15 Million, non scholarship holders make up the majority of students reading for the Diploma in Law and LL.B Law Degree examinations conducted by the CFPS.
This prestigious LL.B degree course conducted by the CFPS on behalf of the University of London is consonant with the highest academic standards at the best Universities in the World. Students can join either the part time course conducted during the weekends or the fulltime course conducted five days a week. Courses commence on the 9th and 10th September respectively.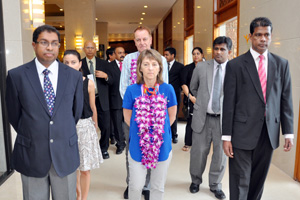 The CFPS is presently offering several full, half and quarter scholarships for its full time LL.B. Programme for which a special test will be held at the CFPS Auditorium at 8.00 am on 1st September 2012. Applications can be downloaded from the website www.cfpslawschool.com
The CFPS boasts a unique panel of qualified law lecturers whose standard of lecturing are widely acclaimed.
Apart from the Law Degree programme the CFPS enjoys a reputation of having prepared the most number of successful students at the  entrance examination to the Sri Lanka Law College for the last two decades, boasting of an alumni of over 3000 lawyers. Lectures for the 2013 Law Entrance examination will commence on September 2nd 2012.
comments powered by

Disqus