After A/Ls, study Biomedical Science @ BCAS Campus
View(s):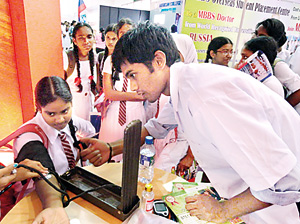 British College of Applied Studies is the first institution in Sri Lanka that gives practical meaning to its name "Applied Studies". Let's see how? The students are able to apply what they are equipped for by BCAS in the job they secure and that too at the quickest possible time.
Offering market relevant courses and training programmes has been the vision of British College Applied Studies ever since it was established in 1999. During its successful operation for more than 13 years now, the college has gone through a realistic evolution to provide different levels of courses in a variety of fields ranging from Computing to Construction studies. BCAS also Awarded as Best outstanding center in Sri Lanka by Edexcel UK.
Talking about bio-medical science, its uses and applicability, it is a science connected to biology especially in the context of medicine. Biomedical scientists are typically active in biomedical research in fields such as Anatomy, Physiology, Pharmacology, or Microbiology and may have contact with patients in research protocols or in medical laboratory.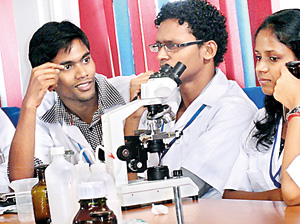 Throughout the world these scientists work as engineers or technologists to find innovative ways to cure diseases by developing advanced diagnostic tools and treatment methodologies where physicians and pathologists play a pivotal role.The general motivation may be stated as: "to increase the body of scientific knowledge on topics related to medicine." Biomedical scientists study disease, drugs, and other topics related to human health. Their role is to develop or improve treatments, vaccines, equipment, and techniques involving health care.
Biomedical scientists tend to focus more on complex medical science and research over treatment techniques and day-to-day medicine as their more patient-oriented physician counterparts.Biomedical scientists study aspects of living organisms, such as reproduction, growth, and development to develop treatments, prevent disease, and promote health. Their research can investigate health (basic) or investigate how to prevent disorders (applied). Scientists may use human volunteers or models. Workplaces include institutes, hospitals or industries, laboratory-based.
The HND in Biomedical Science is an 18-month course and the successful completion of it will enable the student to complete the top-up degree with universities in the UK. When you are equipped with the degree, you will be eligible to become a Registered Biomedical Scientist. You can be assured that standards are in place to ensure that your chosen biomedical science degree course from UK will be internationally competitive and rigorous, and furnish you with training useful for a valuable future.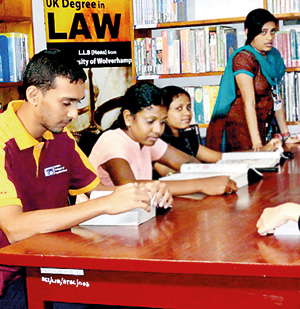 BCAS provides a ladder of education opportunities and structured career development routes for both full-time and part-time students from post OL to undergraduate degree and beyond. BCAS' schools include for Computing, Building Studies, Management, Engineering and Technology and Legal Studies with an exclusive state of the art English Language Teaching Unit.
The programmes are offered through three of its campuses in Sri Lanka located in Wellawatte (Colombo 6), Dehiwela , Batticaloa and Kandy and an overseas campus in Doha, Qatar. The study programmes are designed with delicate attention given even to a subtle aspect to ensure international recognition and employability. Further they are constantly reviewed to reconfirm that the curriculum followed and teaching done reflect the current market tendencies as well as employers' specific needs. BCAS products thus find it easy to get preferred jobs with reputed industries and institutions.
Those who wanted to upgrade their qualification obtained from BCAS have been able to gain admission for advanced entry with several reputed universities in UK, Australia, USA etc for various courses. The Student Placement Division of BCAS has assisted about 2000 such students so far to go for higher education in those countries, especially the UK. Most of them have completed their degrees and found lucrative jobs locally and abroad.
A friendly and stimulating environment is afforded in all BCAS campuses for classroom learning, independent and group studies. Student centered learning is the method employed at BCAS in order to develop the competency level of the student to face the future challenges with confidence.
For further details please contact Ms. Mayuri on 772660129, Ms. Manjula on 772834595
comments powered by

Disqus