Who was this Kalu Sudda?
View(s):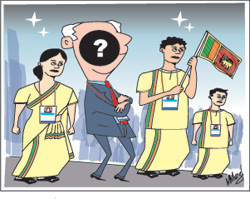 The Sri Lanka contingent turned out in all their glory at the opening ceremony of the London Olympics but those who watched the ceremony were shocked to see one individual in western attire in the contingent. The Lanka men wore the national costume and the girls wore the traditional 'osari'. Later it was learnt that one of the participants had not brought his national costume and had to deck himself in western attire. Those who did not know this were asking, "Who is this Sudda" (Who is this white man)
Not done Sir!
The Sri Lanka Under 19 cricketers took wing to Brisbane last week and the press was there to see the young cricketers being blessed by the priests at the cricket headquarters. However one individual was seen hiding in the bus which was to take the cricketers to the airport. The reporters even took pictures of this individual who wished to remain anonymous.
Where is this team heading?
The talk of the town is about the big cricketing event that hit the fields yesterday. However a leading cricketer has cried out of his team stating that he is tired and needs a rest. But the bitter truth is that the sponsors of the team had pulled out leving them high and dry. What will happen to this team now? Your guess is as good as mine.
Cock-a-doodle-doo
There are two secretaries of a leading sports body who are having a whale of a time. These girls have been given vehicles belonging to the sports body. It has been reported that they paint the town red every night using these vehicles as if it is their grandmother's property and they are returned only when the cock crows.
Foul is the word
On the subject of the big sporting event which is currently on a meeting took place recently between sponsors and the organizers. This meeting ended with both parties exchanging verbal abuse which amounted to 'Billings Gate' language being used.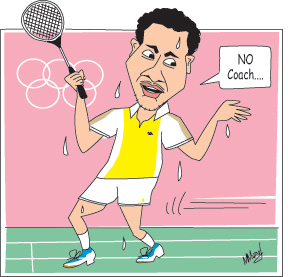 A personified liar
After a player's fine win in the shuttling game at the great event where he beat the world's No 8, the player, who is ranked 48th in the world, was heard boasting that he would make his next opponent bite the dust. But it was the other way around. He was unceremoniously shuttled out. Then he started lamenting that he had no coach and the highest sports body in the country called him personified a liar!  This is like the famous Sinhala saying: 'Natanda bari wenakota, polowe edai'. (When one cannot dance, the floor is blamed).
comments powered by

Disqus