Can Cooray hold his own with the rest of the best
Runs 17 km to work thrice a week as part of his training
S.R. Pathiravithana reporting from London
View(s):
Sri Lanka's last participant and the first to qualify for the 2012 London Olympics in real – Anuradha Indrajith Cooray will be in action at the Marathon event this morning. Unlike the lanes on the track, there is no definite number of participants at this event and every athlete who have reached the qualifying mark will be pitted in one go. However even the start list has not been released as yet to know how many would participate at this event.
Indrajith Cooray after ending up at the 30th position at the 2000 turn of the century Olympics in Sydney gave up the sport and moved to England seven years ago where he lives now. However while watching the 2008 Marathon in Beijing, the love for the event in Cooray was rekindled and made his intentions known to the Lankan authorities.
For the past four years the former soldier who hails from Divulapitiya Central has been in training.  He qualified for the event when he finished the London Marathon with a timing of 2:17.50.Cooray talking about his intentions said, "I know it is a difficult task and all the top Marathon runners in the world are scheduled to take part at this event and I will try my best to finish the event among the first fifteen which is considered very respectable in these circles".
The thirty-four-year-old Marathon runner further said, "My personal coach Nick Taylor is in constant touch with me.
"Since I moved to England seven years ago mostly I have been training on my own, I do that by running thrice a week to my work place which is seventeen kilo meters away. I also run on the track at least twice a week.
"I also run for a small English athletic club which I represent in marathons and I had signed with them to run the London Marathon, when Lankan authorities asked me to run for my country and qualify for the London Olympics". Cooray also stressed that all top marathon runners do most of their training in Kenya and then come down to France, but that is a very expensive option and he does not have the wherewithal to do that on his own.
Cooray is married to an English girl and has two children. Englishman Nicholas Taylor who is a professional marathon coach said, "I started working with Cooray four years ago. I am very confident that he will run a good race and break the existing Sri Lanka record."
At present the Sri Lanka record is held by the legendary S.L.B. Rosa who did the 26 mile 385 yard course in 2:14.31 in 1975 in Japan.
However when one takes the race in general, the specter of the late, great Sammy Wanjiru will no doubt be felt on the streets of London. The Kenyan revolutionized marathon running when he ignored tactics and blasted the pace from the gun four years ago in Beijing, winning the gold in an Olympic-record time of 2:06:32. On paper, Kenya and Ethiopia have the deepest teams in the field, but the Olympic marathon has produced several dark horses, such as Athens in 2004 when Italian Stefano Baldini took gold, while American Meb Keflezighi surprised many by nabbing silver.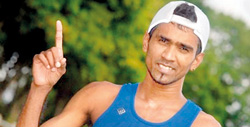 Keflezighi returns to the Olympic Marathon this year after failing to qualify in 2008. He surprised many by winning the U.S. Olympic Trials this past January in Houston, breaking the tape there in a personal best 2:09:08, making him the oldest U.S. Olympic Trials champion in history. He defeated pre-race favorite Ryan Hall, who was the runner-up in 2:09:30 and Abdi Abdirahman, who finished third in 2:09:47 to make his fourth Olympic team.
The Americans will have their work cut out for them, however, as East African powerhouses Kenya and Ethiopia send stacked teams. Kenya will be led by Wilson Kipsang, who won the London Marathon this past April in 2:04:44, just 4 seconds off the course record. He'll be joined by Abel Kirui, two-time reigning marathon world champion and Emmanuel Mutai, the 2011 London Marathon winner and course-record holder. Ethiopia will be led by a trio of sub-2:05 runners. Ayele Abshiro, who ran 2:04:23 at the Dubai Marathon in January, will be joined by Dino Sefir, who ran 2:04.50 in the same race. The team is rounded out by Getu Feleke, who clocked 2:04.50 at Rotterdam in April.
comments powered by

Disqus