Playing till his fingers bled
Having recently ventured out on his own Young musician Vidhu Jayawardene speaks to Tahnee Hopman about
his love for the guitar and song writing
View(s):
When Vidhu Jayawardene was six years old, he would wait impatiently for his grandfather to retire for his afternoon siesta.
He would tiptoe into his grandfather's room, pick up his most prized possession- his guitar- and then spend a delicious ten minutes plucking at the strings before replacing it. "Now I look back on it," reflects Vidhu 20 years later, "I think he knew and never said anything about it, but I still remember the thrill of being able to get my hands on the guitar which he wouldn't allow anyone else to touch."
Shortly afterwards, Vidhu received his first – a Spanish guitar which belonged to his grandfather, for his birthday. "My aunt saw how interested I was, and took it upon herself to teach me. She taught me a simple Simon and Garfunkle song which I played until my fingers bled- no pun intended!"
Now the proud owner of nine guitars, Vidhu rarely finds himself in the situation of coveting another guitar but continues to the revel in the music which has been a part of his life for as long as he can remember."Initially, it was the aspiration to music itself that was electrifying," he recalls, "speaking of his career in music as it has progressed over the years. "But as time passed I realized that there was more to it.
It doesn't matter where you perform to or who you perform to. My music has become something very personal, and the best part about it lies in seeing people understand it and relate to it."
In an industry where covers of popular songs are a general tendency, Vidhu remains confident in the belief that there is room for original music. "I feel that in some cases Sri Lankans are a little apprehensive when looking at original songs, but that is starting to change. And there is so much inspiration out there- in unexpected places- that it is difficult to ignore a new thought or melody when it comes to you."
"I don't think that writing is something that comes to me naturally, in the sense of sitting down at a table with pen and paper and putting thoughts into words," he continues. "It always depends on my mood; and most often I don't even know I have written a song until much later when I might look at what I've scrawled on the back of a napkin at a restaurant and then tucked into my wallet for safekeeping."
Vidhu's new song- CPR- was born out of a similar situation. "It was around three months ago," he recalls, "and I remember drafting a series of texts to someone. They were thoughts that I really wanted to convey and I had saved them as drafts for the time being when I read them over and thought to myself 'hey, that's pretty catchy.' And the melody just came to me without my having to cast around for it."
Performing with his band- Breathspace- was what had Vidhu giving serious consideration to his music, particularly in the aftermath of being invited by the Rolling Stones Magazine to perform at the Hard Rock Café in Pune, India. "Unfortunately, we had to put hold back on the banc a little due to work and family commitments, but I decided to continue with my music as much as possible," he says.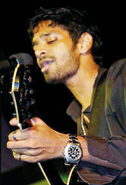 Having recently ventured out on his own as a performer, Vidhu eagerly anticipates the prospect of solo performances.
"It's a whole new ball game," he says. "You can't turn back and blame the drummer if something goes wrong, and there's the interesting challenge of constantly pushing the envelope to make sure you stand out. What is important to me right now is finding and developing my own identity in the hope that the people who hear me will experience something different…as long as they don't feel inclined to toss rotten tomatoes at me!"
Now in the process of composing more new songs, Vidhu also eagerly awaits the release of a video for CPR. "It has a very arty feel to it, but I'm not going to reveal much else," he laughs.
More information and videos of Vidhu's music can be found on YouTube and on his Facebook page- Vidhu Jay.
comments powered by

Disqus