A celebration of diverse musical genres
The Colombo Music Festival promises local musicians an opportunity to showcase their talents
View(s):
It promises to be an event quite unlike any the city has seen before. Sprawling over 4 days and 16 different locations, the 'Senses and Soul' Colombo Music Festival 2012 will bring together over a 100 exceptionally gifted artistes from 17 countries. A diversity of genres – from grunge to classical – will offer up something for everyone. It kicks off on the 23rd of August and local audiences aren't the only ones excited by the thought of so many artists in one spot. Representatives of record labels such as Sony Records, Universal Records, World Wide Records and a renowned talent-scouting agency and music Label – The Fridge Dubai – are expected to be scattered among an audience of thousands.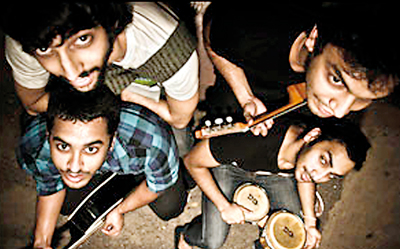 While a number of international acts are being flown down for the event, the real focus (for a change) seems to be on the local talent. Festival Founder and Director Haadia Galely says they've made a concerted effort to showcase successful local musicians both groups and individual artistes and simultaneously unearth new talent.
A talent search competition, dubbed 'Spirit' produced by the Andre David Academy of Performing Arts, has propelled an island-wide search for performers with potential. The prize? 'The Finalists will be provided a platform of opportunity to perform and be evaluated before internationally renowned artistes, record labels and talent scouts,' say the organisers, sharing their belief that such initiatives can help the industry surmount socio-cultural barriers and provide a common forum for artistes.
Haadia hopes in particular that many will profit from a series of workshops and specialist sessions to be conducted by professors and scholars of music. A group of 450 school children are to be included in the series, which will be conducted by the Revelations Academy along with visiting experts in choir music. The organisers say these sessions are designed to encourage participants to 'explore unchartered territory; whether developing their own brands of musical expression, or effectively interpreting someone else's music from a bygone or contemporary era.'
Performers from the United States of America, Australia, China, Japan, India, Pakistan, Singapore and Brazil are expected to rock the house. Hariprasad Chaurasia, Niladri Kumar, R.K. Bikramjit Singh, Warren Wai On Lee, The House Jacks, Pipa Wilson, Exchange Thomas Caplin, Arjun, LA French Connection, Eugene Draw and Moon Baziz, T.M Krishna, Kaushiki Desikan, Alston Koch, Tenores Di Bitti, Zia Nath, Maya, Akasha and more are all expected to perform alongside a full roster of Sri Lankan artists. Drawing from a range of disciplines and aesthetics, they will introduce local audiences to wonderful new music. The Gypsy All Star Band are headliners at the opening ceremony but each succeeding day offers its own delights.
Listen to music by Sri Lankan folk singer followed by a performance from a renowned classical vocalist from Pakistan during the 'Oriental Heritage' session at the Colombo Museum on Day 2 (Tickets – Rs 350/- (Students) Rs.750/- Rs 2,000/- Rs 3,000/-) or watch Prince Leonne take on Bathiya and Santhush and several others at the Galle Face Green on Day 3 for 'Evolution: An Evening of Trilingual Harmony' (Tickets – 500/-). 'Jazz by the Lake' with Rukshan Perera, Koei Tanaka, Brendan Power and other artists on Day 4 promise to be memorable (Tickets – Rs. 3,500/ Rs.2,500/- Rs.1,000/-). Keep an eye out for free events as well.
Of course, the city is as much a part of the performance, with many grand venues throwing up stages. Audiences will be expected to hop from Waters Edge to the Dutch Hospital, the Colombo Museum, Lionel Wendt, Park Street Mews, Sivam Kovil, Baira Island and the Taj Samudra, to name a few.
See the complete programme and the full list of artists at the – thecolombomusicfestival.com Tickets are available at Park Street Mews, Harpo's Dutch Hospital, Hilton, Galadari, Dwellings and Waters Edge.
comments powered by

Disqus