A boost for Sinhala cinema literature
A historical endeavour by producer turned writer Justin Belagamage
View(s):
Started as a producer with 'Aba' one of the most successful films in Sri Lankan cinema history, Justin Belagamage has yet again presented another truly valuable and historical gift to country cinema industry with'Sankshiptha Cinema Vishwakoshaya ha Ingrisi Sinhala Shabdakoshaya' or 'Concise Sinhala Encyclopedia on Cinema and English Sinhala Glossary of Cinematic Terms', a rare literary gift.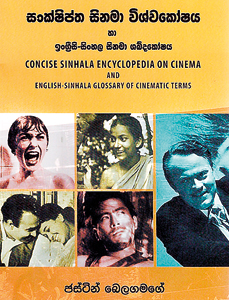 The first book of its kind, Belagamage, a chartered accountant who served various national and internationals banks and worked as an advisor and trainer in the management field has now devoted his time to cinema, a subject which was close to his heart from very young age.
"This book is written for posterity," said Belagamage speaking to the TV Times on his meticulous and laborious work. "Even though the cinema has a history for nearly six and half decades, we have not formed a literature to describe this form of art or its concepts," he said.
Affirming this fact, country's pioneering filmmaker Lester James Peries himself noted on Belegamage's book by stating "In my personal opinion this is a historic contribution to the literature of cinema and should receive a permanent place in film studies"
"As far as I am aware this is the first comprehensive book dealing with the technological terms of the cinema where there is no term the author has filled the lacuna with creating a new word or phrase," internationally renowned filmmaker who himself started his career as a writer noted.
Belagamage's interest in cinema goes to his childhood where his experience of watching movies of filmmakers like Federico Fellini and Ingmar Bergman got stuck in his mind for the rest of his life.
"I watched any movie came my way and I watched yesteryear Bollywood movie 'Madumathi' for nearly 15 times," he said going back to his time as a major film buff. But for Belagamage interest in accountancy took over cinema for a long time as he took completely different path and left the country until he came forward to make 'Aba'in 2008.
Yet Belagamage's knack for writing was polished with the regular column 'Thinking Outside Box' to Lanka Business Digest while he was in Canada. "I wrote this column for years from the inception of the magazine in 1993,"Belagamage stated.
Retired from his accountancy career, back in Sri Lanka, Belagamage wanted to enter cinema by producing 'Aba' which became a box office hit.
'Concise Sinhala Encyclopedia on Cinema and English Sinhala Glossary of Cinematic Terms' was his second major step in cinema, which would be a lasting treasure for those who interested and study the art. Hard work of eight months, the book serves as a dictionary explaining over 1100 words and concepts that are widely used in world cinema in Sinahala while providing explanations to over 1100 words and phrases used in Sinhala.
Belagamage was grateful to late cinematographer Suminda Weerasinghe who took the trouble to go through the book meticulously and make suggestions for alteration.
Monopoly of distributors discourage producers; Belagamage 
Having made one the most financially successful films for the Sri Lankan cinema experienced chartered accountant turned producer claims the 'monopolistic' film distribution system discourage producers to remain in the industry. 'Aba' was said to have earned Rs. 200 millions but the producer got only 35 percent of the total earning while the rest was enjoyed by the distributor which did nothing, Justin Belagamage complained.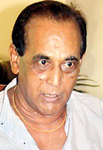 "They worked so slyly," Belagamage said adding that the bitter experience discouraged him getting into another film project.
"We made 'Aba' not because we had money. We had to make lot of sacrifices and take a lot financial risks," he explained.
Had we were paid back a decent share by the distributor we could have invested on anther film by now, he said describing how the monopolistic system of film distribution adversely affect the cinema industry as a whole.
"This system of distribution by those who claim themselves as the biggest network of theater owners pick pocketed one fourth of our income," Belagamage said adding "This is one whole mafia,".
However Belagamage who is determined to make a come back with his own film project said "This is not how the distribution in the Hollywood or Bollywood work. We must change this system".
comments powered by

Disqus