Horizon Campus' Serene Hostel – A boon to students
View(s):

Eighteen months since it opened its doors to provide quality and internationally recognized courses of study leading to diplomas and degrees that are accepted worldwide, the management of Horizon Campus has gone a step further and made arrangements to provide hostel facilities to students who have in fact made a request for same – a 'home away from home' – located in the neighbourhood and within a kilometre of the campus, in Malabe.

In the short space of time that the campus has been in operation, hostel facilities has been a long-felt need for students who commute from far removed places, like Kandy and other Greater Colombo areas. Whilst transportation is one of the facilities offered at Horizon Campus, students who wish to meet and consult with their lecturers on other days, face difficulties in commuting.

This need has now been addressed with accommodation (with or without meals) made available at the Serene Hostel that has the capacity to house 20 females on sharing basis with attached shower and toilets, and if required, hygienically prepared home cooked meals too can be made available.

Serene Hostel is a modern, clean and cozy

home as students already using it would vouch for – comfortable, airy rooms with fans, clean linen, separate sitting and dining rooms, study areas, a room to unwind in with a book or study, pantry and kitchen that afford all facilities for a quick and efficient service to students who return from the campus after a day of concerted study, to unwind, order a meal, and look forward to it when it will be served, freshly prepared and well presented.

This is a boon to students who want to study at Horizon, yet find it a hassle to travel long distances on a regular basis.
Inquires from prospective students have been coming in regularly, especially since the Open Day held on July 21 at the Cinnamon Grand, Colombo, in collaboration with senior representatives of the University of London International programmes (UoLIP). Horizon Campus' link with UoLIP has further strengthened its resolve to offer its students the best in higher education.

Students are offered a wide array of courses to choose from and are taught by a highly qualified and experienced team of lecturers. Post classes and on days that they do not have classes, students continue to remain at the campus and avail themselves of the vast range of facilities that Horizon Campus has made available. These include Sri Lanka's first privately owned and fully equipped Psychology Laboratory, Wi-Fi enabled lecture halls, computer laboratory with internet facilities, a library – for reference as well as reading and other recreational facilities; sports like basketball are enjoyed by the students and in the foreseeable future, a swimming pool which is currently under construction, will be a reality. Every student is offered all these facilities without any discrimination. All these features make Horizon Campus a 'one of a kind' educational (privately managed) institute and could easily match up to reputed universities and colleges across the globe that have similar facilities and privileges for students in place.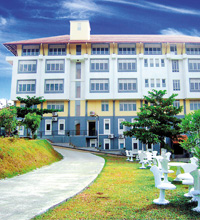 Additionally, Horizon Campus also provides transport to students – pick up and drop off –from Pettah, Colombo 11 (towards north Colombo) which is the main transport hub where buses and trains from the length and breadth of Sri Lanka converge  almost 24 hours of the day, and from a convenient location in Dehiwala in the south of Colombo. Thus, a student returning from his/her home is afforded the privilege of a convenient and safe pick-up service from either of these two points to the campus and transport is once again provided at the end of the day as well to these points from where students can proceed to their homes.
Those who wish to see for themselves the educational, extracurricular and hostel facilities that Horizon Campus justifiably boast about are welcome to visit the campus and assess the remarkable manner in which the entire complex and all the facilities within have been designed and built, plus vet the hostel as well – that is located in a serene environment and within easy reach of the campus.
While 'state of the art' could be considered a hackneyed term, it personifies all that the management of the campus has strived to offer its students, irrespective of which diploma or degree course that they opt for, and who would thereafter be able to diligently pursue his/her course of study in a calm and pleasant environment along with the best possible facilities that any educational institute in the country has on offer, while at the same time not compromising in any way on quality that underscores everything that is in place at Horizon Campus.
For more information on Horizon Campus you can contact 011 204 7777 or 071 240 7777 or visit www.horizoncampus.edu.lk.
comments powered by

Disqus