Just 2% of investors control 95.7% of the stock market – CSE data shows
Duruthu Edirimuni Chandrasekera
View(s):
Just a fraction of investors in the Colombo stock market are responsible for the bulk of the transactions, data from the Colombo Stock Exchange (CSE) shows. The number of shareholders in the market rose by 32.6 per cent to 206,465 by the end of December 2011 against the previous year.
According to the table seen here, 951 account holders representing 0.5% have more than Rs 100 million in share value range while their total share portfolio value is Rs 13 billion and they control 88.9% in the market. As opposed to this, some 170, 938 accounts or 85.2% of investors hold only 0.7% of the market, which constitutes less than Rs 500, 000 in share value. "We can safely say that that 0.5% corresponding to high net-worth investors control 88.9% of the CSE, while only 85.2% who are essentially retailers or small shareholders control 0.7%," an analyst told the Business Times.
Some 61,679 account holders had between 100 to 999 shares, while between 1000 to 9,999 shares are owned by 79,611 accounts, the CSE data says. It also says that some 2, 856 account holders control 4.1% of the CSE. Their value range in shares is Rs 10 million to Rs 50 million. Only 567 account holders hold 2.7% of the market and their share values range between Rs 50 million and Rs 100 million. The analyst said that these figures show that some 2.2% investors holding share value range between Rs 10 million and above control 95.7% of the market.
"These 'few' people are the ones who are mostly affected by the CSE's downturn," he added.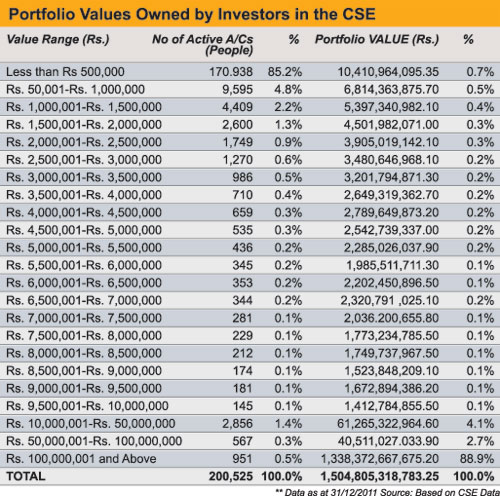 comments powered by

Disqus