"Printer's Devil" – Part of our life
View(s):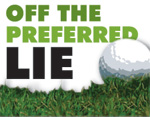 There is a 'Devil' in every one of us! Whether you are on the Golf Course or otherwise the Traffic Lane of 'Life' encounters all the trials and tribulations which are commonly called 'Hazards' and in Golf they are 'Water hazards', 'Out of Bounds', 'thick rough or un-cut fairway', 'Sand traps' or 'Bunkers' a term used in War! So,the terminology and concept in Golf truly depicts the nature of Life as we know it. A Golfer is given a handicap and this handicap is a number of† 'strokes' from 0 – 28 for Men and 0 – 36 for Ladies. This is the 'Budget' for one round of Golf to play against the Course. How many plays to their Budget? It is only a handful! The difficulty of the Course, the lack of practice, disturbance from playing partners, 'Caddy gave the wrong Club or he gave the wrong line for the Putt', the list is endless. Therefore the 'devil' in us makes things happen!
The Caddy is encouraged to play 'football' – prefer the lie, kick it a few more yards or simply forget one or two 'air shots', a duff or a conveniently unnoticed stroke! It is unbelievable how serious Victory and or Success have become. The taste of defeat can never be sweet unless the circumstances make it so. Journalism may sound like fun but rather some are killed for the stories they write and some lose their life looking for one! Some are praised for the contents and some others persecuted for what was written. Which ever way you look at life there is never a situation where all are satisfied -that is a fact of life.
This Columnist wishes to share some experiences of responses largely negative! which is the most common and popular. Certain terms used and factual narrations are usually print-outs from a score sheet or a Results schedule, but if one word gets omitted the entire meaning and purpose of the sentence and story can be changed.
Last week under Sad Story, what was meant to be said was that it was sad to note that K. Nandasena Perera and R.A. Anura Rohana who were Silver Medalists in Golf at Asian Games held in Beijing and Seoul were 'neglected' or unheard of in the hype and action of the Olympic Games and the 'Champion Torch' organised to support the Sri Lankan contingent. However what was published was the printer's devil which said that Nandasena and Anura Rohana were not included in the Sri Lankan team! Result was that the Columnist is crazy as Nandasena is retired from playing Golf at the highest level and that Golf is not even an event!!
The second 'devil' concerned took the form of a wrong score line! Apology to Manouri Jayakodi as the column reported that Manouri won the Ladies Golf Classic with a fantastic score of 38 points to pip Anusha Senadhira on the post! A supporter of Manouri was offended as Manouri had won by a clear 4 points as Anusha scored 34 points and was tied on 34 to take the division prize. The caller found out the columnist and responded sharply that the wide margin of victory should have been carried! The headline given was not satisfying enough! So a printer's devil can cost much! A mis-spelt name is also offensive so life ain't easy, some go through the Column looking for blunders!
But when ll is done and dusted the scale is put to the balance and there are also the appreciative acknowledgements, some like a forgotten Champion or up and coming Pro Golfer with humble gratitude appreciate the recap of news, events and stories, ome look forward to a great Sunday read, some are happy to recall past history and while on the subject the Colonial history and Golf down the ages was also 'liked' and next week 'Ceylonese Golf History' will make interesting reading.
Take life as it comes, don't fret unnecessarily, take every "shot' as it lies, breathe easy, forget the bad shot and go for the next one with a clear perspective and positive expectation! Enjoy Golf, enjoy the game,enjoy life!
comments powered by

Disqus