'Pipena Mal' : A tale of sacrifices
View(s):

Rohana Samaradivakara's tele direction 'Pipena Mal', a story of multiple characters: a determined young girl who brings up her family, a teacher who gives up his luxurious life to serve poor children and a multi-millionaire father whose dreams of his children are shattered, is now being telecast at 8.30 pm on Derana TV every day of the week.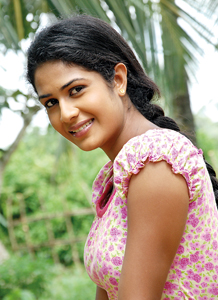 Starring Dhananjaya Siriwardana, Maheshi Madhusanka, Keshan Shashindra, Vinu Udani Siriwardena, Kingsly Loos, Nirdha Uyanhewa, Denuwana Senashi, Pavithra Wickremasinghe,, Deeman Hettiarachchi, Priyantha Lalith and Sriyani Mahawatte, the script and screenplay for 'Pipena Mal' is by Lakshman Pushpakumara.
As the story narrates, Navin Harsha Kularatne is a leading businessman in the construction field whose elder son, Vihanga is a science graduate and his second child Parami, his daughter, is an arts graduate. Kularatne hopes that both his children would join him in his business but Vihanga who is more interested in social service takes up a job as a teacher and gets his appointment to a remote school. But Parami joins the father's business.
Vihanga gets boarded in a house of the Gunatilake's in the village. The Gunatilake family although poor prvides Vihanga with meals. Samadhi, Gunatilake's eldest daughter is studious and is selected to university but gives up her higher studies as she wanted to support her family which is undergoing many financial hardships. Her younger sister is an undergraduate and brother is studying for the advanced level examination.
Thilak, a young man of the village gets interested in Samadhi and proposes to marry her but his family opposes the marriage due to her poverty stricken background. Vihanga the boarder-teacher shows compassion and supports her to start her own flower business.
In the meantime, Vihanga's sister Parami elopes with a poor but educated young man. Disappointed Mr. Kularatne, Vihanga's father brings a proposal for Vihanga from a wealthy family. Even though he dislikes it, he agrees merely to please his father. Will his marriage be success? What will happen to Samadhi? Will the businessman Mr. Kularatne be able to see the success of his business after his daughter Parami leaves home to marry someone he disapproves of?
The technical crew for 'Pipena Mal' comprises of Chamindapriya Galkotuwa who did the makeup while Hasintha Priyalal handled the art direction, Niroshan Kodippili the camera and Chandana Liyanage the editing.
comments powered by

Disqus