'Iti Mal' blossoms with director's dream
View(s):

The storyline of 'Iti Mal' is about a talented cinematic director who falls in love with one of the most successful actresses and faces many obstacles because of his love for her, the latest teleplay telecast every day of the week from Monday to Friday at 8.30 pm on the Swarnavahini channel.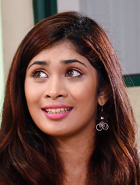 The lead roles of this teledrama are being played by Ranjan Ramanayaka and Anarkali Akarsha. The teledrama is directed by experienced teledrama maker Suranjith Vijamanna just as in a screen play done by Nihal Bandara with the production done by Ireshan Buddika.
Aditya, the talented filmmaker of 'Iti Mal' is one who has made several short films but he is yet to realize his dream by making a feature film of his own. While pursing his ambition the young filmmaker meets an advertising giant Harold Ranasinghe an owner of a leading advertising company who is willing to fund a film project for Aditya. But on condition that his daughter Pooja, a highly successful and popular actress who is considered as the queen of the commercial film sector, be taken for the lead role.
This is against the wish of the filmmaker who has no interest in commercial movie making. Though reluctantly Aditya agrees to go on with the film and join Harold's advertising company, he comes across opposition from several fronts including his lead actress Pooja herself.
Meanwhile Aditya gets misunderstood by some of his colleagues in the company. It is at this stage that Pooja gets ill. The cause of her illness remains a mystery.
The director of 'Iti Mal' Suranjith Wijemanna has been in the tele drama scene for nearly 25 years and he started his career as an assistant director to the short film Cindrellage Sereppuwa (Cinderella's slipper – short film) and a number of teledramas. His first teledrama direction was 'Nomarena Minissu' to which he wrote the script. This followed by 'Mano Mandira', 'Isuru Nidanaya', 'Paara Walalla', 'Deweni Wiwahaya', 'Sathara Pera Nimithi', 'Makara Dadayama' and 'Nil Diyarala'.
Others in the cast include Ravindra Randeniya, Buddhika Jayaratne, Kanchana Kodituwakku, Wilson Karu, Ajith Weerasinghe, Nirosha Thalagala, Bianca Fonseka, Sangeetha Basnayake and Vishwanath Wijesuriya.
The art director of 'Iti Mal' is Surrendra Gamini with Theekshana Anuradha- the music, Nimshaan Veerakodi- the assistant direction with Dileepa Pussella handling the camera.
comments powered by

Disqus