Art in focus
Duvindi Illankoon talks to Vimukthi Sahan about his first exhibition and love for non perspective art. Pix by Amila Gamage
View(s):
"Triangle", an exhibition of abstract, landscape and non-perspective art by Vimukthi Sahan will be held at the Lionel Wendt next weekend.  A graduate of the University of Visual and Performing Arts, Vimukthi got into drawing not far back. A student of design, he initially wanted to become an interior or fashion designer, but changed course after doing a few paintings to pay for living expenses.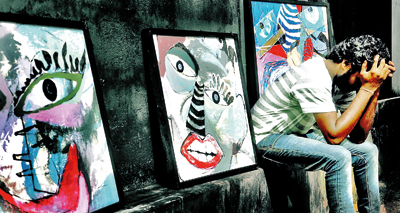 "I'm from Kurunegala, so I had to be boarded in Colombo during my university years. I didn't want to bother my parents for money all the time," he explains. "And then some of my friends suggested that I do some drawings professionally. I'd been just scribbling around till then. I guess it sort of picked up from there and I started taking it on a more serious note following some very positive feedback!"
In 2010, he graduated from the university, and took up the paintbrush for a living. While he's exhibited a number of times in several local and international shows, this is his first solo venture. This exhibition is a culmination of sorts, says Vimukthi. "It's different in the sense of the reason behind the idea for the exhibition. I want to take the viewer on a journey through the progress of my drawing style."
For example, he started out painting landscapes-a natural inclination as a student of interior design. Moving on to a fixation with faces as the instigator or starting point of love, he moved on from that to what is now known as non-perspective art Popularised by his role model, artist David Hockney.
Non-perspective art looks at a larger scene without perspective (perspective in art refers to figures appearing smaller as they move further). This form of drawing now characterises most of Vimukthi's work, and will be on dominant display at the exhibition.
Thanking Stefan Hubert, friends and family for their support during the process of putting up the exhibition, Vimukthi invites art lovers to drop in at the exhibition."Triangle" will be open to the public from 9am to 7.30pm from August 10-12 at the Lionel Wendt. His work is available for purchase as well.
comments powered by

Disqus