Appreciations
View(s):

The sun smiled on our creative genius friend

Nimal Lakshapatiarachchi

Nimal Lakshapatiarachchi was an icon. I first met him with my partners Viren Perera and Pradip Jayewardene when we established our solar energy company in 1987. Nimal must be credited for making the SUNTEC brand name a household word in rural Sri Lanka. It was proven when Shell Renewables negotiated to buy the company in 1999. Shell executives, not believing SUNTEC's brand value, did a survey and found it had 92 per cent recognition, beating Shell's famous brand. That was the tribute to Nimal.

The three of us were amazed at his ingenuity, creative talent, coupled with his critical thinking skills and his connections in the arts and the media. He had an amazing ability to coordinate, organise, and inspire people to come together for a common purpose. Most of all, he thrived on the freedom he had to be creative. Impetuous and impulsive at times, but that was part of the territory.

We marvelled at his ability to get the best of Sri Lankan talent from Master Khemadasa to compose the SUNTEC theme song, Amawake handa nathi vu vita….., to coax the Muwan Pallassa crew to do a special comedy skit to promote solar electricity, and many other creative initiatives. The SUNTEC brand became embedded in the national psyche and become the generic name for solar power.

Nothing was a challenge to Nimal, even during those dark and difficult days of the JVP hartals, when business came to a halt. He came up with the idea of a newspaper ad introducing the new technology using the Sun and inviting rural youth to write a one-page essay on how it could be useful for their villages. This one ad resulted in 600 submissions from all over Sri Lanka, many of them well written with beautiful hand-drawn pictures.
We invited these youth to Colombo, 30 at a time, to learn the technology, first with a series of high-profile conferences with chief guests such as Sir Arthur C. Clarke, Professor Cyril Ponnamperuma, Dr. Ray Wijewardene, Minister Festus Perera and others. This was followed by a training programme on all aspects of the technology, marketing and financing with the support of people like Prem Sumanasekera of Vidya Silpa, who inspired and helped the three of us start this business, our own Ajit Chanmugam, Thilan Wijesinghe, Prof. Willie Mendis, Prof. P.A. Silva, Eddie de Zylva, Wijeratne of Prashakti Technical Services in Kahawatte, and more.
We ended up training more than 200 youth, which gave us the motivation to resume business in the villages, as these very youth now had an opportunity to become promoters or technicians for SUNTEC.

I remember the many village temple events, from Padaviya to Angunukolapallassa, that Nimal organised around the country. We would donate a solar electricity system to the temple at a time when no public events were allowed by the JVP.
A witty virindu karaya (poet/story-teller) would sing and encourage the community to donate towards the system, which gave the people confidence in this glass plate for generating electricity and giving them light.

Nimal coined the tag line, Anduren Eliyata and word Sooriyavahini for the solar module with Lankadeepa journalist Ratnapala Vithana, so he has left a legacy that is appreciated.

In later years, he became a successful public personality. I once flew with him to Washington DC when he was Director-General of Rupavahini. We chatted about old times and I told him, "Nimal, now you can stop calling me Sir" to which he replied in Sinhala, "Ok Sir, I will Sir", and continued to Sir me throughout the flight.

Lalith Gunaratne

War and national hero who was loved by all

General Denzil L Kobbekaduwa

Born in Kandy on July 27, 1940, the second child of Loku Bandara and Iona Ratwatte Kobbekaduwa, Denzil Kobbekaduwa grew up at the Deldeniya walauwa (his paternal residence) of Deldeniya village in Menikdiwela, Kadugannawa and Amunugama Walauwa (maternal residence) at Amunugama village, close to Kandy.

Denzil had his nursery education at Hillwood College, Kandy. In 1948, he entered Trinity College, Kandy, where he excelled in studies and sports. He developed his leadership qualities at school and was a role model to many. I had the privilege to associate with Denzil from my childhood days. We, his close cousins, looked up to him as a hero and role model.

He completed the GCE (OL) examination and the HSC (university entrance examination). His performance in sports was excellent. He represented Trinity in rugby, hockey and cricket. He captained the Trinity 1st XV in 1959 and was awarded the Trinity Lion. He was vice-captain of the Trinity hockey team in 1959, and was awarded the college colours. He also represented the Trinity 1st XI cricket team. He was also an athlete and a basketball player.

Denzil was made a school prefect of Lemuel House in 1960, and the same year was appointed Senior Prefect of Trinity. However, this appointment lasted only a week because Denzil opted to pursue a career with the Sri Lanka Army (formerly the Ceylon Army). He was enlisted as an officer cadet and posted to Diyatalawa for his initial three months' training before leaving for a two-year officer training programme at the Royal Military Academy Sandhurst in the UK. This prevented him from qualifying for the coveted Ryde Gold Medal for the best all round student of Trinity College in 1960. As a result, an academic career at the University of Peradeniya, to which he had gained entry, had to be abandoned.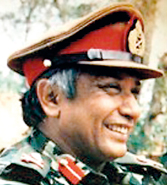 I clearly remember the day his family members came down to Colombo and gathered at the harbour to say bon voyage before Denzil boarded ship to the UK. At that time, it was a three-week ocean voyage. Some of us accompanied him on board. The ship was named "Carthage".
Denzil returned to Sri Lanka (Ceylon) in mid-1962 and assumed duties as a Lieutenant in the Armoured Corps Regiment of the Sri Lanka (Ceylon) Army. He had a very successful stint with the regiment, and also represented the Army Sports Club in rugby for the Clifford Cup tournament.
In 1964, Denzil left for his second overseas training, at Bovington Military Academy in the UK. He completed the six-month programme and returned to his regiment, the Armoured Crops.
Denzil commanded the respect of his superiors, peers, and subordinates. His honest contribution at work was appreciated by all his fellow soldiers, but not by certain politicians of the then government in 1967. He became an unfortunate victim of a politically manoeuvered drama, for which he, along with several other officers, were sent on compulsory leave pending investigation. During this period, he spent his entire time in Kandy with his family, and helped the Kandy Sports Club produce a formidable rugby outfit. He was captain of the Kandy Sports Club in 1969, and they were runners-up to the CR&FC at the Clifford Cup A division tournament. He also captained the upcountry combined clubs team and represented the All Ceylon Team ( Sri Lanka ) against French and British top division clubs.
Denzil did not forget his alma mater, and was involved in coaching the Trinity 1st XV outfits in 1968, 1969 and 1970. He helped Trinity to produce Bradby Shield winning and league champion teams. Due to his honest efforts, he commanded the respect of all communities in Kandy and the surrounding areas, and the rugby circles in Colombo and up-country.
While playing rugby for the Kandy Sports Club, he met Lalini Ratwatte, younger daughter of Kenneth and Merle Ratwatte. The friendship blossomed into a healthy love affair and they were married in December 1970. Lalini was a tower of strength to Denzil, and an understanding wife who supported Denzil to a great extent in developing his career in the Army and building a healthy relationship with family, friends and relations.
With the change of the government in 1970, Denzil was exonerated of the charges and reinstated in his post as Captain, and later Major. He was put in charge of security for the then head of state, Mrs. Sirimavo Bandaranaike, and was promoted to the rank of Lt. Colonel. While playing an active role in the Sri Lanka Army, Denzil continued to coach and play rugby for the Sri Lanka Army and the Defence Services. In 1973/74, he was appointed as secretary to the Sri Lanka Rugby Football Union. That year, the first ever Rugby Asiad was held in Sri Lanka, and Sri Lanka came second, after Japan.
In the latter part of 1974, Denzil was selected to attend the prestigious British Army Staff College Military Academy, Camberly, Surrey in the UK, for one year. On his return, he was once again back at his old regiment, the Armoured Corps, for some time and was posted to the Officer Cadet Training School at the military academy in Diyatalawa. Family and friends were regular visitors at his bungalow. He then moved to Army Headquarters in Colombo and served at the operations desk. His next posting was in Jaffna, to serve in the Task Force Anti-Illicit Immigration (TaFAII). During this period, he grew familiar with the terrain of the Jaffna peninsula.
After his stint at the TaFAII headquarters in Jaffna, he was once again back at the operations desk at Army headquarters before moving to the Armoured Corps as commanding officer. In 1989, he left for another military training, at the Royal College of Defence Studies (RCDS). However, with the change in the political leadership, the then government was not too happy about Denzil being given this prestigious training, and made him return prematurely.
But due to pressure from sponsors and the UK Government he was allowed to go back to complete his training in the UK. Denzil was then appointed Commander of the Western Command, and was stationed at the Panagoda cantonment, holding the rank of Major General.
When the Eelam war started in the Eastern Province, Denzil was sent as overall operations commander. During his short stay in the Eastern Province, he was able to contain the LTTE offensive to a great extent. But when the Northern Province came under heavy attack, he was moved to the Northern Province as overall operations commander based at the Palaly cantonment in the Jaffna peninsula.
He led his troops from the front and fought many battles. The Vadamarachchi  operation, "Operation Balavegaya" beach landing to save the Elephant Pass security forces camp (scene of the soldier legend Minipe Kularatne's heroic act) , and the evacuation of the security forces from the Jaffna fort, are a few of the many operations he led.
His last security council meeting as Northern Commander was in Colombo in early August 1992. The Head of State presided at the meeting. Denzil expressed his frank views with regard to the security situation in the North. He wanted to continue the LTTE neutralising operation. Denzil and a team of elite officers gave their lives to the nation on August 8, 1992, at Aralai Point, Jaffna.
His death was a great loss to his family, relatives, the Sri Lanka Army and other security forces, and to the nation. I was closely associated with Denzil for more than 40 years, and his loss was to me unimaginable. How much more so must it have been to his family, relatives, friends and fellow soldiers.
Well, Denzil. July 27, 2012, was your 72nd birth anniversary and August 8, 2012 will be your 20th death anniversary. Your family continues to bestow on you the blessings of the Noble Triple Gem with religious ceremonies that have been held, without a break, for the last 20 years.
We will continue to remember you. Your name will be written in the history books so that future generations will know that you were a born soldier, a true leader loved by all except for a few, that you were ever willing to play a supportive role and guide them. Your contribution to your alma mater is immeasurable, to the sporting bodies in schools and clubs enormous, and your contribution to the religious institutions of all faiths was accepted by all. To Sri Lanka, and especially the people in the North and East border villages, your services are appreciated by all.
We salute you, Denzil, and accept you as a true general and a person with a golden heart. In appreciation of your services to the nation, medals and gallantry awards have been given to you by the Sri Lanka Army, politicians, and the head of state. But your greatest award comes from the people of Sri Lanka, who honour you as their hero.
Denzil's wife Lalini singlehandedly brought up their three children, Roshani, Shanilka and Dilshan, enabling them to grow up as true Sri Lankan citizens and as professionals. This was Denzil's wish. And Lalini, you will be rewarded by your children in the years to come.
Thank you, Denzil, for the guidance you gave and the supportive role you played in my life for close on 40 years. As one of your close associates and a true Trinitian, you helped me move forward in life.
"Respice finem" – look to the end. May you attain Nirvana.
Sunil Keppetipola
Veteran tea industry player who earned the respect of the British planters
Cyril Hettige
I was woken up on April 21 by a call from a friend in Colombo to give me the sad news of the death of veteran tea factory officer Cyril Hettige. Cyril was a product of Uva College, Badulla. Though we studied in different schools, we were very good friends.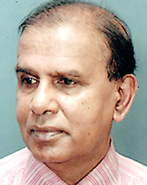 After leaving school, Cyril joined Aislaby Estate as a trainee under Mr. R.A. Lushington and Mr. Witham. He was capable enough to earn quick promotions, and rose rapidly. He was sent on a promotional transfer to Diyaraba Estate under Mr. John Barrows. It was not easy to handle the duty concern, especially under the British, but he put the knowledge he gained in the manufacture of tea to good use and got good prices at the tea auctions. Despite his relative youth, he won the confidence of the British planters.
He married Yvonne Ranjani Fonseka of Nugegoda in 1971 and they had a daughter. He was fortunate to see a grandchild too.
A devout Buddhist, he was involved in religious activities at Mirihawatta Sama Viharaya, Bandarawela. A Bo sapling was planted in the temple premises under his guidance. In 2011, he joined the family for the Katina pinkama.
My dear friend, you did not bow to injustice. We have lost a good and sincere friend. You were an example to others throughout your life. Your family and all of us will miss you.
May you attain the Supreme Bliss of Nibbana.
D.I. Rajapaksa
comments powered by

Disqus