Return to ICE AGE continental drift
View(s):

The latest of the 'Ice Age' computer -animated comedy movie series 'Ice Age- Continental Drift' directed by Steve Martino and Mike Thurmeier is now being released at Savoy 3D, Welllawatta.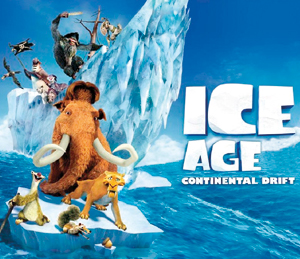 The box office hit movie narrates around Manny, Diego, and Sid who embark upon another adventure after their continent is set adrift. Using an iceberg as a ship, they encounter sea creatures and battle pirates as they explore a new world.
Starring the voices of Ray Romano, John Leguizamo, Denis Leary, Queen Latifah, Seann William Scott, Josh Peck, Keke Palmer, Chris Wedge, Peter Dinklage, Jennifer Lopez, Wanda Sykes, Drake and Nicki Minaj, the latest of the Ice Age was produced by Blue Sky Studios and distributed by 20th Century Fox.
The movie set to be anther box office hit after continual success of the series starting from the first "Ice Age" which earned 383.3 million US dollars worldwide in 2002 and followed by "Ice Age: The Meltdown" in 2006 with 655.4 million U.S. dollars and "Ice Age: Dawn of the Dinosaurs'" with 884.8 million U.S. dollars in 2009.
As in the previous films, the main protagonists are the mammoth Manny, the sloth Sid, sabre-toothed cat Diego, and, in a parallel storyline, the sabre-toothed squirrel Scrat. Scrat's hunt for acorns triggers the break-up of the Pangaea continent into the continents as we know them today. In the meantime, Manny and his wife Ellie deal with their 13-year-old daughter Peaches who has a crush on Ethan. Peaches' best friend, a molehog named Louis who also appears to have a crush on her. When Manny catches Peaches hanging with Ethan after he told her not to, Manny and Peaches have a falling out.
Soon after, the breakup of the continent separates Manny from his family. Manny gets stuck on a floating ice raft together with Sid, Diego, and Sid's annoying grandmother Granny. A large moving landmass drives Ellie, Peaches, Crash and Eddie, Louis, Ethan, and a mass of other animals towards a land bridge, where they hope to reunite with Manny.
comments powered by

Disqus