Rajapaksa bombshell: More UNPers will cross over, but Jayasekera mystery continues
View(s):

President Mahinda Rajapaksa dropped a political bombshell at last Thursday's meeting of the National Executive Committee of the Sri Lanka Freedom Party (SLFP).  He said a group of Opposition politicians, enamoured by the strides the Government was making in the field of development would join their ranks soon. He did not give details.

However, SLFP insiders say the larger number would be those prominent in different local councils in the districts of Kegalle, Ratnapura, Polonnaruwa and Anuradhapura. That they are crossing over just weeks ahead of elections to the three Provincial Councils — the North Central, Sabaragamuwa and Eastern Provinces — has not been good news for the main opposition United National Party (UNP).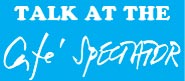 Making matters worse is speculation that Kurunegala District Parliamentarian Dayasiri Jayasekera had met President Rajapaksa on Saturday (July 21) to discuss a crossover move.
"I never met President Rajapaksa on Saturday," Jayasekera told the Sunday Times. According to him, the story about his crossover has been the result of a casual meeting between former UNP chairman Malik Samarawickrema and Rajapaksa. The onetime private sector magnate met the President at a rugger match. He had asked whether he met Dayasiri recently and wanted to induct him into Government ranks. The President replied that he had not met him and nor had he asked for an appointment.
"Malik dannwane mage prathipaththiya. Mama yana kenekuta yannath ena kenekuta ennath dora erala thiyenne. (Malik you know my policy. I have kept the door open for anyone to come and anyone to go)," Rajapaksa had replied. He had quickly added that that he would take him as long as the UNP did not sack him.
Whether he joins the UPFA or not appears to be still in the balance. However, Jayasekera is miffed after the UNP's Working Committee, at its last meeting decided to amend the party's Constitution to allow a leader to remain in office for six years. In other words, current UNP leader Ranil Wickremesinghe could continue till 2018 unchallenged.
Jaysekera met Samarawickrema and Sagala Ratnayake, former Matara District MP and UNP's International Affairs Advisor, at the residence of Kabir Hashim, the Kegalle district MP. The subject of discussion was constitutional changes in the party.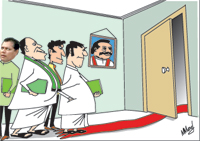 Samarawickrema was trouble shooting after Jayasekera said he was writing a lengthy letter to Wickremesinghe. Among other matters, he wants to urge him to call off the move to amend the UNP Constitution and halt disciplinary inquiries against senior party members. Samarawickrema urged Jayasekera not to write the letter until he speaks to Wickremesinghe and comes up with a response. So the letter is on hold.
Yet, Jayasekera is agitated. "I am not an MR, GR, or BR man. I am a PR man and I am with the UNPers at the grassroots level," Jayasekera, recovering from a nasty bout of dengue fever, told the Sunday Times this week.
Asked to elaborate what that meant, he said "party leader Wickremesinghe was in regular contact with MR (Mahinda Rajapaksa), Deputy Leader Sajith Premadasa with GR (Gotabaya Rajapaksa) and National Organiser Ravi Karunanayake with BR (Basil Rajapaksa)." He was only a PR (public relations) man, he said. Perhaps Jayasekera did not realise that MR (Mahinda Rajapaksa) was a galaxy away when it came to PR.
PR or not, SLFP insiders believe Jayasekera may after all throw in the hat with the UPFA. That is if Wickremesinghe does not heed his demands, which has as good a chance as a snowball in hell. If he does join the UPFA, he may not be a minister but is assured of a good deputy minister position, said a senior SLFPer. Not shocking at all. Perhaps Sri Lanka is one of the rare countries where there are more chiefs than injuns or more ministers and deputies than MPs.
Jayasekera did say that if the party leadership was paying pooja (obeisance) to the Rajapaksas, then he too would have no alternative but fall at the feet of MR. But, he insisted, that was not his first option.
Felix pays speeding fine
Social Services Minister Felix Perera paid a fine of Rs 2,000 imposed on him for speeding along the Southern highway this week.
Now, here's a minister who didn't throw his weight around, but gracefully abided by the law of the land. Such an event in fact makes news these days.
Cup scales for trade minister
Internal Trade Minister Johnston Fernando, who was doing his regular walk at Independence Square in Colombo, was in for a shock this week.
A small boy stopped him and gave him a present. It was a scale made of two cups, a few pieces of strings and a stick. "Even very young people seem to recognise me," remarked Fernando to his fellow partners in the walk.
PC member perplexed over big pay raise
When the Southern Provincial Council met last week, JVP member Nalin Hewage raised a rather unexpected question.
He wanted to know how his salary which was Rs. 74,802 in January this year was increased to Rs. 112,000 in June. Since he had not sought a pay increase, he wanted to know whether anyone else in the Council had done so. There was no answer to his questions.
UNP MP gets birthday wish from President
It was 5.48 am on Tuesday, July 24 when Chandrani Bandara, UNP MP for Anuradhapura district received a telephone call.
"Ada lassana dawasaklu neda? Oyata suba upandinyak. Oya thawath tharuna wenna kiyala prarthana karanawa (Today is a beautiful day, isn't it? I wish you a happy birthday. I also wish that you may become younger)."
That was how President Mahinda Rajapkasa greeted Ms. Bandara on her birthday. It was the first call she received for the day. Whilst thanking the President for his best wishes Ms. Bandara asked from where the President was calling?
"Mama ithin me nuwarata wela innawa (I am in Kandy now), the President responded. Opposition Leader Ranil Wickremesinghe also wished her later in the morning.
Senthil Thondaman offers Rajapaksa a lift
The Sri Lanka Air Force (SLAF) helicopter carrying President Mahinda Rajapaksa for the Nuwara Eliya District Co-ordinating Committee meeting could not land near Lake Gregory.
The thick mist forced the pilot to try three different times but he decided it was not safe.So he did the next best thing.
He flew to Keppetipola (on the Welimada-Bandarawela Road) and landed in a cleared area.
The retinue of vehicles to receive the President had lined up near Lake Gregory. However, there was a good Samaritan in the form of Senthil Thondaman, a member of the Uva Provincial Council and a cousin of Minister Thondaman. He was driving his own vehicle.
He drove Rajapaksa to Nuwara Eliya from Keppetipola, a distance of 25 kilometres.
Silence reigns when rivals meet in Kelaniya
The Kelaniya Development Committee met last Wednesday at the Divisional Secretariat auditorium.It was chaired by Public Relations Minister Mervyn Silva in his capacity as the ruling party's main organiser for Kelaniya.
The meeting was attended by the Chairman and members of the Pradeshiya Sabhas. It was the first time after Minister Silva and Pradeshiya Sabha members who openly opposed him met together after their meeting with the President recently. However, neither the PS members nor the minister talked, smiled or looked at each other.
Minister Silva began the meeting by asking what is going on in the area. Government officials briefly said all activities are going ahead as usual and there was nothing special to report. Then the minister asked whether there were any other issues. There was silence. So then the minister decided to end the meeting which lasted not more than ten minutes.
JVP says its EP candidates stalked by spies
Political party representatives, election officials and police met in Kattankudy near Batticaloa to discuss issues related to the September 8 Eastern Provincial Council elections.
JVP MP Sunil Handunnetti who is engaged in party activities in the district was also present.He claimed that the houses of JVP candidates were visited by persons who identified themselves as 'intelligence officers'.
Handunnetti alleged that they even questioned wives of the candidates to obtain information. If anyone wanted information, he said, they could have come directly to him.
Representatives of other political parties also raised issue. Assistant Elections Commissioner for Batticaloa District assured that the matter would be brought to the notice of the Elections Commissioner. What on earth the Elections Commissioner will do about it is another matter.
Tamara's key in the wrong keyhole
Tamara Kunanayakam, Sri Lanka's former Ambassador to the UN in Geneva, has responded to a report in these columns last week. She writes (extracts):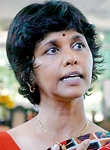 "… The story that I did not leave behind the keys for my successor to occupy the Official Residence in Geneva is an outright lie. Had your journalist taken the trouble to verify the facts with the Ministry of External Affairs, you would have known that the Ministry had granted me time until 24th July to pack my heavy luggage and then proceed to Colombo. My successor, who received his transfer order at the same time that I did, was given time until 10th August to pack his heavy luggage, and vacate the Residence in Brussels for his successor.
"There are procedures about moving to ensure that Government funds are not misused, so sufficient time has to be given for the move from one station to another. Procedures require three quotations to be submitted for Ministry approval, after which the selected company is contacted and a date fixed for packing and removal of the heavy luggage. It is normal diplomatic practice for an envoy to arrive at a new posting only after the predecessor has vacated the Residence! When I was transferred to Geneva last year, I was instructed to arrive only after my predecessor had left. I suppose this is true for all Government servants on transfer. However, in a departure from normal practice, my successor was asked to arrive in Geneva before my departure, whereas his successor was asked to move to Brussels only after his departure! How can I be accused of refusing to give the key to a Residence that I was clearly authorised to occupy and was still occupying at the time of his arrival?
"The insinuation that the Government is being forced by me to use taxpayer's money to pay my successor's hotel bill is yet another calumny. By repeating falsehoods passed on by those intent on maligning me, the Sunday Times is not only discrediting itself, but also the journalist profession. Obviously, your newspaper did not make the effort to verify the facts, because it knew the story to be a lie. One wonders then at the hidden motives and to whose benefit….".
Jamis Banda adds:
The sources I rely on have no mud to sling but only embarrassing facts to throw. They hurt no doubt. She talks of "journalist taking the trouble" to contact her. Intriguing enough, every time the Sunday Times tried to reach her, either by e-mail or telephone, it has proved futile. E-mails are not answered. Phone calls, answered by a male voice, have directed us either to her office or home only to be told "she is not in." That is from a Sri Lankan head of mission sustained by the Sri Lankan taxpayer's money.
Now, to the issue at dispute. To use Ms. Kunanayakam's own words: "…..I was instructed to arrive only after my predecessor had left. I suppose this is true for all Government servants on transfer. However, in a departure from normal practice, my successor was asked to arrive in Geneva before my departure, whereas his successor was asked to move to Brussels only after his departure! How can I be accused of refusing to give the key to a Residence that I was clearly authorised to occupy and was still occupying at the time of his arrival?"
This leaves many questions unanswered though Ms. Kunanayakam says there was no need for her to hand over the keys. Who asked her successor to arrive in Geneva before her departure? She is now trying to blame the External Affairs Ministry again for sending her successor to Geneva before she packed her bags and left.
Had she just left for Havana on transfer without first riding the moral high horse and all that public posturing about her refusal to accept the transfer, and eventually eating humble pie by going to the Cuban capital, much of this could have easily be avoided. Prima Donna hopefuls must know when they have fallen from grace, surely.
Alleged sexual harassment in prison bus ends in slap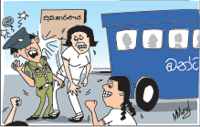 When the sittings at the Mount Lavinia courts were over, female prisoners were being taken away in a bus belonging to the Prisons Department last Thursday.
It was then that a male prison official received a hard slap on his face. It came from an irate prisoner who complained that the official had touched her.
Soon the other female prisoners, some 16 of them, pushed the male prison officer to the floor of the bus and began assaulting him.
Prison officials say a probe is now under way. The incident comes at a time when the Police are investigating a string of cases countrywide involving rape and sexual assaults on women.
comments powered by

Disqus