Rugby referees alarmed by Nimal's fate
View(s):

It is reliably learnt that the Sri Lanka Rugby Football Union (SLRFU) has been informed by the International Rugby Board (IRB) that an outcome of an encounter cannot be changed by any mean and the referee's decision stands as final, in response to a letter sent by the local body. The SLRFU has sought official assistance to settle the dispute aroused in the Dialog Division 'A' rugby match between Upcountry Lions and Army SC where the former won by 23-20. After last Saturday's Dialog Division 'A' club rugby game, Army SC lodged a protest on the decisions made by Dharmapalage Nimal during the latter ten minutes.

"The IRB replied us saying that the local union can take action against the referee but at any cost the decision stands the same. So after going through the evidence SLRFU suspended the referee of the game, D. Nimal," SLRFU top official Lasitha Gunaratne stated.
On Friday after viewing video evidence, the SLRFU suspended the ARFU (Asian Rugby Football Union) panel referee, D. Nimal from officiating in matches until such time that an inquiry is held to ascertain the alleged mistakes made during the match between Upcountry Lions and Army. After seeing the video footage, many times, and then being referred to a committee appointed by the Rugby Referees Society of Sri Lanka including S.W. Chang and Aruna Jayesekera there has not been any concrete result that has come about.

In a new development Aruna Rankothge, who was appointed to be one of the three referees, most probably as a touch judge, in the match between Upcountry Lions and Air Force SC has declined the game. It is said that Rankothge had to face a bitter experience when the coach of Upcountry Lions used bad language on him at Welisara. Similarly many referees find more relaxing not to officiate any game at all as they prefer not facing unwanted pressure. Many club and ex-national players too were of the view that it is more lucrative to coach than to referee.

"The risk is very much less. Refereeing is a thankless job and it needs fitness. This is not what you can expect from a player after he retires. Most referees in the international circuit are young with limited playing experience," stated former CR&FC and Sri Lanka player Mohamed Mushtaq while adding that he referees when time only permits only but prefers coaching.

It is also on the vibes that SLRFU is planning to bring down foreign officials for local club matches. New Zealander Niel Footie, a leading figure in Trinity's success this year says that foreign referees is not even a short term answer to the remedy faced by the local rugby enthusiasts.

"Knowledgeable rugby personalities agree that that there are problems in finding referees and there are questions asked as they lack personality and people therefore question the integrity," he said.However most referees are of the view that the issue has been mishandled by the local rugby authorities, resulting a further downfall in refereeing standards. They believe that action needs to be taken promptly if referees make mistakes but still in an effective way. With the recent occurrence, the SLRFU appears to have opened a can of worms that will turn into a monster.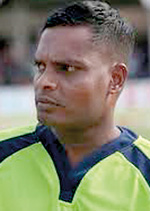 comments powered by

Disqus