Killers on highways: Private bus drivers without licence
View(s):

With so much of other work to do, it is not always that the police keep a tab on private bus drivers.
There are occasions when drivers of state-run buses, during their off days, moonlight as private bus drivers. That may not be an offence, one might say. But what of the private bus drivers who operate without a valid driving licence.
An insider who knows the workings of the private bus services says there are many of those. The reason – they are cheap to hire and the owners have no other encumbrances. Some of these drivers have learnt their trade whilst serving as conductors.
An example of how drivers without licence operate came to light when Traffic Police stopped a Kuliyapitiya to Colombo bus on route 92. It happened at Bothalagama in the Koswatte police area.
When the Police found the driver had no licence, they did not allow the bus to proceed. Office workers and businessmen in the bus were kicking their heels for well over half an hour when another bus, with only a few passengers, arrived. It was headed for Colombo.
In a move that seemed bizarre, the Traffic Police did not allow the passengers to board that bus. It seemed as if the passengers had committed an offence. After irate passengers started protesting, the police allowed the bus with its driver (without a driving licence) to proceed.
Police Traffic Chief Chula De Silva said the police had the right to prevent the bus from leaving but preventing the passengers from boarding the second bus was not correct. He has promised to look into the matter. He should also look into how the police allowed a driver without a licence to proceed after being detected.  This should be a matter for Police Chief N.K. Illangakoon to go into. After all, this is how killers are created on Sri Lanka's highways.

Driver missing, Mervyn takes bus to Kandy

Public Relations Minister Mervyn Silva attended an event at a school in Hasalaka last week.
When it was over, he was looking for his vehicle to return to Colombo but found it was not there.
He made an attempt to call the driver but could not reach him on his mobile phone. There was no network coverage.
Minister Silva walked to the road and took a bus plying from Hasalaka to Kandy. Passengers in the bus were surprised to see a minister amongst them, and such an important minister at that.
Silva had travelled almost three kilometres when his escort vehicle, chasing behind, found the bus and succeeded in asking Silva to disembark.
It later transpired that even the local Hasalaka police, who learnt Silva had boarded a bus, had provided a motorcycle escort to follow it.

Tourist hotel in old fort where political  prisoners were held

Fort Hammenheil, the old Dutch fort built in an island off the Jaffna peninsula, is to be transformed into a tourist hotel.
Built to detain prisoners, it was used thereafter by the Sri Lanka Navy to detain sailors accused of wrongdoings. Rohana Wijeweera, founder leader of the Janatha Vimukthi Peramuna, was also detained in the fort in 1971. It was later used to house other prisoners of the abortive 1971 JVP insurrection. Those detained included Upatissa Gamanayake, Lionel Bopage, Podi Athula (Victor Ivan), Loku Athula (N. Jayasinghe), Prof. Jayadeva Uyangoda and Mahinda Wijesekara (who was to later to become a minister). The prison has nine large dungeons to store gunpowder.
According to blueprints now being prepared, 'Hammenheil' will be transformed and some of the sections depicting the prisons are to remain, perhaps to show tourists how life was in the days of yore.

No duty-free permits for Herath councillors

The Sabaragamuwa Province's former Chief Minister Maheepala Herath wanted President Mahinda Rajapaksa to allow his former provincial council ministers to import duty free vehicles.
The request came at a meeting of the Central Committee of the Sri Lanka Freedom Party (SLFP).
Rajapaksa promptly rejected the request. He said there was one minister who not only got a permit but declared publicly that he had sold it. He said there would be no more permits to them.

Wounded Navy officer victimised again

A former Navy officer who served as a Surgeon Lieutenant Commander and was awarded the Ranawickrema medal for his gallantry in the battlefront was recently admitted to the National Hospital in Colombo for surgery. It was for a shrapnel injury he suffered in Oddusuddan in the Wanni in 1999.
A police officer has come to him to fill a standard form. One of the questions was about the rank he held. After the ex-naval officer doctor got himself discharged and returned to work, he found a police constable from the Maradana station turning up at his work place.
He wanted to record a statement of the former officer saying there was complaint against him, but did not disclose the allegation.
The ex-Navy surgeon-officer accompanied by a lawyer called over at the police station to find out the allegation.
He learnt that it was the Navy which made a claim that he had impersonated a government officer when he was not in the Navy.
The ex-officer charges that this is revenge. He says there was no case of impersonation. During admission to hospital he did not declare himself as a Navy officer as he no longer served there.
He has the copy of the bed head-ticket as proof. It was only when a standard form was filled that he declared the rank he held in the Navy.
The ex-navy officer has now been forced to leave his new found job. The management did not like the police turning up there periodically.

LTTE women's leader turns beautician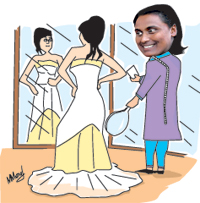 LTTE women political wing leader Thamilini alias Subramaniam Sivahami is now under rehabilitation.
This was after a court order. She remains at the Poonthottam camp in Vavuniya. She has been following a course on beauty culture and bridal dressing with 26 other female LTTE cadres undergoing rehabilitation.
Officials say she would also be given training in tailoring and computer skills. She also had been given two weeks counselling as a part of the rehabilitation programme.
During the separatist war, visitors to then LTTE-held Wanni were allowed to meet Thamilini. However, when she posed for photographs, she would shut her eyes. Most local and foreign media were left with photographs of a smiling Tamilini with closed eyes. Seems that was part of her training. Now, she will open her eyes to a new world of opportunities.
If this happens here, the café will be taken over
The local staffer of a Colombo based diplomatic mission and a deputy minister met for their periodic beer session recenlty at a Colombo pub.
When the first mug was over, they waited for the waiter to get their second. There was a delay and that prompted the politician to say, "Let's have some patience. Do you know even British Prime Minister David Cameron was refused service when he jumped a queue at a coffee bar?" The staffer replied "yes, yes. If that happened in Sri Lanka, they would have acquired the hotel and sacked all the staff."
The story they were talking about was reported in the Daily Mail newspaper in London. This is what it said: "A waitress at a coffee shop failed to recognise Prime Minister David Cameron and told him she was busy serving other customers, and asked him to stand in a queue for 10 minutes. Cameron was on his way to the Armed Forces Day celebrations in Plymouth when he decided to stop for coffee. He went into the Sandwich Box Plus cafe, but waitress Sheila Thomas failed to recognise him and told him to wait. "Cameron's aides went inside another bakery next door, and picked up for Cameron a jam doughnut and a cup of tea. When the prime minister began to enjoy his treat outside the shop, passers-by recognised him and he again went inside the first cafe. However, Thomas was upset to see Cameron had picked up his food elsewhere and gave him another scolding.
"I didn't realise it was him (Cameron) at first. I was in the middle of serving a customer, so I was running around trying to do something and didn't take too much notice, to be honest," Thomas said.
"He asked if we served take-away coffee and I said, 'Yes but I'm in the middle of serving somebody', and she said, 'I'm so sorry'. It was only afterwards somebody told me it was the prime minister. "He came back in afterwards and I told him off for not getting a coffee here. He shook hands and was very pleasant," Thomas said. This was not the first time the prime minister has been made to wait for a drink by a busy waitress, the daily said.
Z-score victims go to Namal
A group of students walked into 'Carlton', President Mahinda Rajapaksa's home in Tangalle last Monday.
They were students who had sat the GCE A/L and are qualified to enter universities. They were worried about their fate due to the 'Z score' fiasco.
They met the President's son Namal Rajapaksa and asked when they could expect a remedy for the Z score problem."Ogollanta asadaranayak wena visadumak janadhipathithumagen kawadakwathma labenne nehe. Bayawenna epa (Don't worry, the President will not take any decision that would be unjust)," young Rajapaksa said.
After returning to Colombo the MP briefed his father about the meeting. Even if Ministers Bandula Gunawardena and S.B. Dissanayake have gone silent, the 'Z score' controversy continues.
Wimal denies allegations but TUs continue protests
Minister Wimal Weerawansa has responded to a report in these columns that he was using some 30 vehicles belonging to the State Engineering Corporation (SEC). He says he is only using three vehicles including those for backup by his personal protection group.
The allegation was made last week by trade unions, including those of the government, when they staged a protest outside the SEC headquarters. They alleged that Weerawansa had more than 30 vehicles for his use. The other vehicles referred to, he noted, were assigned to different road development projects undertaken by the Ministry.
He also countered the union allegations about 40 Sales Promotion Officers being paid additional salaries. "They were being used to promote the activities of the corporation," he said. As for the lease of 22 acres of land at Peliyagoda, that was for 250 "one-stop shops" to help consumers.
These claims notwithstanding, the trade unions repeated their protest campaign again this week.
Painted chicks sold as rare variety
A load of chicks painted in blue, green and some in multi-colour had been taken to Mullaitivu by a Colombo trader to be sold at Rs. 250 each saying they are a rare imported variety.
Many of the farmers in the area had been taken up by the painted chicks and had bought them. However a week later, their colours had started fading and the chicks had assumed their natural colour. It was only then that the villagers realised they had been fooled by the Colombo trader. What tricks of the trade.
No other job but no cocktails either for Silva
Ministers were discussing the subject of government representation at diplomatic functions.
"Sir, Eya vedey mang karannang. Mata wena vedak nehe ney (Sir, I will do that since I do not have anything else to do)," said Minister Mervyn Silva.
"Api Oyawa yawanney honda ratakata vitharai, (We will send you only to a good country)," responded President Rajapaksa.
That was to bring a quick rejoinder from Silva. He said he did not like cocktail parties since he would have to stand for long hours. He preferred to go for dinners. "Mama raata hondata kanna kemethi" (I like to eat well in the night), said Silva.
comments powered by

Disqus