Prolonged drought seriously threatens vital resources
By Hansani Bandara
Catchments, reservoirs hit rock bottom while agriculture withers as desolation spreads over the national landscape
View(s):
Drought conditions continue with the country receiving in the last two years, the lowest rainfall for May and June, spelling devastating effects on agriculture and hydropower generation.The low rainfall has resulted in a drastic drop in water levels in hydro catchments and reservoirs, with severe disruption to hydropower generation, domestic water supply and agriculture.
Meteorology Department Duty Forecaster Jayasinhaarachchi said heavy rains over catchments cannot be anticipated, while there will be irregular, intermittent showers during the day and night, subject to direction and speed of wind.However, there will be strong winds in the Western and Sabaragamuwa provinces, as the south-west monsoon is currently active, while showers could be anticipated in the Matara areas as well.
According to Met. Dept. reports, Anuradhapura and Polonnaruwa districts are the worst affected by the drought, with only 0.2 mm of rainfall this year, whereas it was 8.9 mm and 1.5 mm respectively, last year.
Nuwara Eliya received 484.9 mm of rainfall in 2010 and 112 mm last year, but this year it has dropped to 46.3 mm. Galle had 159 mm of rainfall this year, which is very much less than in 2010 and 2011, when it received 916.6 mm and 267.8 mm respectively.Rainfall in the catchment areas of the hydropower reservoirs was 194. 6 mm in Canyon, 184.5 mm in Castlereigh, 130 mm in Kotmale, 3.7 mm in Victoria, 1.5 mm in Randenigala, 4.5 mm in Samanalawewa and 487.5 in Kukulegama, all of which are the lowest in the last three years. According to the Power and Energy Ministry, the present active storage capacity of Kotmale is 35%, Victoria 14.7%, Randenigala 18.4%, Castlereigh 14.0% and Samanalawewa 20.8%.
However, Power and Energy Minister Champika Ranawaka said that there will be no power-cuts even though the country is in the throes of a severe drought. He said the Ceylon Electricity Board (CEB) will make optimum use of the thermal power stations, to provide an uninterrupted electricity service to the public.
He added the CEB has to incur an approximate loss of Rs. 200 million per day, as the power generation cost has hiked, with the decreased levels of hydropower generation. Hydropower generation in the country has dropped to 13-14%, due to the irregular and low rainfall over the hydropower catchment areas.
He emphasized the importance of conserving energy by minimizing the daily electricity usage by 10%, which will enable the CEB to provide an uninterrupted supply of electricity. Meanwhile, National Water Supply and Drainage Board (NWSDB) Chairman Karunasena Hettiarachchi said that levels of all reservoirs supplying water had dropped due to the scarce rainfall.
"There is a scarcity of water, but the authorities are still able to manage the current water supply according to demand, while adding that the NWSDB will not implement any water-cuts, as its aim is to provide an efficient and uninterrupted service to the general public," he said.
He also added that it was high time for everyone to pay serious attention to conserving water.
Agriculture Minister Mahinda Yapa Abeywardena said approximately 150,000 acres of paddy in the Anuradhapura, Polonnaruwa, Jaffna, Kilinochchi, Puttalam, Kurunegala, Batticaloa, Ampara, Moneragala and Nuwara Eliya Districts were destroyed by the drought.
However, he added that the situation was now under control to some extent, with showers in Giritale, but rice exports have been halted, with fulfilling local demand taking priority.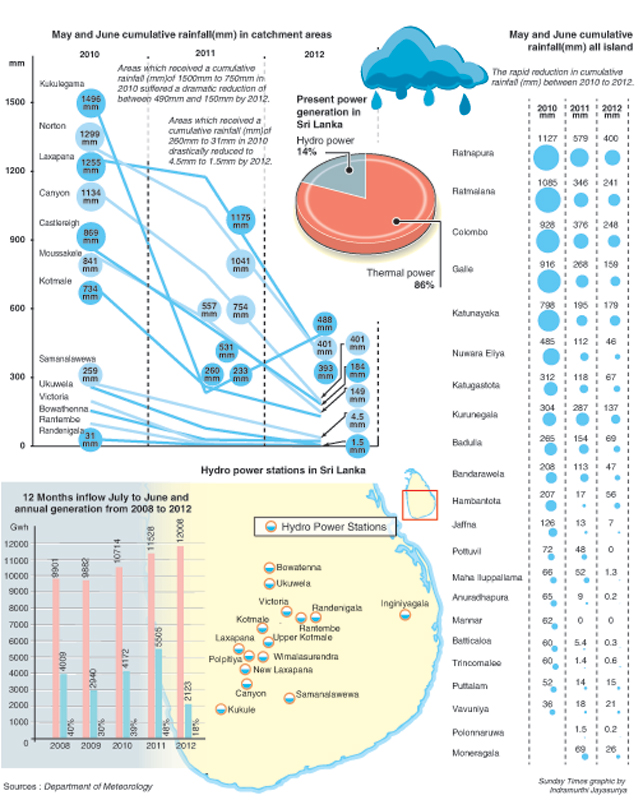 Farmers in the depths of despair
Commenting on the plight of farmers islandwide, even as crops are destroyed by the drought, All Ceylon Agrarian Association Chief Organizer Namal Karunaratne said the government cannot wipe its hands off the issue, merely by blaming the drought.
He said the reasons for such a drastic situation due to the drought lies with the government in that it did not implement an efficient programme to manage the existing water resources which comprise 14,000 rivers, streams and reservoirs islandwide.
"The government says there will be a shortage of 600,000 tonnes of rice this season, but it will be much more than that. Funds should be allocated for the proper management and restoration of water resources. The government prioritizes other things such as exhibitions and is building the tallest tower in South Asia, while there are issues that need immediate attention, such as this," he said.
When there is no proper supply of water at the harvest stage, the quality of the paddy declines, with a drop in production, due to no proper maintenance. For instance, if the yield is 100 kg per crop under normal conditions, under these conditions, a farmer would get only 40 kg.
"We would like to ask the government to pay compensation of at least Rs. 100,000 per acre and to provide subsidies to farmers in the coming season, as these farmers have sold everything they own to cultivate and are now left with nothing but dying crops," he explained.
comments powered by

Disqus