Illicit passage to Australia isn't plain sailing
By Sonja Candappa
To date, of the 65 boats carrying 4,600 would-be emigrants to Australia, 22 boats carrying 1,300 were from Sri Lanka
View(s):
Two boats packed with medicine, dry rations, food and water were set to sail off to Mankerni, a coastal village north of Batticaloa on Thursday night. They were waiting to transport some 41 would-be illegal emigrants to another trawler waiting in mid-sea.
Two crew members were onboard each boat, to receive the passengers, but instead, it was policemen in uniform and civvies who turned up. The crew members were taken into custody.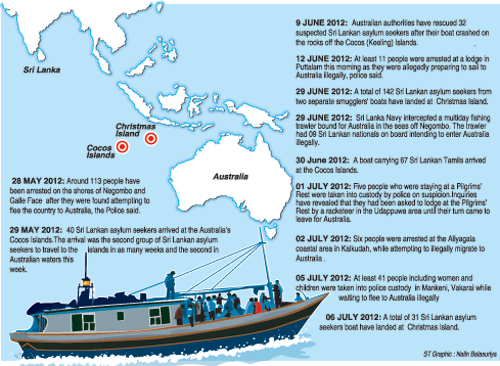 Less than half-an-hour earlier, all 41 would-be illegal emigrants including a woman and child, had already been nabbed from a safe-house, while waiting to sail to Australia.The would-be illegal emigrants were residents of Trincomalee, Mullaitivu, Vakarai and Chilaw areas. Drivers of the two vans used to transport the would-be emigrant from their homes to Vakarai were also arrested.
During the past two months, more than 10 illicit attempts to leave the country to Australia have been foiled and over 300 persons arrested.
Earlier this week, Kalkudah police arrested six individuals off the shores of Valaichchenai area, waiting to leave for Australia, while five others were arrested in a rest house in Kataragama, while they waited for their date of departure to Australia.
On June 30, the CID arrested 53 persons, some 60 nautical miles off the eastern coast, while on June 12, 11 individuals waiting to get a passage to Australia, were arrested at a rest house behind the Puttalam Hospital.
Throughout the year, the number of attempts to leave for Australia, have been on the increase, with villagers, mainly from Chilaw and Puttalam areas claiming that several of the attempts had been successful.The biggest group of would-be asylum seekers from Sri Lanka to be detected this year was on May 12, when 119 individuals including seven traffickers, were arrested at Galle Face, Colombo.According to official statistics, up to last month, of the 65 boats that took about 4,600 asylum seekers to Australia from around the world, 22 boats carried about 1,300 Sri Lankans.
Statistics also show that there has been a sudden increase in the number of asylum seekers from Sri Lanka since May this year, with 100 Sri Lankans landing on the shores of Christmas Island on May 27, another 44 arriving on the following day, and 62 more coming ashore on May 29.
Immigration and Emigration Department Controller General W.A.C. Perera told the Sunday Times most of these illegal migrants are from the North of the country and are victims of human smuggling rings.
"It is a growing trend (going to Australia) because a few people were able to go safely, many others also want to try it now," he said.
Immigration experts believe that one of the reasons that so many Sri Lankans illegally migrate to Australia, is because they believe that Australian immigration rules are lenient, compared with other countries.
The governments of Australia and Sri Lanka have agreed that special units, made up of police, naval and coastguard personnel and officials from the Immigration Department should be located at strategic points to put a stop to illicit sailing to Australia.
comments powered by

Disqus