LIFT offers overseas student exchange programmes for fashion design
View(s):

The Lanka Institute of Fashion Technology (LIFT) now offers open student internships. This opens doors for LIFT students to study overseas as well as for foreign students to gain the ability to study at the LIFT. At present the institute has progressed in leaps and bounds expanding into three companies which include the mother company LIFT as well as two other sub-companies LIFT Designer Wear, which is a boutique store under the name 'Niro and Nelo' dedicated to promote young designers where they have the access to create their own designs and LIFT Overseas which is the overseas study placement centre, that represents the University of Northampton.

Students exchange programmes enables students to pool their ideas and experiences where cultures and talents will combine to create a wealth of knowledge. Fashion is an international area of expertise where foreign exposure and contacts mean everything and what the LIFT institute offers its students is just this. The Daily Mirror Life spoke to Nimesha Kahandagama and Jessi White who are two students part of the institute's student internship programme to find out about their experiences and what they have gained.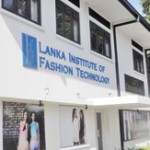 Nimesha Kahandagama was the first student to launch her own accessories line, having completed her studies at the LIFT she later applied for university education in New Zealand, where she is in the process of completing the final year of the course. Having also been a part of the modeling ramp in Sri Lanka, she was also privileged to work alongside Roxana Zamani a famous fashion designer as an assistant designer. Nimesha was highlighted by Roxana mainly due to the portfolio she had created while at LIFT, which was unique and innovative.
"LIFT has been capable of creating portfolios that could be taken to any part of the world. The knowledge that we gain from the institute paves the way for us to gain the required exposure to finally help us launch our own labels.I did not have a very creative streak to start off with but gradually LIFT taught me to unleash talents which I never knew I was capable off. After completing the Diploma Level at LIFT I took a break from my studies to build up my own business. However I realized that in order to be successful I needed to complete the Advanced Level stage at the LIFT so this I did with determination and complete faith in the institution", says Nimesha.
Having completed her Diploma in Fashion Nimesha ventured into to Accessories for the Advanced Level stage. She went on to say that during her time at the LIFT she not only received the knowledge and nurturing she required by also was very proud of the discipline that was upheld within the institution which groomed students for the outside world and highly competitive fashion industry. What differentiated Nimesha from the other international students was the technical knowledge she gained at the LIFT.
In conclusion Nimesha said, "I think that Fashion is an area that is constantly changing and evolving. Therefore we should have the ability to think out of the box, this includes gaining the required international exposure. The backing that I had from LIFT has been invaluable and I would like to thank the institute for all that I have gained and providing me with the secure foundation to realize my dreams."
Jessi White is the international exchange student from Scotland representing the Robert Gordon University of Aberdeen. She came to Sri Lanka last summer where she fell in love with batiks. Commenting on her experiences Jessi said, "I was really impressed with the emphasis that LIFT gives to the technical and creative aspect of fashion designing. I have gained the experience of how a designer boutique is run through LIFT Designer Wear which enables students to gain knowledge in areas such as fabric consumption, and dealing with manufacturers etc.
I am looking forward to the workshop that will be organized by LIFT in batiks which will be conducted by Eric Sooriyasena. During my stay in Sri Lanka I hope to take back loads of knowledge which I will get from my stay here at the LIFT."Jessi went on to say that the tutors at the LIFT are very supportive. With regard to future plans she says that her plans will revolve around making her marking the fashion industry.
All LIFT courses are cost effective when compared to others offered in the market at present. The facilities, technical support and courses offered are in line with international standards. With so much to offer the institute has been responsible for setting the foundation for students to embark on a professional career in fashion designing and through its student internships no doubt LIFT students will gain access to experience many opportunities in the international fashion trade.
comments powered by

Disqus