A decade of excellence proven at ANC Awards Night 2012
View(s):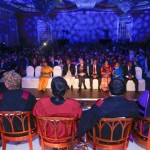 When over 200  graduates, transferring students, High Achievers and Best Performers gathered under the single banner of ANC Education last week to be honoured and recognised as being among some of Sri Lanka's best young minds, the exemplary levels of knowledge and imparting of skill was very evident in these budding global citizens.
For ANC Education, through the visionary leadership of Chairman Mr. Jagath Alwis, it was yet another notch of excellence in its quest to ensure that Sri Lanka's young people are given quality education on par with some of the best ranked universities around the globe. Having realised the importance of giving Sri Lankan students quality options of higher education, ANC Education's 10 year journey has truly been memorable.  As  ANC CEO/Executive Director Dr. Punarjeeva Karunanayake traversed a brief journey of those ten years, it became evident that the young people's thirst for knowledge, wherein they challenge and excel in diverse international arenas, continues unabated.  "What I do remember most is that we started with only 29 in our first batch and today, with over 3,000 students within the ANC Conglomerate of ANC Education, Wycherley International School and Net Assist International, Modern Montessori International, we have surely dominated education industry in Sri Lanka.
With our Motto, "Education without borders" We have brought into Sri Lanka, International higher education options of transferring into top universities in America, Australia, Canada, UK, Malaysia and Sri Lanka and assuredly etched our title as the "No.1 Transnational Education provider in Sri Lanka."
We also have degree completion programmes from some of the best universities and colleges in the world opening up new vistas of knowledge and ability for Sri Lanka's youth.  We have the largest American Transfer and Degree Completion programmes in Asia through Northwood University, and Missouri University of Science and Technology and Patten University in the US; Monash is amongst the top 100 Universities in the world and the highest ranked university programme operating in Sri Lanka and by far, one of the most prestigious learning institutions.
We recently also launched the ANC postgraduate school of Education, with The University of West London, ranked as the best modern University in London by the Guardian University Guide, 2013.The ANC Postgraduate School of Education offers over 8 masters degrees in Law and Business, which will be expanded to 18 degrees in the fields of Engineering, Psychology and Tourism.
As Director Press, Cultural and Education Affairs at the US Embassy, Christopher Teal opined just prior to making the presentations to the Best Performing Students, "You have now moved from the world of students and into the world of adults and I mean that not rhetorically, but rather as in the responsibility you hold in playing a role to shape the world.  You are going to recognise that we an inter-connected planet, no matter where you live and it will encourage you to think and act with that foremost in your mind.  Nothing is truly local anymore and ANC has equipped you to take that responsibility seriously, understand the inferences and influence the way the world thinks and acts."  These thoughts were echoed by US Ambassador Patricia Butenis, who via a video message urged the young people gathered to be a part of Sri Lanka's transformational phase, "Not just in building up infrastructure but in social aspects as well.  All Sri Lankans have a responsibility and role to play within your country and also to the peoples and nations of this world.  You are part of a privileged generation, where education is an imperative and you must therefore, use that privilege for the betterment of all."
There were seven students who were honoured by the partner universities as Best Performers for 2012; Dinithi Silva from Patten University, Anoushka Wilson from Missouri University of Science & Technology, Sakina Zoeb from Monash College (Diploma level) who also gained an Award of Excellence on achieving the highest results in the Diploma of Engineering Studies,  Sachintha Edirachcharige from Monash University (Foundation Year), Mohamed Zayan Ilmy and Madhava Solanga Arachchi from NCUK (International Diploma) and from Northwood University, Niluja Suthatharan, who was additionally conferred with the Patricia Nigel Award, which is an annual presentation for the Best Northwood University Student of the Year.
ANC's transnational ethos was most evident over 130 students successfully completed the transfer programs to over thirty universities in the US, Canada, Australia, Malaysia, UK, besides Northwood University, Missouri University of Science & Technology and Monash University.  These universities included some of the best quality higher education providers in the world including Ohio State University, University of Texas A&M, California State University Systems (CSU), State University of New York Sytems (SUNY)  University of Toronto, York University University of Georgia, University of Westminster, Leeds University, Manchester University, Swinburne University, Sheffield University, Nottingham University, University of Salford and University of Liverpool.  The fields of study being pursued spanned diverse and innumerable competencies including mechanical, aeronautical, aerospace, electronic & electrical, Robotics, chemical, petroleum, mechatronics and civil engineering, architecture, bio-technology, economics, IT,Pre Medicine, law, psychology and many fields of Business.
Representatives of the primary universities and colleges represented by ANC Education were present at the awards, all of who, in their addresses encouraged the graduates and students to ensure that the investment in their education is truly optimised.
Anne Bright, Director Foundation Year of Monash College Melbourne observed that they were entering the next phase of their education, exampling the vision of Sir John Monash, the founder of Monash University.  "You have the privilege of education and an education that will take you to a higher place.  I urge you to do what John Monash always wanted to do – to give back to the community and ensure that your education becomes an asset for your community."
Academic Manager of NCUK Dr Donard De Cogen added with fervour:  "Life is tough; get used to it. The world doesn't care where you came from or what you did.  You've learned much from your experiences and your teachers here.  Use it.  You simply have to go out there, prove yourself and earn the status you think you deserve."
Professor and Chair of the Department of Psychological Science of Missouri University of Science & Technology added that ANC has added the holistic dimension to forming global citizens, with a good mix of extracurricular activities and academics.  "I'm extremely confident that you are well prepared to meet the challenges you are bound to face because the ANC-MST philosophy of education is to equip young people like you to achieve your fullest potential."
And as Executive Vice President and Chief Academic Officer Dr Kristen Stehouwer summarised, complimenting the graduates on becoming an integral part of the 41,000 Northwood alumni around the world, "The world needs your leadership; choose the ethical path and you'll always be successful."
In celebrating its decade of excellence in quality education, ANC Education presented tokens of appreciation to all partner universities whose unwavering support has truly rendered the imperative cog for success, while also recognising the loyalty and commitment of some of its team who have been with the organisation since inception.   The Awards Night 2012 concluded as convention dictates, with the annual students celebratory ball, All That Jazz!
comments powered by

Disqus