Of life, love and jungle adventures in a time gone by
Book facts | Golden Memories and Silver Tears by Dr. Walter R. Gooneratne
View(s):
When Dr. Walter Gooneratne began his career as a General Practitioner in a little annexe close to my parents' house in Thimbirigasyaya, little did I imagine that 60 odd years later I would be introducing his fascinating autobiography.
This book clearly falls into two sections. The first is 'pure' autobiography. The other is his description of his forays into wild places and waters that enthral him.
His boyhood in Mount Lavinia in the early 1940's is a window into a simpler, quieter, but no less fascinating world – especially for the adventurous young Walter and his gang. Their many escapades call to mind those of Richmal Crompton's legendary William Brown in the countryside of pre-WW II England. Today's building – crowded and traffic-congested Mount Lavinia makes his vision of old 'Galkissa' seem a fairy tale.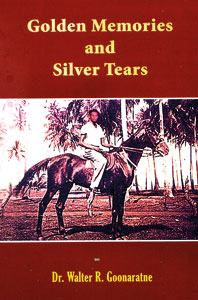 It was a place of large gardens, fish ponds, free running poultry and pigs as well as the odd 'thalagoya'. Some of this 'wild life' ended up in the cookpot that an obliging 'ayamma' prepared for the feasts of these juvenile hunters. Little did young Walter imagine (or, did he?) that much of his adult life would be spent hunting larger, fiercer game.
Walter's account of his fellow adventurers has one shining star, Genevieve, a fascinating character – as mischievous as the rest, but also given to quiet introspection and reading curled up in old boats on the beach. The description of her rout of a wealthy suitor is hilarious.
The War intervened, bringing an English soldier keen on her, who got the brush-off. Walter's relationship with Genevieve is a bitter-sweet episode of adolescence, in that innocent era on the cusp of unsaid emotions. It's a lovely story.
Schooling at S. Thomas', where his father was Headmaster saw Walter winning many accolades in studies and sports, which he relates with characteristic modesty.
Then on to Medical College fulfilling his boyhood determination to be a doctor. His account of his fellow students, lecturers and escapades makes the reader mourn the transformation of this civilized way of life into the barbarism endemic in today's Universities. Many friendships he began as a medical student he has carried through his life.
Joining the Health Department, his first appointment was as Medical Officer at Maha-Oya – a place so remote that it was barely a blip on the map. Walter took to Maha-Oya like a duck taking to water. While doctoring, with dedication, to the poor peasants in that remote and forested area – he had the god-given opportunity to absorb the ways of the wild and its animals – which were to become such an important part of his life.
He spent every free moment tracking the wilds that surrounded his solitary kingdom.He served in many other stations, but the jungles of Maha-Oya haunted his imagination. It was in Kandy that he met Nirmalene, destined to be his wife. The polite letters and chaperoned meetings of their genteel courtship are characteristic of a social class and period – not too far removed from that of Jane Austen.
Walter gives an intriguing account of the quixotic venture of the College of General Practitioners to set up a Private Medical College. He was caught up in a vortex of political and professional intrigue that finally aborted this idealistic enterprise.
Much of the rest of the book consists of his forays into the jungle with rifle and faithful trackers, accompanied by kindred souls and family.
With this book Walter has now joined the ranks of jungle – loving doctors such as R.L. Spittel and Chris Uragoda. His introduction of water-skiing to this country was a revelation to me – although we had, timidly, accompanied him once on the lead boat while Walter skied with panache on the waters of Bolgoda.
This is a book to be read and cherished, both as an account by a modest man of a life in a civilized era, and also as the adventures of an acutely observant lover of Sri Lanka's jungle treasures.
(Excerpts from the book's Introduction by Tissa Devendra)
This book is available at Lake House Bookshop. Price Rs. 1250. (website www.lakehousebookshop.com  Tel. 4734137-8)
comments powered by

Disqus