Appreciations
View(s):

He worked towards forging Buddhist links between Cambodia and Sri Lanka

Venerable Kudalunuke Mudita Thera

Venerable Kudalunuke Mudita Thera's tragic demise in a motor vehicle accident recently leaves a void in the fast growing Sri Lanka-Cambodia Buddhist relations which was renewed after the Pol Pot disaster.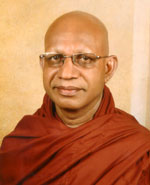 Ven. Mudita was 37 years old when I invited him to Cambodia as the first resident Theravada monk from Sri Lanka after the Pol Pot destruction of Buddhism. His name had been recommended by the then Vice Chancellor of Buddhist and Pali University, the Venerable Akuretiye Nanda Thera who had come on a visit to Cambodia.
Ven. Mudita could not have imagined that he was laying a foundation for an unprecedented renewal of Buddhist relations between the two countries and for the revival of Buddhist learning in Cambodia. While working for the UN, I and the other Sri Lankan Buddhists working in Cambodia had observed how the spirit of Cambodians  was still strongly Buddhist in spite of the actions of Pol Pot, the Cambodian Hitler, in getting monks disrobed and temples destroyed.
In addition were the Christian missionaries who were hunting for unethical conversions by giving money – to become what the Cambodians derisively called "rice Christians", those who were bribed to become Christian by a bag of rice.
But the recent Sinhalese connection went a few years further back before Venerable Mudita. Soon after I was posted to the United Nations in Cambodia from New York at the end of 1993, I had the privilege of inviting to Phnom Penh, the Cambodian capital, the Venerable Vipulasara Thera. He came with monks from Singapore and Indonesia – the first dhammaduta mission after the Pol Pot genocide.
I arranged for them to meet leading figures in Cambodia including the King, the Prime Minister and senior government officials. This dhammaduta initiative brought in financial assistance from Japan, Korea and Sri Lanka to develop the tertiary education institute, the Buddhist High School, the main centre of instruction for Cambodian Buddhist monks and to re-establish the Sihanuouk Raj Buddhist University.
After the arrival of Venerable Mudita, I invited a few other Sinhalese monks to man Cambodian education establishments.  In addition, a programme to train Cambodian monks in Sri Lanka was now initiated through private contributions. I brought in over 10 Cambodian monks to Sri Lanka at the beginning and later another over 20 monks. And later, the Venerable Dr Omalpe Sobhitha whom I had invited to be a UN volunteer  for environmental education through Buddhist temples brought in some further monks to Sri Lanka.
Ven. Mudita started teaching Pali at the High School on May 25, 1995. He soon learnt the Khmer (Cambodian) language and taught Pali, both in Khmer and English. He was also invited by the Buddhist Institute, the major centre of research and documentation in Cambodia to teach English courses for Cambodians. Later, he also taught Pali at the Sihanuouk Raj Buddhist University.
Today Buddhist learning has been firmly re-established in Cambodia because of the help of Ven. Mudita and other Sinhalese monks. In addition, the Cambodian monks who were brought to Sri Lanka have gone back and some of them today occupy leading positions in Cambodian education establishments, serving as the Vice Rector, the Dean  and the Administrator of the Sihanouk Raj University. In Sri Lanka, Cambodian monks have even established a major Centre of Buddhism for Cambodians under the guidance of Ven. Dr. Omalpe Sobhita.
Venerable Mudita was an embodiment of serenity, humility and gentleness. Younger Cambodian monks were not quite sure as to how younger monastics should behave, what their religious and academic aspirations should be after the Pol Pot era. Ven. Mudita provided a role model for these younger Cambodian monks.
His amiable demeanour won the hearts of every Cambodian. His compassion seemed to see no bounds – he helped every one he came in touch with. His residential quarters at the temple of the Sangharaja of Cambodia was often full of visitors, younger monks and young and old lay men who sought advice, and asked for help.
He even helped the needy Cambodians financially. There was a major smuggling racket through Cambodia of LTTE associates at the time, but Ven. Mudita provided unstinted emotional support to them to such an extent that they would regularly provide him with dana. On several occasions, he conducted funeral ceremonies for Sri Lankan Tamils who had died in Cambodia.
Ven. Mudita was ordained at Ganegama Ratanagiri Purana Viharaya under the illustrious Ganegama Saranankara Thera. After Pirivena studies, he completed his B.A. and M.A degrees at University of Kelaniya.  After his return from Cambodia, he served as the Principal of Keembiela Saranankara Pirivena. He repaired and developed the Sri Dharmapala Viharaya and established the Sri Samadhi Asramaya in Lavalhena, Baddegama. The meditation centre he established has been increasingly popular. Venerable Mudita met with a tragic accident while returning after an ordination ceremony.
The people of both Sri Lanka and Cambodia have benefited through his work in renewing the past relations between the two countries. May he attain nibbana.
Hema Gunatileke
He led an uncomplicated life, with the simplest of needs
Tudor Jayasuriya 
To have known a gentleman like Tudor Jayasuriya was both a pleasure and a privilege. Not having been fortunate enough to be a school-mate or, even a contemporary of his at the then Ceylon Law College, that opportunity came my way only because of that wonderful place called Voet Inn, the Law College Hostel. We were both inmates there, albeit a couple of years apart.
Born on March 31, 1942 in Matara to a family of four brothers and three sisters, he had his entire school education at Richmond College Galle, where he was the popular captain of cricket, in addition to being an outstanding schoolboy batsman of that era.
At Law College too, he captained  cricket and took part in soccer and athletics.
He was the Secretary of the Law Students' Buddhist Brotherhood, when the late Douglas Premaratne PC, Solicitor-General, was its President. Like most others then, they both belonged to Voet Inn. If not for his exceptional all-round abilities as a student, he could not have secured First Class Honours at his Law Examinations at the Law College, in the midst of such a variety of extra-curricular activities.
After having taken his oaths, it was to Tangalle his hometown that he first went, to continue with his brother Lionel's law practice. Later he returned to Colombo to join the prestigious law firm of Julius and Creasy, until he was invited to join the Insurance Corporation of Sri Lanka by his friend Mr. S.S. Wijeratne, then a Director, where he rose to be the Chief Legal Officer.
He was later invited to join the other distinguished old law firm, M/s F.J. & G. de Saram, where he ended up as one of its Senior Partners, specialising in Securities, Banking and Conveyancing. He was an accepted authority in that last field, where many senior lawyers came to him for his advice and guidance. Tudor always willingly obliged them.
Tudor's position and his personal qualities, attracted him to a large cross-section of people, from the highest in the land to the humblest on the street, as was seen at Kanatte at his cremation.
Among those who came to pay their last respects to him at his home and even spend a long time consoling the grieving members of his family, were the Bandaranaike sisters Sunethra and former President Chandrika.  As Rudyard Kipling said, he was able to move with Kings and not lose the common touch. He was one of the simplest of men, unassuming and, shunned the limelight. When his colleagues at "FJ &G" wanted to felicitate him when he completed 46 years at the Bar, they used the ploy of requiring him at the office for the signing of an important document. Such was his simplicity.
It may be a surprise for anyone to learn that Tudor, at seventy plus years of age and in the 47th year at the Bar, had never stepped outside our shores (even for medical attention), nor used a mobile phone or a credit or an ATM card. He had an uncomplicated life, with the simplest of needs.
He harmed none, by word, deed or even thought. That may be why the deities spared him of any pain, despite the terrible illness that afflicted him.
There was that novel surgical procedure that his family was able to secure for him under foreign medical experts here, at a considerable cost, for he was more valuable than all their wealth.Tudor was a devoted family man to Dayaneetha and to their sons Dilshan and Hiran, both dear  students of mine at the  Law College and their beloved wives.
At almost all social events where he could take her, one could see Dayaneetha always beside him, like his eternal shadow, simple and charming, always with that shy smile of hers.  She is sure to miss her closest friend and companion, much more than anyone else.
I have been at the receiving end of his kindness, like many others. Not once, but often. He encouraged juniors and wished them well. I will always remember him with eternal gratitude and wish that his journey through sansara be short and, that he achieves the Supreme Bliss of Nibbana.
May Tudor be born in our midst again!
Upali A. Gooneratne PC.
Thaaththa taught us to be self-confident, honest and brave
A. Wilton de Zoysa
Thaaththa, it is 11 years since you left us, but your departure is like an awful dream. I miss you more than ever. Not a day passes that I do not think about you. You were my best friend, guru and precious Father.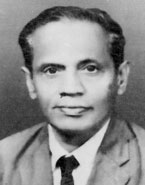 This is my humble attempt to capture the essence of a man whose presence I fear I cannot do justice to with words. As his daughter, I am true to all he taught me about life. It is with gratitude and grief that I pen these lines on my father's 11th death anniversary.
During those last few days I wanted to tell you how grateful I was for what you have done for me. Unfortunately, I did not have that opportunity. You were losing strength with each passing day.
The last time I visited you, you did not open your eyes. But you were very conscious. You told me where to purchase a mask I wanted to give a friend. You had so much will-power not to open your eyes, probably because you knew it would be difficult for us to let go of each other.
I tried so hard to make you open your eyes, but you would not. You had accepted the reality of life and death.
You appreciated us for what we were, and trusted us to the extent that you built a moral binding in us to be always truthful to ourselves and never break the trust of others.
Your love, appreciation and trust are among the many things that moulded us into the people we are. You were always there for us. You taught us that self-confidence, honesty and courage would help us lead a good life.
I wish you had hung on a little longer, to guide me. You never asked for anything. Thaaththa, I miss your voice, your being there. Your spirit and what you gave us will make us better people for having had you as a great father.
You said learning was a foundation no one can take away. We grew up with your values. You were the biggest champion in all our endeavours.
Thaaththa, I am so glad I am your daughter and what I am today. It is all because of you. I want us to meet in Sansara one day again.
I salute you for holding yourself together as you put us on our feet. May your Sansaric journey be short and may you attain the Supreme Bliss of Nirvana.
Damitha de Zoysa
comments powered by

Disqus