"This is an account of the wanderings of a spiritualist, geographical and speculative. Should the reader have no interest in psychic things – if indeed any human being can be so foolish as not to be interested in his own nature and fate - then this is the place to put the book down . . .
"I write these lines, with a pad upon my knee, heaving the long roll of the Indian Ocean, running large and grey under a grey-streaked sky, with the rain-swept hills of Ceylon, just one shade greyer, lining the Eastern skyline."
Thus begins The Wanderings of a Spiritualist (1921) by Sir Arthur Conan Doyle, creator of the ultimate, most enduring detective, Sherlock Holmes -whose extraordinary powers of observation and deduction reflect the keen mind of the author - and the adventurous Professor Challenger, the Indiana Jones prototype.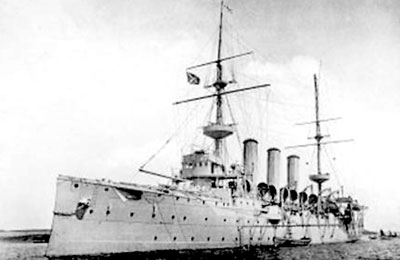 HMS Highflyer: a frequent visitor to Colombo
Arthur Ignatius Conan Doyle was born in Edinburgh in 1859. Although he is now commonly referred to as "Conan Doyle" (he received a knighthood in 1902), the origin of this compound name is ambiguous as the entry in which his baptism is recorded gives Arthur Ignatius Conan as his Christian names.
Conan Doyle studied medicine at the University of Edinburgh between 1876 and 1881, during which time he began to write short stories. He started a medical practice at Plymouth in 1882 with a former classmate, but they didn't get on, so he set up an independent practice in Southsea, near Portsmouth, and wrote while he waited for his very few patients.
His first significant piece of writing, A Study in Scarlet (by "A. Conan Doyle"), which introduced the characters of Dr Watson and Sherlock Holmes, was published in the 1887 issue of Beeton's Christmas Annual. Indeed the issue was entitled A Study in Scarlet. Due to its literary importance in showcasing the initial Holmes tale - four novels and fifty-six short stories followed – it is now the world's most expensive auctioned magazine, a copy in excellent condition having fetched $156,000 at Sotheby's in 2007.
This is not the time to go into a more detailed investigation of Conan Doyle's publications featuring Sherlock Holmes, such as The Hound of the Baskervilles (1901), and indeed the Professor Challenger books, especially The Lost World (1912), for this article is an examination, though brief, of Conan Doyle the totally committed Spiritualist, and of his visit to Ceylon during a voyage devoted to his belief.
Conan Doyle's introduction to the occult happened while he was practising as a physician at Southsea. From 1885 to 1888 he participated in 'table-turning' sittings at the home of one of his patients, General Drayson, a teacher at the Greenwich Naval College. The medium was a railway signalman, and it is reported that some amazing phenomena took place, such as objects supposedly produced by occult means at a séance.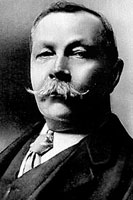 Sir Arthur Conan Doyle
His interest aroused, Conan Doyle joined the Society for Psychical Research and performed a series of experiments that satisfied him telepathy was authentic. He was also a member of the renowned paranormal organisation, The Ghost Club. For nearly thirty years he continued his studies and investigations. Finally, at the peak of his literary career, he took a decisive step and wrote The New Revelation (1918) and The Vital Message (1919), in which he associated himself with the cause of Modern Spiritualism.
On the publication of The New Revelation in 1918 he began his mission to spread knowledge of Spiritualism with visits to the majority of Great Britain's cities. Then, during 1920 and 1921, he sailed to Australia and New Zealand, briefly visiting Ceylon both on the outbound and inbound voyages. Early in 1922, he went to America and toured the Eastern states and in 1923 he travelled to California. In 1928, he left for South Africa, and in the autumn of that same year, he visited Northern Europe.
Accompanied by his family and a small party of fellow Spiritualists, Conan Doyle arrived at Colombo harbour in September 1920 for a two-day stopover to find a frequent visitor, the Royal Navy's East Indies flagship, the cruiser HMS Highflyer. He described the ship, a veteran of World War One, as a "saucy, rakish, speedy craft", a comment unlikely to be made today because, commissioned in 1899, it had a backward-facing prow, three clumsy funnels and two tall, cluttered masts.
For Doyle it was a potent symbol of empire and of victory over Germany, to be looked upon "with the reverence which everybody and everything which did well in the war deserve from us". But Highflyer's days were numbered, for a year later, in June 1921, she met an ignominious end in Bombay's scrapyard.
Doyle resisted walking off the wharf and into the Grand Oriental Hotel, "finally staying with my wife for the night at the Galle Face Hotel, a place where the preposterous charges are partly compensated for by the glorious rollers that break upon the beach outside". It's remarkable that despite an elevated status, the Galle Face Hotel – and indeed the Grand Oriental and Mount Lavinia - attracted a fair amount of criticism by writers of the Victorian and Edwardian eras.
Later in the chapter Conan Doyle remarks once more on the "glorious rollers" off Galle Face Green: "Never, save on the west coast of Africa, have I seen the 'league-long roller thundering on the shore' as here, where the Indian Ocean with its thousand leagues of momentum hits the western coast of Ceylon."
He continues by praising the grace and seaworthy design of the outrigger canoes, the oruwas – a common topic in colonial descriptive literature - which rode the rollers with ease: "It looks smooth out at sea, and then you observe that a good-size boat had suddenly vanished.
Then it scoops upwards once more on the smooth arch of the billow, disappearing off the further slope. The native catamarans are almost invisible, so that you see a row of standing figures from time to time on the crest of the waves. I cannot think that any craft in the world would come through such rough water as these catamarans and their long outriggers do. Man has made few more simple and affective inventions . . . It would teach our fishermen some possibilities of which they are ignorant."
A "native conjuror" gave Conan Doyle and family "practically a private performance of the mango-tree trick", probably just outside the Galle Face Hotel. The mango-tree trick has been a Subcontinental favourite down the centuries: various Indian performances of it can be viewed on YouTube. "He did it so admirably that I can well understand those who think that it is an occult process," Conan Doyle claimed.
"In doing it he began by laying several objects out in a casual way while hunting in his bag for a mango seed. These were small odds and ends including a little rag doll, very rudely fashioned. He showed the seed and passed it for examination, a sort of large Brazil nut. He then laid it among some loose earth, poured some water on it, covered it with a handkerchief, and crooned over it.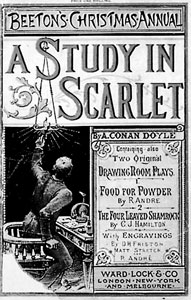 A Study in Scarlet: Conan Doyle's first Sherlock Holmes story
"In about a minute he exhibited the same, or another seed, the capsule burst, and a light green leaf protruding. I took it in my hands, and it was certainly a real bursting mango seed, but clearly it had been palmed and substituted for the other. He then buried it again and kept raising the handkerchief upon his own side and scrabbling about with his long dark fingers underneath its cover.
Then he suddenly whisked off the cover and there was the plant a foot or so high, with thick foliage and blossoms, its roots well planted in the earth. It was certainly very startling.
"My explanation is that by a miracle of packing the whole of the plant had been compressed into the rag doll. I observed that the leaves were still rather crumpled, and that there were dark specks of fungi which would not be there if the plant were straight from nature's manufactory.
But it was wonderfully done when you consider the man was squatting in our midst, we standing in a semi-circle around him, with no adventitious aid whatever. I do not believe that the famous Mr Maskeleyne could have wrought such an illusion."
Conan Doyle refers to John Nevil Maskeleyne, one of the most popular London illusionists during the late Victorian and early Edwardian era, who invariably featured spectacular magic tricks. It is strange, then, that a rare short film by RW Paul, titled Mr Maskeleyne Spinning Plates and Basins (1896), did not, as the title intimates, include more adventurous material. Conan Doyle's claim that this celebrated British illusionist, of vital importance to the history of stage magic, could be out-matched by a street counterpart in Ceylon is of note, and reflects another art in which overseas visitors held the Ceylonese in high esteem.Like most visitors to Colombo in the late 19th and early 20th centuries, a trip to Mount Lavinia, then distinct from the city, was a popular excursion. Conan Doyle's introduction exhibits his antipathy towards the premier hotels.
"There are two robber's castles, as the unhappy visitor calls them, facing the glorious sea, the one Galle Face, the other the Mount Lavinia Hotel. They are connected by an eight-mile road, which has all the colour and life and variety of the East for every inch of the way.
"In that glorious sun, under the blue arch of such a sky, and with the tropical trees and flowers around, the poverty of these people is very different from the poverty of a London slum [such sentiments were often expressed by visitors of the Victorian and Edwardian eras]. Surely, it is a palpable truth that no one has a right to luxuries until everyone has been provided with necessities, and among such necessities a decent environment is the first. If we had spent money to fight slumland as we spent it to fight the Germans, what a different England it would be."
While staying at the Galle Face, Conan Doyle had an encounter with another Spiritualist, a doctor practising at the hotel who had recently arrived from England. "He had lost his son in the war, and had himself become unsettled. Being a Spiritualist he went to Mrs Brittain, the medium, who told him that his boy had a message for him, which was that he would do very well in Colombo. He had himself thought of Ceylon, but Mrs B had no means of knowing that. He had obeyed the advice thus given, and was glad he had done so."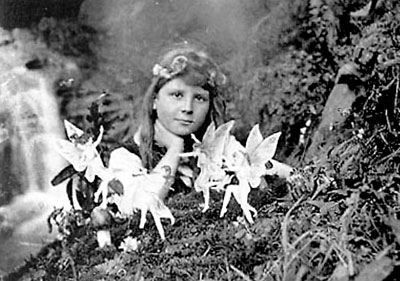 The first of five photographs of the Cottingley Fairies
It is significant that Conan Doyle refers to Annie Brittain, a well-known trance medium of the time, whose psychic gifts were noticed in early childhood when she is said to have played with spirit children. In his most significant book on Spiritualism, the two-volume The History of Spiritualism (1926), he mentions that he had been in the habit of sending mourners to Brittain during the war and kept records of the reports, which apparently showed a high rate of success.
On the return voyage from Australia, Conan Doyle arrived in Colombo in February 1921 where he was "interested to receive a Westminster Gazette, which contained an article by their special commissioner upon the Yorkshire fairies [more specifically referred to as the Cottingley fairies]". No wonder he was interested, for later that year, his book The Coming of the Fairies was published, which demonstrated his conviction of the veracity of five photographs, purportedly of the fairies, taken by two young cousins, Elsie Wright (16) and Frances Griffiths (10), who lived in Cottingley, near Bradford.
Conan Doyle was satisfied to read that "The Westminster inquiries seemed to have confirmed Gardner [Edward Gardner, member of the Theosophical Society, with whom Conan Doyle had carried out investigations on the subject] and me in every particular, and brought out the further fact that the girls had never before taken a photo in their life. One of them had been for a short time in the employ of a photographer, but as she was only a child, and her duties consisted in running on errands, the fact would hardly qualify her, as Truth [a Sydney newspaper] suggests [January 5, 1921], for making faked negatives which could deceive the greatest experts in London."
One perceptive comment Truth had made was, "For the true explanation of these fairy photographs what is wanted is not a knowledge of occult phenomena but a knowledge of children". In similar vein, the historical novelist and poet Maurice Hewlett published a series of articles in the literary journal John O' London's Weekly, in which he concluded: "And knowing children, and knowing that Sir Arthur Conan Doyle has legs, I decide that the Miss Carpenters [to protect the girls' anonymity, Frances and Elsie were named as Alice and Iris respectively, and the Wright family was referred to as the Carpenters] have pulled one of them." It's quite remarkable how long it took for the photographs to be exposed as fakes.
On this visit to Ceylon, Conan Doyle and family made "a dream journey to Candy [Kandy]" crammed into a car. "It was a wonderful experience, a hundred and forty miles of the most lovely coloured cinema reel that God ever released [my italics]. I carry away the confused but beautiful impression of a good broad red-tinted road, winding amid all shades of green, from the dark foliage of overhanging trees, to the light stretches of half-grown rice fields. Along this great road streamed the people, and their houses lined the way, so that it was seldom that one was out of sight of human life. They were of all types and colours, from the light brown of the real Singalese to the negroid black of the Tamils, but all shared the love of bright tints, and we were delighted by the succession of mauves, purples, crimsons, ambers and greens. Water buffalo, with the resigned and half-comic air of the London landlady who has seen better days, looked up at us from their mudholes, and jackal-dogs lay thick on the path, hardly moving to let our motor pass. Once, my lord the elephant came round the corner, with his soft, easy-going style, and surveyed us with inscrutable little eyes.
"It was the unchanged East, even as it has always been, save for the neat little police stations and their smart occupants, who represented the gentle, but very efficient British Raj. It may be the merit of the Raj, or it may have be the inherent virtue of the people, but in all that journey we were never conscious of an unhappy or wicked face. They were very sensitive, speaking faces, too, and it was not hard to read the thoughts within."
With these sensitive descriptions of the landscape and its people, Conan Doyle more or less ended his second and last visit to Ceylon. He died of a heart attack on July 7, 1930, aged 71. In an address before members of the London Spiritualist Alliance, in October, 1931, Sir Oliver Lodge, a physicist and investigator of psychic phenomena, chiefly telepathy, summed up Conan Doyle's approach to Spiritualism thus:
"His methods are not mine, he regarded himself as a missionary, a trustee of a great truth which he felt bound to with others, whether they would receive it or whether they would reject and ridicule it, but one cannot but admire the completeness and self-sacrificing character of his life and doctrines. Occasionally, I think, he lacked the wisdom of the serpent, but the goodness of his motives must be manifest to all."
Postscript
Although Ceylon proper never featured in Conan Doyle's fiction, he did create a masterful horror short story, "De Profundis", with a Burgher coffee exporter as its main character, published in The Last Gallery: Tales and Impressions (1911), i.e. before his visits to the island. John Vansittart, the younger partner of the firm Hudson and Vansittart of Colombo, "was three-quarters Dutchman by descent, but wholly English in his sympathies".
This somewhat obscure short story regarding a visit by Vansittart to England, which has a shocking end, has been uncovered in the past, for one sentence from it can be found online in a fistful of tea-related websites: "The tea fields of Ceylon are as true a monument to courage as is the lion at Waterloo." How Conan Doyle became aware of the Burghers is of interest. Perhaps it was due to his friendship with Colonel Percy Fawcett, the subject of my next article, who was stationed in Ceylon before disappearing in the Amazon.