A group of young entrepreneurs were given the opportunity to prove their business skills in a British reality show by participating in a series of business-related tasks. The prize was a quarter of a million pounds. According to the programme-makers the winner had to be a 'leader with a wide range of skills who is creative and bright'. This year's winner, was a young man called Tom, who described himself as an inventor and a dyslexic.
The word 'dyslexia' derived from the Greek language, literally means 'difficulty with words'. Although there has been much interest in this condition among professionals in the fields of medicine, education and psychology for over a century, it is still not a fully understood condition. There is no agreed definition of dyslexia. It is defined by symptoms and not causes.
The explanation of the nature and causes of dyslexia has varied but what is accepted by all is that dyslexics have difficulty acquiring literacy skills.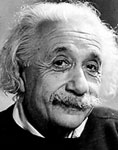 Albert Einstein (scientist)
But research indicates dyslexics demonstrate superior abilities in areas not measured by literacy skills. Their strengths are in creativity, imagination, lateral thinking and interpersonal skills.Their ability to manipulate three dimensional shapes and concepts in their minds is a great advantage to those engaged in designing and creating things.
Tom, this year's 'Apprentice', says he visualises three-dimensional shapes with ease before he commits them to paper. Scientist Albert Einstein, a dyslexic himself, said, "The words or the language, as they are written or spoken, do not seem to play any role in my mechanism of thought. The physical entities which seem to serve as elements in thought are certain signs and more or less clear images which can be 'voluntarily 'reproduced and combined'.(A.&M Hoyles)
In his study of 11 famous dyslexics, Thomas G. West says that they all showed creative ability and were capable of visual thinking. Winston Churchill (statesman) preferred to use visual and graphic presentations and chose to dictate his speeches and books. Agatha Christie, best-selling author of murder mystery stories said she usually organised the details of the plot and clues in her head before writing them down.
Dyslexia is independent of socio-cultural backgrounds and does not equate to low intelligence. In fact, most dyslexics are of average or above average intelligence. Therefore this condition is easily recognisable in them due to the difference between their ability to acquire literacy skills and their abilities in other areas.
Due to a lack of understanding of their problems, dyslexics, children and adults, are misunderstood and criticised. At school often children's difficulties have not been diagnosed or correctly identified and therefore they have been labelled as lazy, disruptive and uncooperative. The sculptor Rodin's father was told his son was uneducable and the sooner he was put to work the better. Thomas Edison, the inventor of the light bulb and the phonograph was described as mentally slow by his teachers. Olympic swimmer Duncan Goodhew was called 'Duncan the Dunce' at school.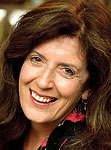 Anita Roddick (entrepreneur-Body Shop)
Ten percent of the British public grew up with dyslexia not identified or diagnosed till late. Jackie Stewart (racing driver) was 42 years old and Susan Hampshire (actress) was 30 years old when they discovered that their problems were due to dyslexia.
Despite their difficulties, those who have achieved fame and fortune believed in themselves and fought against all odds to achieve what they wanted. Ranulph Fiennes, the explorer, has said that he decided to focus his energies on developing his sporting strengths rather than be dragged down by his struggles with reading. Einstein has attributed his success to 'curiosity, obsession and sheer perseverance'.
There are many though who have not made it in life due to the absence of support and guidance. Lack of awareness of the condition and the inability to cope with the problems lead to anxiety, low self-esteem and frustration. Abuse, bullying, jokes and being made fun of by peers destroy confidence.
It is important to raise awareness of dyslexia so that the children can get the right help they need as early as possible. Dyslexic children become dyslexic adults taking all the associated problems such as poor organisational skills, inattention, forgetfulness to the workplace and the wider world, if they do not get appropriate help. They need to be aware of the nature of their problems and have an understanding of how to deal with them.
Dyslexia can overlap sometimes with related conditions such as dyspraxia, dysphasia and attention deficit disorder. It is estimated that 60% of dyslexics have difficulty with numeracy too. Leo Sayer, the pop singer, says he was bullied at school because of his learning difficulties and was in the 'dumb class'. He goes on to say, "I lost all my money ...because I couldn't count my royalties... I didn't even know what plus and minus looked like."
Each person experiences dyslexia in his/her particular way along a spectrum from mild to severe. Every dyslexic is different. Thus it is, at times, referred to as the 'hidden handicap'.
Children with learning problems should be identified, their problems understood and appropriate support given. Allowing them to fail is a waste of talent and a cost to society.
Adult dyslexics are often ashamed of their problems. Some get by with coping strategies of their own. The more fortunate get others to do their work. One in 25 working people are at some point on the dyslexia scale and in the workplace it can manifest itself often in areas that involve reading, writing, spelling and number work.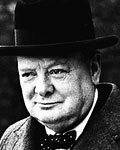 Winston Churchill (politician)
Dyslexia has been recognised in the US and Australia for many years and gained parliamentary recognition as a registered disability in the UK in 1970. Since then increasing attention has been given to helping dyslexics in the education system as well as in the workplace as evident from the attention given to it in the subsequent Education and Disability Discrimination Acts in the UK, mainly due to the untiring work of those organisations dedicated to working in this field.
At present in the UK, all teachers are required to be able to respond to the needs of those with learning difficulties and to this end much has been done to help teachers in delivering education by providing them with training and useful information and support. The provision of extra time and permission to use a personal computer facilitate a level playing field for dyslexics at examinations.
The existence of dyslexia among adults should not be ignored and dyslexic employees should not suffer discrimination. There are many occupations that require a high level of spatial ability suited to a wide range of interests and intellectual levels. Dyslexics are also good at work that rely heavily on verbal skills.
Dyslexia exists in all languages and in all populations. Sri Lanka is no exception. Experts and academics agree that between 4 and 10 per cent of all populations is dyslexic to some degree. In Sri Lanka it is encouraging to note that professionals have begun to be aware of the nature of children's learning difficulties and that there is an emerging interest in understanding them to provide the appropriate support.
It is universally recognised that dyslexic children and adults struggle with left brain -based functions and their difficulties should not be ignored. There is a wealth of information available for help with their identification and understanding and addressing their individual needs so that they can achieve their full potential and make a valuable contribution to society.
(The writer is a specialist teacher in Specific Learning Difficulties (Dyslexia) in the UK)