A protest march on Friday by the UNP in front of the Colombo Fort railway station against the increase of fuel prices was attacked by the Police with tear gas and water cannons.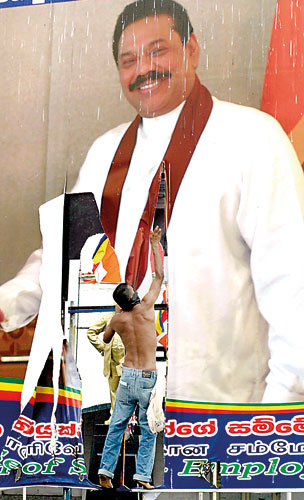 A protestor tearing down a billboard of the President in Fort. Pic by Saman Kariyawasam
Addressing protestors Opposition Leader Ranil Wickremesinghe said they will continue a campaign against the fuel price increase which he said was mostly due to the wasteful practices of the Government and not due to a fuel price increase internationally.
The Tamil National Alliance, the Democratic National Front and the New Left Front were also involved in the protest. The demonstrators were asking for a change in the government to put an end to this economic crisis.
The demonstration began peacefully enough until a few bold protesters took upon themselves the task of burning a poster of President Mahinda Rajapaksa with one of them tearing a cut-out of the President.
The protestors were heading towards the Hilton Hotel junction, but before they were allowed to go more than a couple of hundred metres the police barricaded the road and positioned themselves behind the barricade.
At least a hundred strong police contingent was present, including the riot police. Once the protesters reached the barricade they were fired upon by water cannon and tear gas. Although the police had cordoned the surrounding area was still open to the public.
Bystanders and shop owners were victims of the tear gas. A bus that was travelling was also hit by a tear gas canister which then narrowly missed hitting a nearby shop before falling on to the pavement.The Army and the STF werealled in later.
UNP MP Jayalath Jayawardena was among those injured.