A colossal, multi-purpose bus terminal-cum shopping and entertainment complex is the latest attraction in the popular resort town of Negombo. The landmark structure, which dominates the town's main square, is the only one of its kind in the country.
Built at a cost of Rs. 230 million, the complex serves thousands of commuters who pass through daily, and thousands of tourists who visit the resort throughout the year.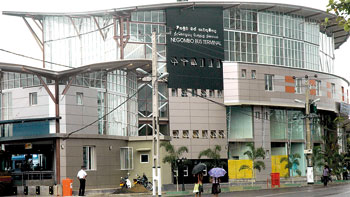 Commuters and visitors are well served with shopping and entertainment facilities. Photos: Saman Kariyawasam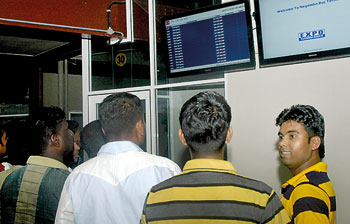 Best of treatment for passengers, including airport-style TV screens showing bus arrival-and-departure schedules.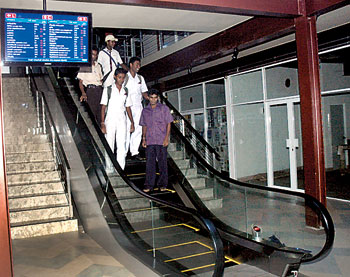 Escalators for the commuters' convenience.
Construction began in 2008, but stopped halfway for lack of funds. The authorities responsible for the terminal came in for sharp criticism because the existing main Negombo bus stand was inadequate and sub-standard, and was a mud hole during the rainy season and a dust bowl during the dry season.
Nimal Lanza, Provincial Minister for Transport and Highways, negotiated with the central authorities to release the Rs. 60 million required to complete the complex.
The terminal, which opened shortly before the recent local government elections, is used by up to 450 vehicles a day. The complex contains 82 shops, two mini-cinemas, a wedding and reception hall, and upmarket washroom facilities.
The movement of passenger buses through the terminal is displayed on four TV screens and eight flat screens.
Nowhere else in the country will you find such a multi-level, multi-purpose facility, Mr. Lanza told the Sunday Times. It is well staffed and efficiently serviced, he added. "The complex is well maintained, with cleaning, maintenance and security handled by private companies. The highest standards are maintained at every level."
A private radio station has been hired to oversee the announcements on the public address system. "Everything is done in a very professional way," Mr. Lanza said.
At present, the bus terminal operators are not charging a fee for use of the washrooms and other facilities, but this will change soon.
"A toll will be levied," said engineer K. M. Balasubramanium, of the Negombo Municipal Council. Revenue is required for overheads. "We have expenses and bills to pay, including Rs. 300,000 a month to the cleaning company," he added.