Polling was largely peaceful within most of the 13 districts where elections were held for 23 local government institutions yesterday with around 60 percent of the 1.58 million registered voters, including 400,000 voters within the Colombo Municipality area, casting their votes.
Even though Election campaign was largely free of any major violent incidents, the elections eve was marred by the killing of a 38-year-old United People's Freedom Alliance (UPFA) supporter.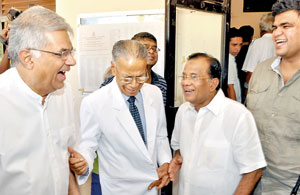 UNP leader Ranil Wickremesinghe and his party's mayoral candidate Muzammil sharing a joke with former Parliament Secretary General Sam Wijesinha at a Colombo polling booth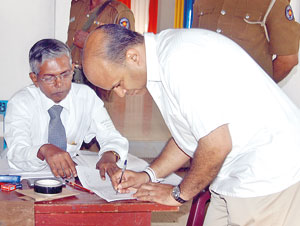 UPFA's Colombo mayoral candidate Milinda Moragoda at his polling booth. Pix by Amila Prabodha
He was shot dead by an unknown gunman around 8.30 pm at Kotikawatta. Yesterday, as voters streamed to the polling booths, former UPFA MP Lakshman Bharatha Premachandra was shot dead and Parliamentarian Duminda Silva was critically wounded in a shootout at Kolonnawa, underscoring the link between violence and politics in Sri Lanka.
The Elections Secretariat operated a fulltime complaints centre which had received 24 reports of election law violations by noon yesteday, Coordinator to the center Siripala Medawewa said.
He said, 13 complaints were reported from Colombo followed by Gampaha and Galle.
Most of the violations were on unlawful gatherings near polling booths, distribution of leaflets and dry ration.
MATARA
There was brisk voting in Matara, with 51,895 registered voters, as enthusiastic constituents turned up early to elect their representatives to the Matara Municipal Council. There were no serious incidents of violence reported in the area except complains that dry rations were being distributed to influence voters.
GALLE
In Galle too voting was peaceful, but the turnout in the early hours was low. By noon, the turnout was about 20%. There are 64,720 registered voters within the Galle Municipal Council area.
NUWARA ELIYA
In Nuwara Eliya, by 1.00 pm, voter turnout was about 55%. Voters from the plantation sector were seen enthusiastically coming to polling booths early morning. No reports of election law violations were reported. There are 18,472 registered voters within the Nuwara Eliya Municipal Council area.
AMPARA
In the Ampara district voter turnout was 38% by noon. Two voters have been assaulted in Kalmunai and complaints lodged at the Kalmunai police. According to reports from the east, there was a lack of enthusiasm among voters. There are 68,198 registered voters in the Kalmuni Municipal Council area.
KANDY
In the Kandy Municipal Council, Kundasale Pradeshiya Sabha (PS) and Kandy Gravets PS, voters were seen keenly coming to cast their vote and by noon the turnout was 50%.
There have been complaints of distributing leaflets near Kingswood College and some places in Kandy Gravets PS. There are around 200,000 registered voters within the three local authorities.
ANURADHAPURA
In Anuradhapura, voter turnout was low during the early hours of the day. According to the Government Agent, voter turnout was 38% by noon. There are 32,976 registered voters within the Anuradhapura Municipal Council area.
RATNAPURA
In Ratnapura, a very low turnout was reported in the two centers in the city at less than 38%. But other police booths outside the main two had a higher turnout. No major incidents were reported here. There are 32,677 registered voters within the Ratnapura Municipal Council area.
GAMPAHA
In Gampaha, leaflets and small cards bearing numbers of the candidates were seen at the entrances of a number of polling booths. The voter turnout was between 50-55% by noon. Police and STF security has been provided to polling centers. In this district, members will be elected to the Negombo and Gampaha Municipal Councils.
UNP upbeat of its hold on the CMC
By Mirudhula Thambiah
Voters in the Colombo district went to the polls to elect members to six local authorities yesterday, with the biggest among them being the CMC. Voting was largely peaceful in the district with voting brisk in some of the areas.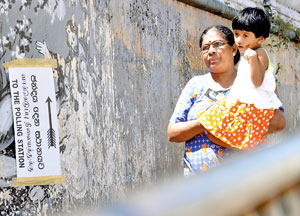 Modara: Pic by Amila Praboda
UNP Colombo mayoral candidate A.J.M. Muzammil and Opposition Leader Ranil Wickremesinghe cast their votes at Thurstan College around 8.45 am.
Mr. Wickremesinghe, who spoke with reporters after casting his vote, said the UNP would secure and fulfill the needs of the poor in Colombo city, eradicate the prevailing dengue disease and work towards development.
He said the UNP aims to make the city of Colombo the best city in South Asia by 2013, and establish law and order. He thanked all the voters in advance for their support.
Meanwhile, UPFA mayoral candidate Milinda Moragoda cast his vote in Narahenpita, DPF mayoral candidate Mano Ganesan voted at St. Clairs College Wellawatte, SLMC mayoral candidate Shafeek Rajabdeen cast his vote in Narahenpita and UPFA candidate Azath Salley voted at the Mahanama College polling booth.
In the Dehiwala-Mt Lavinia and the Sri Jayawardenapura-Kotte areas too there was brisk voting in the morning. Despite the directives from the Commissioner of Elections, vehicles with posters and stickers of candidates were seen driving around near polling booths or parked close to polling booths.
A large number of posters and handbills with the names and numbers of candidates were seen dropped close to polling booths, in what appeared to be an indirect campaign.
Police were seen ordering ordinary vehicle close to polling booths away, but were hardly taking any action to prevent vehicles with candidate's numbers remaining in the area.
Peaceful polls underlines stiff competition
By Leon Berenger in Negombo
Voting at yesterday's Local Government elections in this coastal resort town of Negombo got off to a slow start earlier in the day, but picked up by midday, with independent observers reporting near-zero violence, saying the proceedings went off peacefully.
Independent observers and polls officials said that there was a near 60% turnout in the region, indicating voter willingness to trek to the booths. In the fray is Dayan Lanza, younger brother of former mayor Nimal, who is contesting on the UPFA ticket, and Royce Fernando for the main opposition UNP, along with a host of young candidates from all sides of the political divide.
Dayan Lanza says that he will win with a 15,000 majority in a region that was once considered a stronghold of the UNP, while his main contender Royce Fernando says that his party will finish on top.
"In the run up to yesterday's polls, we laid concrete on some 1,500 roads and by-lanes and completed the mega bus terminal in the heart of town, apart from other development activities".
"When I become the next Mayor of Negombo, I will concentrate largely on improving the tourist sector such as beautifying the beaches and roads, while providing the necessary encouragement to hoteliers and other stakeholders involved in the trade", Mr. Lanza added.
"At the last general election, Negombo was taken by the UNP, and this time around, there will be no difference. Government candidates, for their part, abused State machinery and other resources including manpower, in the election campaign, but the end result will be disappointing for them", Mr. Fernando, a former member with the elite Special Task Force (STF) said.
"The people cannot be fooled with concrete roads and mega bus stations. The UPFA candidates are still to address the large scale corruption and other irregularities, not to mention the extent of waste", he added.
Just like many other candidates of his age, 21-year-old Gayan Fernando is also running for office on the UPFA platform and is confident of winning a seat in the 26-member Council.
"I am excited at the task of working as a Council member. I will devote much of my time in addressing the issues facing the youth in the region, without any personal gain or benefits", he said.
Fisheries Ministry IC not good enough
A group of four deep sea fishermen were left out of the booth in yesterday's elections, as they did not have their National Identity Cards (NIC).
"This is absurd, because we are in possession of fisheries identity card issued by the Fisheries Ministry with the government seal," lamented Nicholas Tallas, spokesman for the group.
Poll's propaganda litters polling booth entrances
Candidates from all sides of the political divide yesterday resorted to a new tactic in a bid to grab last-minute votes.
They threw heaps of miniature propaganda cards with their number and name, at the entrance to polling booths and nearby roadside.