Sri Lanka is exploring the possibility of supplying nutritional food including rice to the World Food Programme (WFP) and emerging markets. The aim is to use the country's excess food production for productive purposes.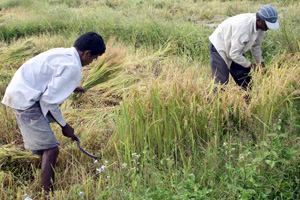 Negotiations are now under way with the WFP to enter into a working arrangement for rice exports to the world's largest, hunger-battling humanitarian agency, Finance Ministry Secretary Dr. P.B. Jayasundara revealed at a meeting of exporters in Colombo this week.
He noted that Sri Lanka is focusing on agriculture to increase exports, promote food security and reduce cost of living within the country. Sri Lanka has not considered large scale rice exports even though it has been self-sufficient in rice. He disclosed that the government was looking for export markets for food products including rice and was even in the process of supplying the WFP.
"For over 30 years the WFP has fed our internally displaced people but now there is no longer any need for that. However, even though Sri Lanka has no internally displaced there are many around the world. We are in the process of identifying two districts that can provide rice exports to the WFP," he said. He disclosed that the country is also planning to export excess rice to African countries and emerging economies on a directive issued by the President.

"Think out of the box"
Treasury Secretary Dr. P.B. Jayasundera has urged exporters to think out of the box to penetrate emerging markets without seeking more government concessions as the 2011 budget has given tax and VAT reductions as well as 6% of the budget has been allocated for public investment, reducing the need for extra support.
"An exporter can now keep 90% of profits so what more are you all asking"? , Dr. Jaysundera questioned at a meeting with the National Chamber of Exporters on Monday as part of a consultative process to hear industry views ahead of the Budget 2012 due on November 15. When infrastructure is available from all fronts, the economic potentials and scope are quite different. Now Sri Lanka is set for a diversified high value added economy, Dr. Jayasundera emphasized.
He said that Sri Lankan exporters should enter into technology-driven, value added exports rather than continuing traditional exports for emerging markets. Sri Lanka has a large amount of imports and now local industrialists must look at producing these goods in the country. He requested them to present their suggestions on how best to protect the export industry, taking all other stakeholders into consideration, especially local industries.
There is a fair amount of growth in the tourist sector. The country is eyeing a 2.5 million tourist market in the medium term. The country is anticipating an increase in tourist arrivals from 700,000 this year to 900,000 next year.
Expansion in this industry means demand for food, vegetables, fruits, electricity, domestic industrial products, furniture, recreation and all such domestic activities means greater scope for local production, he revealed.
"In my view protectionism is where you impose import controls or banning imports. The Government has not done that. Even today imports of potatoes, onions and chillies, peanuts, and bees honey are permitted.
There are no restrictions and competition prevails. The Government is creating an incentive structure to enable the domestic economy to grow. In the long term, this economic strategy is extremely viable," he said.