Yesterday, the raucous sounds of a political meeting by one of the country's main opposition parties rendered the evening truly hideous for those in the nearby environs. What was being said was scarcely discernible. More revealingly, little interest was evidenced either in attempting to understand the message by those unfortunate enough to be residing within earshot.
This pattern appeared to be the same for a government party meeting or an opposition meeting in relation to the forthcoming local government election alike. Public reaction to vote canvassing appears to be weighed in equal parts of contempt and scorn on the scales. And there is little doubt that house to house electioneering in this vicinity by politicians of all parties will be met with disinterest by many.
Unconvincing promises of RTI at municipality level
But the promises being held out are manifold. For example, a main plank of both the equally unconvincing campaigns of the mayoral candidates of the UPFA and the UNP for Colombo is concentrated on promising the Right to Information (RTI) within the municipality. Supremely ironically we are being sought to be persuaded that Colombo would therein transform into a democratic oasis in its municipal functioning. This is, of course, contrasted to the overall national policy as determined by this government which, (for reasons best known to itself) appears to treat RTI with the same amount of disdain or extreme hostility with which it reacts to real, perceived or imaginary terrorist threats.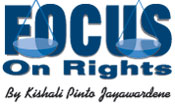 This government reaction is only applauded by the naïve or the politically biased among us who like to say that RTI is a threat to national security. This is despite all the evidence to the contrary that RTI, as detailed in the draft law approved by Cabinet some years back, is extensively hedged around by safeguards including judicial assessments, precisely to prevent this being the case. In the South Asian region, India, Pakistan and Bangladesh can boast of at least having the theoretical framework empowering RTI. Sri Lanka stands out as a country shunning RTI for the benefit of its politicians.
Despite high powered campaigns, we have not been able to summon enough popular will to compel the government to do a rethink of its RTI-adverse policies. The truth is as pure and as simple as that.
And in such a hostile political context of rigidly controlled policy making, not only by the centre but by a 'first family dominated' process of decision making, to argue that RTI could be enforced municipality-wise is moronic, to say the least. There is no doubt that such commitment will receive short shrift once the elections are over. It is impossible to think otherwise.
Exponentially increasing public disenchantment
Faced with depressing realties in today's political environment where judgment appears indeed to have 'fled to brutish beasts and men have lost their reason', it is natural that public contempt and scorn should be widely displayed towards electoral processes, as terribly flawed as they are. But is this disinterest to our own good?
In one locality in the South, an angry young person informed all and sundry that he will not abstain from voting despite his disillusionment with his area politicians as then, there will be a 'hora vote' put, for sure. Commendably, he was determined to prevent that happening, even to the extent of spoiling his vote. Whatever may be the results of the polls in the coming weeks, it is hard to think that the government and the opposition are not aware of the exponentially increasing public disenchantment with what passes for political processes in the country today.
Protests do work, even if gradually
Meanwhile, a wider question remains in relation to our civic engagement. Recently we saw in India how the people reacted to the corruption engaged in by that country's politicians, many of whom are equally despised as their counterparts are in Sri Lanka for their total lack of integrity and honesty.
Whether this movement will actually lead to concrete changes in regard to curbing corruption is yet to be seen but certainly those in political power received a shock that they will not easily forget. It is time and more that we administer a similar shock to our politicians, government or opposition as the case may be
True to form, there are frequent complaints to be heard that this Presidency is far too powerful for dissenting voices to have any impact in Sri Lanka. Given the lack of a credible opposition, it is particularly seductive to leave the matter there.
But the truth is that these complaints are actually not borne out by the reality. The protest by the Katunayake Free Trade Zone workers leading to the withdrawal of the detested pension bill is a good case in point. And again, the recent electoral victories by the Tamil National Alliance in the local government constituencies of the North and East proves that despite all the admittedly considerable obstacles, if there is determination and will, intimidation by the ruling party cannot block electoral outcomes.
Further deterioration of university autonomy
Recently a collection of university academics signed a letter of concern in respect of an instruction issued by the Defence Secretary handing over the security of the country's universities to a private security company classified as 'a government owned commercial security venture' coming under the Ministry of Defence, headed by the Defence Secretary and consisting of, among other, the previous Attorney General.
The academics expressed concern over the bypassing of standard procedures in the hiring and outsourcing of services and 'the role that the military establishment is increasingly playing in the administrative and academic spheres of the universities, which are a place of free exchange of ideas, critical thinking, and innovation.'
These concerns are undoubtedly extremely valid. Sri Lanka's Supreme Court has, time and time again, laid down relevant legal principles that should be followed in such situations. It is quite remarkable that well established legal precedents are sought to be brushed aside in such a cursory manner and with scarcely a whimper of protests from the ruling bodies of these institutions, excepting a small crowd of conscientious dissenters.
Civic engagement in 'naming and shaming'
An important lesson offered by India's anti-corruption movement is its very effective tactic of 'naming and shaming' offenders. In so far as Sri Lanka is concerned, this should extend beyond politicians, to public officers, judicial officers and purported academics.
For example, when a judge takes a constitutional oath to uphold the law and then thereafter consistently acts politically or betrays his/her office in whatever way, that judicial officer should be named and shamed. This practice was indeed followed in respect of the Sarath Silva Court but seems to have lapsed into disuse thereafter. It should be revived. Relying on the Sri Lankan Bar to fulfill this task is similar to baying at the moon. We will merely be treated to the amusing spectacle of lawyers professing commitment to the Rule of Law when they contest for the position of the President of the Bar, presumably due to the perceived glamour attaching to this post.
Yet a reasonable citizen would be hard put to acknowledge that a President of the Bar today will be greeted with the same amount of respect that once attached to this post several decades back. So, the duty therein to rein in politicization of the judiciary should not be delegated to the Bar but should be claimed by ordinary individuals possessing a degree of integrity and self respect.
Similarly, when a Vice Chancellor of a university takes the most extraordinary steps to censor freedom of academic comment, to the extent of directing that lecturers should not express views critical of government, that speeches made on university premises should be first vetted and approval granted, these persons should be named and shamed in very specific factual detail.
Civic engagement does not mean abstaining from voting, shrugging away politicians and complaining in private. Put simply, it means guaranteeing that democracy works in one's country. Even against mighty China, a tiny region like Hong Kong managed to hold its own through the sheer grit and determination of its people. Concerned citizens should do likewise in Sri Lanka though it may seem a long and unenviable swim against strong currents.