Young Robert Knox was only 14 when he set out to sea on his father's boat Anne in 1655. Robert would only have four years at sea before a powerful storm ripped the mast and sails of his ship apart. The storm forced the men, who had until then been bound for Persia under the banner of the East India Company, to limp into a harbour south of Trincomalee.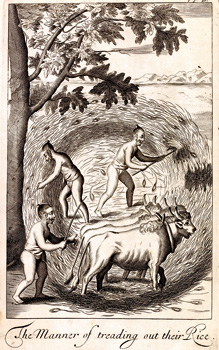 Robert Knox, The manner of treading out their rice, 1681.
When the then King of Ceylon, Rajasingha II heard about what had befallen Knox and his comrades, he sent them gifts and invited them to come and see him. Unfortunately, between the boat and court, the senior Knox managed to offend the King.
(This as you probably already know, young readers, is never a good idea.) The King's troops arrested Robert, his father and all that remained of their crew. (In 1893, a white marble slab was erected to identify the tree under which they found the Knoxes. The stone tablet is now in the care of the Colombo National Museum.)
Robert would remain a captive at the King's pleasure for nearly 20 years. He didn't spend all that time cooped up in a dungeon as you might expect but was allowed nearly free reign. He would even find ways to support himself in the new country, turning to farming, money lending and other modest occupations. Unfortunately, the island had other perils. Both Knox senior and Knox junior would struggle with severe bouts of malaria. The elder Knox eventually succumbed, dying in February 1661 after a long illness.
After 19 years, determined to escape his prison, Robert eventually fled with another prisoner named Stephen Rutland. The two men were able to reach Arippu on the North West coast where they found the Dutch had built their own fort.
Though the two colonial powers shared an interest in spices, and would eventually find themselves
competing for the same territory, the Dutch treated Robert and Stephen kindly. They put him on a ship that took him to the Dutch East Indies, to what is now Jakarta, from where he was able to board another
ship bound for home.
It was an English vessel, named the Caesar. He arrived back in London in September 1680, but Knox had put all those long hours at sea to good use. He wrote 'An Historical Relation of the Island Ceylon,' which was published in 1681.
In the book, Robert put down all he remembered from his many years on the island – and the book was illustrated with engraving or pictures of the people, festivals and instances of daily life. The book made him famous and is even said to have inspired Daniel Defoe's Robinson Crusoe. Today, with all its detail, the book is counted among the earliest accounts of life in Ceylon in the 17th century as seen through the
eyes of a foreigner.
Robert Knox would go on to captain his own vessel for the East India Company. He died in 1720.
The work of Robert Knox is one among many at A Return to Sri Lanka:
an exhibition of images of Sri Lanka from British Collections (1640 – 1900).
This exhibition draws maps, manuscripts,
illustrations, early
photographs and paintings
of Sri Lanka from several
distinguished British
institutions —principally the British Library, the Victoria and Albert Museum and the Natural History Museum – as well as the National Museum (Colombo) to bring a selection of very rare
material to a Sri Lankan audience for the first time.
The exhibition will visit Colombo, Jaffna, Kandy and Galle and is co-curated by British and Sri Lankan curators. This exhibition is produced in partnership between the British Library and the British Council
(Sri Lanka), with funding provided by the World Collection's Programme.
Exhibition dates and venues:
Lionel Wendt Gallery September 14 - 28
Jaffna Public Library October 5 - 19
Kandy City Centre October 24 - November 6
Galle Municipal Council November 11 - 24
Admission is free and information is available in Sinhala, Tamil and English at all exhibition sites.