In the Land of Never Return, the Old Greens had gathered to discuss what was happening to the Green Party…
"Actually as a matter of fact," DS said, "I can't really understand what all this fuss is about…"
"Why do you say that?" JR asked.
"Why, even though I had to leave suddenly, I had given all the necessary instructions to Lord Soulbury to ensure that the leadership passed on to Dudley…" DS remembered.
"That made me really angry," John said, "and remember the problems it caused at that time?"
"Yes, you got someone to publish a book called the 'Premier Stakes' and then people started calling us the 'Uncle Nephew Party'…" JR said.
"But that didn't cost you a lot, did it?" Dudley asked John.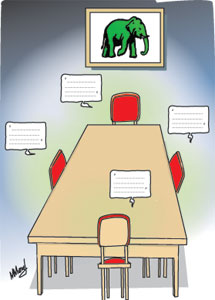 "No, of course not, I just had to wait for two more years until you resigned…" John said.
"Of course what this shows is that there has always been a keen tussle for the top job among the Greens…" JR observed.
"That is true," DS agreed, "although Dudley did return to lead the party again and was in charge for well over ten years…"
"I did," Dudley remembered, "but towards the end of that time JR was getting tired of playing Number Two…"
"Of course Dudley and I had our differences, didn't we, Dudley?" JR smiled, "and we nearly ended up going to courts against each other…"
"Yes, we did," Dudley recalled, "but we eventually made up and worked together before I fell ill…"
"And even I had problems with the party then…" Premadasa joined in the conversation.
"Yes you did," JR said, "why, you even left us and formed your own party of sorts…"
"Yes," Premadasa said, "it was called the 'Puravesi Peramuna' at that time…"
"And you had your own problems getting to the top …" JR declared.
"I used to think you were reluctant to let me have the reins after you…" Premadasa said.
"It is not quite fair to say that…" JR objected, "I was more democratic than you…"
"Why do you say that?" DS wanted to know.
"You must tell us what really happened…" John declared.
"Why, when there was a dispute as to who should be the second-in-command, I had a vote, Premadasa won, and he was given the job…" JR argued.
"Yes," Premadasa said, "I must say you did that…"
"And not only that," JR pointed out, "after we won, I gave you the next best job although you said you were only a peon…"
"What was so special about that?" Dudley demanded, "he was the most suitable person anyway…"
"Ah," JR said, "after me, very few people have given the next best person the job of being second-in-command and even Premadasa himself didn't do it…"
"How could I?" Premadasa asked, "Lalith and Gamini were fighting among themselves for that job so I had to pick DB…"
"Had you picked either Lalith or Gamini, you would have never faced that impeachment, you know…" JR said.
"But," Premadasa argued, "had I done that, the other would have left and formed his own party anyway…"
"But don't forget when I got the job, I did pick the next best man as my second-in-command…" DB joined in.
"But the Blues haven't done that, have they?" DS inquired.
"No, they haven't," John observed, "the Blue lady first picked her mother even though she was in poor health and then picked her most trusted colleague…"
"And on the one occasion she picked the next best man as her second-in-command, he made sure that she had to leave her job one year early and he got the job for himself…" Dudley observed.
"And he hasn't picked exactly the next best person as his second-in-command either…" JR said.
"But now," DS said, "that shouldn't be our worry…"
"Yes," John agreed, "we must look at what is happening to the Greens…"
"If they continue to fight in this manner, very soon there will be no Green party left…" Dudley pointed out.
"And this is all because my nephew is fighting your son…" JR told Premadasa.
"I agree," Premadasa said, "but is there anything that we can do to help?"
"The irony is that your son is now fighting my nephew who stood by you during your impeachment…" JR said.
"It is difficult to say who is right and who is wrong in this battle…" DS declared.
"Why do you say that?" John wanted to know.
"Well," DS said, "one has lost election after election so there is some justification in asking him to quit…"
"But you said that it is difficult to say who is right and who is wrong…" Dudley said.
"And the other," DS said, "is going about challenging him in such a way that it only helps the Blues and not the Greens…"
"And if this goes on for too long, we will no longer be the Uncle Nephew Party…" JR said.
"What will it be then?" Dudley asked.
"We could be the Useless No-hope Party…" JR suggested.
None of the others disagreed.