"I am really mad," says Ena de Silva. It is the kind of timeless mad that enchants you. That you obsess over during a four-hour drive back home from Matale to Colombo. At 88, she is one of the youngest people you could ever meet, seeming to have the heart and soul of a twenty- year-old. Adorned with hair ornaments, an ivory coloured comb, gold hoops bunched in red beads, three cocktail rings and a large flowery brooch she looks radiant and full of life. Many words could describe her; flamboyant, cheerful, generous and unpretentious.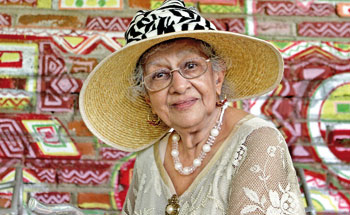 Joyous spirit: Ena at 88. Pix by M.A. Pushpa Kumara
Ena's home is on the hills of Aluwihare where her ancestors lived for generations, hidden amidst a garden full of flowers and trees. A variety of wild flora grows among splashes of bright pink bougainvilleas, orange anthuriums and bunches of beautiful white flowers.
The garden overlooks a spectacular view. "The view I owe to my father, Sir Richard Aluwihare," says Ena. When she was a child her father told her "You know my mother (Ena's grandmother) brought me up here all the time and she told me, the sun and the moon rise from right here every day. You must one day build a house on this very spot." He did.
Walking into the house is like walking into a fairytale. In the first instant you are overwhelmed by every little detail; piles of embroidered cushions, layers of carpets, batik draping from the ceiling, old chairs tied with yards of brightly coloured cloth, flower arrangements, origami flowers and every kind of knick knack. Walls embedded with old china, tabletops full of statuettes, copper pots hanging from a roped canopy and a dining table that is a kaleidoscope of colour. This is who Ena de Silva is.
Her house captures her spirit entirely and has been her home for the past 30 years. Although crowded with a multitude of items, it holds a sense of calm and tranquillity. "I'm so glad I made the decision to come here. The time spent here has been the best part of my life. You meet real people not just society people. Everyone thought I'll be bored and alone but people visit me here all the time," she says.
"It is like a sanatorium to my friends in Colombo. Children like coming here. They are delighted. I am very lucky to have young people around me all the time."
Her inspiration for the hand painted walls and ceilings comes from two decorative wood panels hung on the wall. "My husband got me these long long ago. He found them thrown away outside a temple and brought them home. The lotuses I have painted all over the walls and the pillars and the triangular designs you see painted everywhere are inspired by this. " She trails off at the mention of her husband, Osmund de Silva. "I was lucky enough to marry a man who said 'If you can handle the madness, then I'm fine with it.' He was so very supportive and he was always there for me. The first Christmas after our marriage he said 'darling if you feel lonely to go to church alone I'll come with you'. We also went to the temple together. We never fought about religion."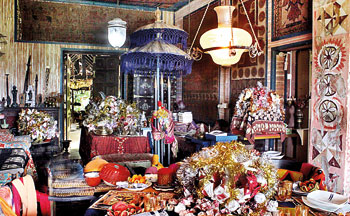 True Ena style: Her living room
Ena was the daughter of Sir Richard Aluwihare, the first Ceylonese Inspector General of Police and Lucille Moonemalle. "As a child I remember being chased out of Latin classes and then there was a big mix up because I insisted that I wanted to do both botany and art. I was rebellious, but never loud. I remember my mother telling me 'you can have your own opinions but you shouldn't be rude.' My father loved me dearly. But I think for the life of him he couldn't figure out how I came of two stately, well-bred parents," a laughing Ena reminisced.
The legendary batik artist began her lifelong devotion to art simply through her admiration for colour, "I love colour and vibrancy. People say you can't match this colour with that colour, this texture with that texture. Fiddlesticks!" Her fiery personality shines through as she says, "I can't understand why people want other people's approval. If you don't hurt them, what does it matter what you do? So people say things. What do I care? There is always talk, and there will always be talk. But you can't let that get you down."
"Cora Abraham of the Cora Abraham art school once said 'Ena your strength is with textile'. And Cora Abraham was right." Ena admits to never having a training in any kind in art. It all began with her children's doodling, she says. "You see my son and daughter were great scribble maniacs. Anil was strong and Kusum made decorative doodles. So I also joined in and started drawing."
"The house Geoffrey Bawa built for me was our home in Colombo. Geoffrey was my great friend and he said 'you know what let's use these [the scribbled drawings] and I said fine. He and I built that house together. He couldn't have done that without me and I being no architect couldn't have done it without him. That is why I say we built it together." And so the young mother discovered her creativity through her children's scribbles.
In the 1960's Ena together with Laki Senanayake "who is still my wonderful friend", Professor Reggie Siriwardena and her son, Anil Gamini Jayasuriya started a firm of their own. "We were not frightened of what people said. So we started out on our own. I remember the first time we decided to do batik. We looked it up in the Encyclopedia Britannica and followed the instructions, heated the wax and painted. At the time batik was a studio profession- a small part of the textile industry. Nobody made pictures out of it or used it as art. We resuscitated the craft and made it new. People said it will die in three weeks but it didn't. Now here we are."
Ena acknowledges that they were no learned artisans, but she recalls how they worked hard at making the project a success. The magnificent tapestries that hung at the Oberoi Hotel's lobby, the ceiling of Bawa's Bentota Beach Hotel and the banners that hang in front of Sri Lanka's parliament were their work.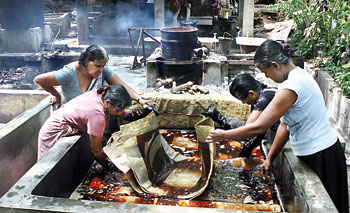 Empowered : Women at work at the Aluwihare Heritage Centre
It was in the 1980's that Ena returned to her ancestral home in Matale where she has been living ever since. The joint venture continued and the firm opened up 20 heritage centres around the island in rural townships like Seeduwa and Gelioya. Ena founded the Aluwihare Heritage Centre in her own front yard where she trained the villagers in carpentry, wood carving, abstract hand painting, brass foundry, batik, tie and dye and needlework. Her design work was inspired by traditional Sri Lankan art and crafts. Her eyes light up when she talks about Aluwihare.
"What I have here at Aluwihare is a work place. I hate the word factory- makes it so commercial. It is a multi-crafts centre. The villagers came in when they were 18 or 19 and are still here in their sixties. I have taught them everything I know and we have all worked together and grown old together. We have cut down a great deal since we started. The women and men who work with me are my children. The loyalty and support they give not only me but each other is wonderful. At the end of the day we have to be human don't we? Even my staff at home they really look after me. I love them and I am very grateful to them. I always say please and thank you. They know I appreciate what they do. It's a life we live, we are a family. You can close down a firm but can you close down a family? We are broke most of the time but we are happy and we have such a lot of fun. I make them laugh all the time and sometimes they think I am mad," she says laughing.
Under the shade of the green giants, accompanied by a cool breeze the women work. Some are busy at the dye baths; others paint intricate designs on the fabrics using heated wax. A few younger girls are engrossed in needlework. Their mentor, walking stick in hand, walking shoes on feet walks about and chatters on keeping them company. The carpentry and brass foundry sheds seem to have closed down. Ena explains that the lack of funding has been hard on the centre. Yet she is cheerful and determined. "We manage somehow. We don't throw away a scrap of cloth. We are a poor country so we reuse. Also I think if you work hard then you will be all right. You must always remember, there is no substitute for hard work."
The drying batik sarongs, held against the sun seem alive. The deep greens turn into a lighter leafy green in splashes where the sun hits them. The old wooden sculptures of lord Ganesh and another of a wheeled elephant head are examples of the carpentry work once mastered at the Aluwihare heritage centre. Somehow they seem different, individual. They hold character.
Ena de Silva's contribution to the arts and crafts of Sri Lanka is immense. While creating contemporary designs using traditional skills and techniques, she also worked tirelessly to empower women and make better the living standards of villagers.
Yesterday the Geoffrey Bawa Trust presented her with a special Lifetime Achievement award for her contribution to the Arts and Architecture of Sri Lanka, (the other recipient being Barbra Sansoni). "One thing is I am myself and it's great to be appreciated for being me. Everyone likes a bit of appreciation and I am happy that I too am appreciated. It makes me very happy," she smiles. The smile never seems to leave her lips.