Two years after the military defeat of Tiger guerrillas, both Sri Lankans and the government are reaping some peace dividends.
The biggest dividend for Sri Lankans is the confidence to move without fear of bomb explosions that had caused loss of lives and limbs. To the government, which quite rightly took the credit for that transition after two and half decades of war and violence, priding itself for development activity and pledging to provide a better environment for those in the once ravaged areas, has become a priority.
Next Saturday's elections to 65 local councils, some of them in the North, are predicated on this factor. Senior cabinet ministers have taken up residence in Jaffna and are busy with intense polls campaigns. The ruling UPFA, the most favoured Tamil National Alliance (TNA), the main opposition United National Party (UNP) and the Janatha Vimukthi Peramuna (JVP) are major contestants. The absence of senior UNP leaders from Colombo has made the party's campaign less than lacklustre. Both the TNA and the JVP complained to the election authorities that the Army was obstructing their campaign. They alleged some officers were even involved in the campaign. The Army claimed its only role in the once beleaguered peninsula was to provide security and they were not involved in politics. There was a dichotomy for the TNA in this situation.
The Army provided enhanced security for some of the TNA's propaganda meetings. The result -- there were lesser crowds. There were fears among residents of the peninsula that a heavy security presence was in anticipation of trouble and it was safer to keep away. Though the ruling party stands to lose little should the TNA, which has remained widely popular in the north in past elections, wins, for the UPFA, a victory is still important for many reasons. Main among them is the message to critics of the government, both in Sri Lanka and abroad, that the Government has won the war but alienated the people in the north. Such a victory, government leaders believe, would dilute the accusations made by both the UN Advisory Panel of Experts that probed alleged war crimes as well as claims made in the Channel 4 video. That is by demonstrating that voters in Tamil-dominated areas have endorsed UPFA candidates thus registering their endorsement of government policies.
Domestic tourism in the North
Guest houses that have mushroomed in the northern capital to cash in on the rise in domestic tourism are overflowing. Most of them are occupied by UPFA supporters who have taken charge of areas blocked out for campaigning. A retired Police officer and his group living in one of them were not conversant in Tamil. A leading government Tamil politician had assigned two Tamil speaking youth to this group. "I go to homes, clasp my hands and say 'Vanakkam'. We then distribute the leaflets given to us," he said. Seven new fuel stations were declared open in the north this week. Hardly a day passes without a foundation stone laying ceremony for a development project. Six thousand Samurdhi beneficiaries received Sarees and Verties. Farmers were issued with water pumps. Samurdhi loans were being expedited.
There were some hilarious moments too. Fishermen in the peninsula were puzzled by an official announcement last week that fishing restrictions in the seas off the peninsula have been relaxed. The reason - the announcement was only a repeat. Such restrictions had been relaxed one year ago and there was little to relax now. In a section of the Jaffna town, lamps were fixed along a street that had remained in darkness. For a few days, there was brightness. However, the lamps were removed thereafter and workers said they would be re-fixed again when it neared a "switching on ceremony" by a leading Minister. The lights came on again this week after a lot of fanfare.
Despite the limited peace dividends, the end of war has not meant a total return to normalcy and tranquillity. On the political front, the government is yet to formulate the terms of reference for the proposed Parliamentary Select Committee that is to evolve proposals to address Tamil grievances. The fallout from both the UN Advisory Panel report on alleged war crimes in Sri Lanka and the screening of the Channel 4 video titled Sri Lanka's Killing Fields continues.
In the backdrop of a leading Indian TV channel screening the video and later conducting talk shows, the government in New Delhi broke its silence. On Friday, the External Affairs Ministry spokesperson issued a statement. Posted on the ministry website, it said, "July 15, 2011 - "In response to a question on UNSG's Panel of Experts report on Sri Lanka and the issue of Sri Lanka's Tamil population, the Official Spokesperson said,
"Sri Lanka is home to a number of ethnic groups of which about twenty per cent are Tamil speaking. They have friends and relatives in Tamil Nadu and other parts of India. It is but natural that we are concerned for their wellbeing, as well as that of all of the people of Sri Lanka with whom we enjoy historical ties of affinity.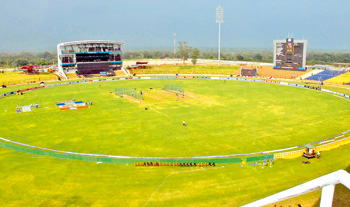 The Hambantota Suriyawewa international cricket stadium [File photo]
Prime Minister Dr. Manmohan Singh observed recently that, "The Tamil population (in Sri Lanka) has legitimate grievances. --- And our emphasis has been to persuade the Sri Lankan government that we must move towards a new system of institutional reforms, where the Tamil people will have a feeling that they are equal citizens of Sri Lanka, and they can lead and live a life of dignity and self-respect. That is our outlook towards the issue".
As far as the report of the UNSG's panel of experts on Sri Lanka is concerned, we have heard the views of the Sri Lankan Government on various occasions, including during the visit of their Foreign Minister to New Delhi in May 2011 and again during the Troika meeting last month in Colombo.
In general, there are still questions on the report. Some countries have raised this in the UN Human Rights Council. It may be recalled that the Panel was set up by the UN Secretary General with the objective of advising him on the developments in Sri Lanka in the last stages of the conflict."
India's stance
There are two underlying messages to Sri Lanka in the statement. One is India's stance that in addressing Tamil grievances, the Sri Lanka government "must move towards a new system of institutional reforms, where the Tamil people will have a feeling that they are equal citizens of Sri Lanka, and they can lead and live a life of dignity and self-respect." Equally important, India also takes up the position that with regard to the UN Advisory Panel on alleged war crimes in Sri Lanka, "there are still questions on the report." To drive the point home, the statement acknowledges that "some countries have raised this in the UN Human Rights Council" which met in Geneva last month.
This is the first time India broke silence to place on record its official position. That too after the high level troika -- National Security Advisor Shiv Shankar Menon, External Affairs Ministry Secretary Nirupama Rao and Defence Secretary Pradeep Kumar -- held talks in Colombo with President Mahinda Rajapaksa. The Sri Lankan President told them that a new political package to address Tamil grievances would be formulated by a Parliamentary Select Committee. That made clear that remaining provisions of the Indian-backed 13th Amendment to the Sri Lankan Constitution, yet to be implemented, would no longer be part of a settlement. Such provisions included police and land powers to provincial councils.
On Friday night, the Channel 4 video was screened in Capitol Visitors Centre, Congressional Auditorium in Washington DC, for members of the United States Congress. The Human Rights Watch, Amnesty International-USA, the International Crisis Group, and Open Society Foundations were responsible for organising this event. U.S. Congressman Jim McGovern, Co-Chair of the Tom Lantos Human Rights Commission, gave the introductory remarks before the film screening. After the film, panellists discussed ongoing efforts "to further accountability in Sri Lanka, including the findings of the recent U.N. Panel of Experts report on war crimes in Sri Lanka, and the U.S. response to these developments."
Friday's event, there is little doubt, was an indictment on the Sri Lanka Embassy in Washington DC. Despite millions of dollars being paid to a US-based public relations firm both for promoting Sri Lanka as well as writing speeches, very little appears to have been done. Just two weeks ago, this PR firm's campaign material spoke of how the Sri Lanka Ambassador, Jaliya Wickremasuriya, was the first to get in touch with US Congressmen -- in other words an unprecedented feat not performed by his predecessors. This is anything but factual. Senior External Affairs Ministry officials are of the view that the Embassy's focus had shifted considerably from addressing US establishments to those of the Sri Lankan expatriate community in that country.
The question raised in the External Affairs Ministry is how the government was losing the support of so many Congressmen who were one-time supporters of Sri Lanka. One of them is Congressman Robert Aderholt, the current Republican Co Chair of the House Sri Lanka Caucus, who had visited Sri Lanka after the 2004 tsunami. Republican Frank Wolfe, a conservative who was very anti-LTTE and backed US military assistance to Sri Lanka is another. A host of Republicans, Joe Pitts, Shelley Berkely, Sue Myrick, John Costello, Scott Garrett, Ileana Rois-Lehtinen, Bill Young, Jim Moran, Dana Rohbacher and others have supported Sri Lanka at one time or the other and now turned against.
The screening of the Channel 4 video to US Congressmen came ahead of a trip this week to India by US Secretary of State, Hillary Clinton. She is expected to arrive in New Delhi on Tuesday (July 19) and visit Chennai the next day en route to Bali, Indonesia. According to diplomatic sources in Colombo, besides Afghanistan and Pakistan, issues related to Sri Lanka would also be discussed when Clinton holds talks with Indian Prime Minister Manmohan Singh.
It is not only some burning political issues, both domestic and international, that is engaging the UPFA government. Another most critical area appears to be on the economic front where a string of issues have begun to worry it. As revealed in these columns last week, that included the import of 20,000 tons of contaminated fuel, the power cuts that were executed under a new name - "power interruptions" and other irregularities.
For a second week in succession, Sri Lankans were woken up to more shocking realities that clearly reveal bribery and corruption has reached endemic proportions. The amounts involved -- in billions of dollars or rupees -- are unprecedented. The sharks responsible are easily getting away. This is whilst the sprats that chipped into relatively much smaller parts of the largesse covering a few thousand rupees spend weeks and months in remand custody before their protracted cases are concluded.
Attention on one large case was re-focused again this week when a London High Court Judge, Justice Hamblen ruled in favour of a Standard Chartered Bank claim for US $ 161,733,500 ( Rs 17.8 billion) plus interest on the oil hedging transaction with the state owned Ceylon Petroleum Corporation (CPC).
"I conclude that SCB's (Standard Chartered Bank's) claim in respect of T8 and T 9 succeeds and that CPC's counter claim be dismissed," Justice Hamblen declared. T 8 is a derivative transaction entered into on May 28, 2008 and T 9
on July 9, 2009. A report on the outcome of these developments appears in our Business section.
No doubt, the CPC has announced that it would appeal the case and the task has been placed in the hands of the Attorney General's Department. Yet, the ruling itself is a major hurdle for the government with cases filed by two more banks pending. The Citibank and the Deutsche Bank have sued the CPC in the International Court for Settlement of Investment Disputes in Singapore for around US $ 190 million and US $ 63 million. Should the government fail in all these cases, the gigantic amounts it would have to pay to the banks together with interest are unimaginable. Moreover, the government may be forced to place a large deposit when it appeals the case in London. This begs answer to the question whether any action has been taken against those responsible for these deals. In 2008 and 2009, media reports were widespread that the hedging deals were rampant with allegations that there was corruption where some persons benefited by several hundred million rupees.
Hedging agreement
In 2007, the CPC entered into a hedging agreement with two local and the three international banks to buy crude oil. It was at a marked price of $130 a barrel. The deal became a major drawback after crude oil prices dropped to US$ 50 in the world market. The CPC's losses at that time were estimated at more than US$ 500 million. The Supreme Court intervened on two petitions alleging fraud and corruption. It ordered the temporary stoppage of payments by the CPC to these banks. In a ruling in November 2008 the Court suspended the hedging deal payments to banks pending a Central Bank probe. The three foreign banks, CITI Bank, Standard Chartered Bank and Deutsche Bank sought redress through arbitration proceedings overseas.
The Supreme Court also suspended the CPC's then chairman Asantha de Mel. The Court headed by then Chief Justice Sarath N. Silva urged President Mahinda Rajapaksa to consider replacing Petroleum Minister A.H.M. Fowzie. This might have been a classic case of judicial overreach and the government was probably right in saying that the prerogative of picking cabinet ministers, and indeed removing them was with the President, but equally nothing was done to punish the culprits in this huge gamble other than the removal of then CPC Chairman Asantha de Mel and giving Minister Fowzie a different portfolio later.
In a belated move the government appointed a Risk Management Committee in 2008 to review all hedging contracts and minimise the losses. However, the fact that three international banks have gone to courts and one had won a colossal Rs. 17.8 billion so far showed that the committee has not been able to minimise losses leave alone managing risks. The fear now is about how much more in interest and other charges would be added to this amount between now and until the appeal process ends. A question that is of importance is whether adverse verdicts in all cases would deter investors to Sri Lanka.
The fact that there has been no accountability so far on a case involving in the least bad management, but includes allegations of widespread corruption since 2008 is damning only because those responsible for plundering millions of rupees of public funds have been allowed to get away. Now, if the courts decree that gigantic amounts should be paid out as compensation, it is again the taxpayer who has to cough it out in many a different way.
Minister Weerawansa lashes out
On Thursday, Minister Wimal Weerawansa lashed out at those responsible for what had happened. At a public meeting in connection with handing of houses in Kaduwela, he said public funds must not be utilised to repay the monies lost to the banks because of the hedging gambles. He said those responsible must pay with their personal funds, and if they did not have that amount of money their assets must be confiscated, or else they must put behind bars. He said four persons in government were involved in this exercise and said the main saboteurs of the government were inside the government itself. He called them "economic assassins", a term used by none other than President Mahinda Rajapaksa as well recently. Political analysts asked if this was the voice of Jacob, but the hand of Esau.
The very next day, Treasury Secretary P.B. Jayasundera made use of a ceremony in Matale apparently to answer Minister Weerawansa's allegations which were aired on a TV channel the previous day. He defended the deals saying the government would not collapse as a result of having to pay this amount of money and the government could easily do so. He said a lot uninformed comments were being made, and those who made such comments were not fully aware of what happened.
Economist and UNP's national list parliamentarian, Harsha de Silva told the Sunday Times, "The hedging issue was a gamble as it was purely speculative on the grounds that prices would increase". He asked, "The question is: are we going to allow those responsible to escape without taking responsibility", and added. "It is high time that people should take responsibility for their actions. It is time that Parliament looks into the whole issue and takes necessary action. It could be a select committee or another process, but Parliament should take up the matter. We cannot allow officials to get off the hook. Currently the annual revenue of the country is not sufficient for the payment of debts; therefore it is time that action is taken in this case. "
As revealed in these columns last week, cricket is another area where the government is attracting accusations of nepotism, political interference, bad management and corruption. Former Sri Lanka captain Kumar Sangakkara declared at Lords, the headquarters of cricket, that "from a volunteer led organisation run by well-meaning men of integrity, Sri Lanka Cricket has transformed into a multi-million dollar organisation that has been in turmoil ever since." He was delivering the Spirit of Cricket Lecture on July 4.
The Sunday Times is able to reveal more on the manner in which Sri Lanka Cricket funds have been managed though it is a public institution. Cricket is no longer a sport that is confined to the back pages of newspapers. It is now a game that concerns the lives of most Sri Lankans, be they men, women or children. When matches are played by the national team either in Colombo or in foreign capitals, the streets of the Sri Lankan capital are deserted. Most are glued to their television sets. Not all of them are aware that the gentlemen's game, almost a religion to them, has been administered by some of the most corrupt and inept who have plundered the funds and forced the controlling body into bankruptcy. This is under the very nose of politicians who held the legal responsibility to keep an eye.
A group of government and opposition parliamentarians, who are members of the Committee on Public Enterprises (COPE) learnt some shocking details when they met at 3.30 p.m. on July 6 at Committee Room 5 of the Parliament Complex in Sri Jayawardenapura - Kotte. They were gathered there that day to discuss the performance for 2010 by Sri Lanka Cricket, a body that came under the Ministry of Sports. There were three different documents before COPE. One was a 74-page (in addition to annexures) a "Report by the Chairman of Sri Lanka Cricket on Performance of 2010 and Current Affairs." The document was a self-tribute to Sri Lanka Cricket. Of course it was not the players in the field who were being praised but those who ran the institution and the good things they did.
A six-page document from the Department of Public Enterprises, General Treasury, dated July 4 said, "The Sri Lanka Cricket is not (sic) coming under the purview of the Department of Public Enterprises, General Treasury, Sri Lanka since it is not a public enterprises (sic) or not coming under the purview of the Department of National Budget since it has not (sic) received the funds through the budget. Accordingly this report is prepared from the corporate plan and the financial statements and the performance report submitted by the Interim Committees."
Three international cricket stadiums
This report notes that the construction of three international cricket stadiums in the 2009 and 2010 respectively - Pallekele (Rs 294 million plus Rs 426 million totalling Rs 720 million), Hambantota (Rs 256 million plus Rs 1044 millon totalling Rs 1300 million) and R. Premadasa ICS (For 2010 Rs 1257 million totalling Rs 1257 million) have been constructed and refurbished specially for the purpose of ICC World Cup matches. It adds: "The cost incurred during the year 2010 for these stadiums is Rs 2.73 billion. The R. Premadasa International Cricket Stadium had only refurbishment works, the expense was Rs 1257 million.
"Those stadiums are still shown under work in progress. That means the construction work and refurbishment activities are still in progress. It is further notice (sic) that the constructions (sic) cost of Hambantota Suriyawewa ground is almost doubled when compared with the Pallekele ground.
"SLC has provided for bad and doubtful debt amount of (sic) Rs 59 million which is more than 11 % of the value of debtors. It is very essential to identify the procedures followed to recover the debt from bad debtors and the possibility of writing off these debt amounts. The Department of Public Enterprise is of the view that SLC has been dealing with the customers who dishonour the SLC credit policy without questioning their ability to pay, and as a result the prevailing account receivable balance also included with amounts outstanding for more than 2 years specially from the identified debtors. Deposits, advances and pre payments amounts have been aggregating over the years and as a result the SLC had to increase the overdraft facility taken from the banks. SLC has a liability of settling dues approximately Rs 290 million to ICC as at the end of the year 2010. It is a matter of non-compliance with ICC rules and it might give a negative impact to the membership of Sri Lanka Cricket."
The Department of Public Enterprises (General Treasury) has said that due to non-availability of cash to settle dues as and when they arise, the SLC had to go for Term Loan and other loan from ICC (International Cricket Conference) to pay even instalments of the loan taken. The report says the SLC is trapped in a "loan cycle." The SLC had obtained a US $ 18.43 million loan from the Bank of Ceylon @ Libor (3 months) plus 4 per cent per annum spread. In addition, it has also obtained an ICC loan of US $ 3.50 million @ Libor (3 months) plus 3 per cent per annum spread. The interest on the ICC loan has reached a staggering US $ 146,058.90 as at May 31, 2011. This is whilst a previous Bank of Ceylon loan of US $ 22.5 million (20 million plus 2.5 million) had been utilised and only a sum of US $ 4.7 million repaid………."
The Department has noted that the settlement of "outstanding loan balances which have been taken from local banks as well as ICC in question since SLC has no suitable venues to sought (sic) finance." It has recommended that "internal control and accounting system for managing cash should be properly designed and effectively implemented…." It has also recommended that there should be a strong "capital investment plan….. to reduce the cost of construction of stadiums and other infrastructures (sic) which a matter of incurring high cost in doing pressurised environment."
A more damning indictment on Sri Lanka Cricket has come in a 17-page report from the Auditor General's Department. Its preamble notes: "Sri Lanka Cricket (SLC), formerly Board of Control for Cricket in Sri Lanka (BCCSL) was registered as a National Association for sport on 30th July 1975 under Section 28 of the sports law No 25 of 1973. The principal activity of Sri Lanka Cricket is to promote, encourage, control and regulate cricket in Sri Lanka and if necessary finance visits of representative teams from other countries to Sri Lanka, representative teams from Sri Lanka to other countries……"
Until June 29 this year, the SLC was managed by an Interim Committee of seven members headed by D.S. de Silva. On June 30, Sports Minister, Mahindananda Aluthgamage replaced it with a four member Interim Committee headed by Upali Dharmadasa. This is without recourse to elections where a provision is available under the law to elect a Committee.
Here are some highlights of observations made in the Auditor General's Report on Sri Lanka Cricket.
Weaknesses include overage or underage, no educational qualifications, no professional qualifications and no work experience. Some applications of those who qualify have been removed whilst shortlisting. Some applications have been accepted when they were not called for.
Total income in 2010 (up to December 31) Rs 3,075 miillion. Total expenditure for same period 2,451. Total income in 2011 (up to April 30) Rs 382 million. Total expenditure for the same period Rs 776 million. The deficit after tax is Rs 394 million.
The Auditor General has noted that there was lack of evidence for an audit in respect of the following;
To ensure the existence of the Assets and completeness of the accounting of the transaction (Assets), there should be a fixed assets register. Register of the fixed assets for the value of Rs 795.3 million had not been maintained and further physical verification report for last three years also not made available for audit.
Transaction made by sub projects such as Asia Cup 2010, World Cup 2011 etc. could not be ascertained by the audit due to lack of access to particular transactions. Further audit report from independent body in this regard also not made available to audit.
Procurement of goods aggregating to Rs 54,455,591 could not be satisfactorily vouched or ascertained by the audit due to lack of purchasing files, goods received notes, interim committee approval, agreements, specification etc..
Eligibility and Legality of expenditure incurred from credit cards could not be ascertained due to lack of details of such expenditure to audit.
Although qualified officers had been recruited for the relevant fields, the Auditor General has said that the following work has been outsourced - 1. Preparation of salaries, bonuses, allowances, EPF and ETF. 2. Preparation of consultancy fees. 3. Tax administration, Income Tax, VAT, PAYE, ESC 4. Internal Audit.
Some of the other highlights:
Twelve matches of the World Cup were played in Sri Lanka and 272,318 tickets to the value of Rs 96,218,150 had been printed. The value of the sold tickets received was Rs 89,347,890. Out of this Rs 67,384.490 had been received by SLC up to now. The number of complimentary tickets printed was 50,847. An approval from the Interim Committee was not made available to audit. The exclusive right over World Cup tickets was vested in the SLC but it had been done by the World Cup Office.
A sum of Rs 14,965,000 had been paid to 133 employees of SLC as bonus for World Cup 2011 out of 267 employees of the Board. Approval from the Interim Committee for this transaction has not been made available to the audit.
A sum of Rs 17,189,485 has been incurred as legal charges in 2010 for the case instituted against the SLC by Southern Cricket Club. (Note: The amount spent is higher than the cost of a provincial courts complex).
Due to a violation of telecast agreement by Sri Lanka Rupavahini Corporation (SLRC), a Singapore company that was having the TV rights refused to pay US $ 1.1 million on the grounds of their reported losses. A sum of Rs 4.4 million has been spent on legal proceedings in this regard. It has not been recovered from the SLRC.
Bribery and corruption going free
In these two major issues highlighted above, where millions if not billions of rupees are involved, there is no official mechanism to deal with those responsible for bribery and corruption unless someone makes a complaint to the newly reactivated Commission to Investigate Bribery or Corruption. In an interview with the Sunday Times, the Chairman of the Commission, former Supreme Court judge D.J. de S. Balapatabendi said that "we can only investigate if a person makes a complaint about bribery or corruption. We cannot go by newspaper or other reports." He said the Commission would soon make recommendations to the government that existing laws be amended so it may act on credible allegations made in the public domain.
The result -- whales who engage in bribery and corruption are not only going free but are also ending up as multi-millionaires or billionaires. The sprats, however, are continuing to pay a heavy price.
In the yesteryears, it was the principal who took a tea set to admit a child to school or a watcher at a hospital who took a bribe of two rupees to allow a visitor to see a patient during non-visiting hours who were charged. The same practice continues.
Just this week, a traffic policeman detected a soldier driving a vehicle without a licence. He demanded Rs 1,000 from the soldier to let him go without prosecution. The soldier bought time and turned up with Bribery sleuths. The policemen was arrested and remanded till July 26. Last Friday, the Officer-in-charge of the Environment Police Unit attached to the Kotadeniyawa Police Station raided an illicit Kasippu (illicit liquor) brewery. He demanded Rs 40,000 and said he would then not file charges. The complainant turned up with the Bribery sleuths the next day. The OIC has been interdicted and later remanded by Courts.
A Wild Life Department ranger rounded up three persons mining sand in a conservation area in the Polonnaruwa District without a permit. When the employer of the three persons turned up, he demanded Rs 40,000. Once again, the next day Bribery sleuths arrested him and produced him in Courts. He has also been remanded.
However, those responsible for egging a state organisation to gamble in billions or millions of dollars of public money and those who claim to play the gentlemen's game, cricket, are becoming the untouchable elite prospering every day on public money. Their tribe will grow unless the government acts fast, that too without fear or favour, which many say, would be the day when pigs would fly.
Comments
From : Wasantha
Well written and well said!
The media are the strongest watchdogs, can they file charges against who has been corrupted? Because it seems no one else is taking the lead role against who has been corrupt using public money
From : Shiraz Buckman
it is so sad that no action is been taken with so much of day light robberies .all institutions that is there to take action on bribery and corruptions which is corrupt what can we do ? all we can say is absolute power absolutley corrupts
From : Chris
So depressing! We won the damning war. But what's happening to our country?
So sad to hear all this.
From : Mohamed Fazmi
Bribery in Sri Lanka is a Staple Food for Politicians and Government Servants.
The GOSL should setup a Money Making Website only for Politicians and Government Servants
to make more money at the expense of the Public.
From : Vajira
Who are the people who are responsible for this. Either relatives of MR or those who have has spent money for his campaigns
Good luck SL